'To us, Sundance is and always will be a dream. What you see, smell, taste and feel here is a dream being carefully nurtured. It's a place of extraordinary beauty devoted to people. What we offer in the form of art and culture, spirit and service is homegrown and available to all'.  Robert Redford
Sundance is one our favourite paces in the world. Not only a delightful hotel with the most charing rustic cabins that you will find anywhere, it is also a top ski resort, the origin of a renowned film festival, a centre for the arts and a holistic getaway for the mind and soul.
Robert Redford's Sundance resort lies surrounded by magnificent forest on the eastern slopes of 12,000 foot high Mount Timpanagos. Redford began his love affair with Utah back in 1961 when he bought a two-acre piece of land for $500, and built a house, literally by hand. Over time he started to buy up most of the surrounding area to save it from "out of control development" and thanks to his vision, 25,000 acres of surrounding land surrounding is now protected.
He first conceived of building a "community for the arts" back in 1969. What Redford refers to as his "experiment in environmental stewardship and artistic expression" now comprises an institute for independent film and the arts, a resort where you can ski in winter and ride in summer, a television channel, gift shop, deli, bar, restaurants, screening room, meeting spaces including the iconic Rehearsal Hall, Conference Centre, and of course, a film festival.
This is our fourth visit to the resort which also coincided with the Sundance Film Festival, but despite this being one of the world's busiest independent film festivals, Sundance remains a quiet, peaceful retreat.
We stayed in an idyllic Sundance Suite; a charming and spacious cabin with high beamed ceilings, tucked away in the woods about a five minute stroll from the ski base. Each is unique with rustic design, stone fireplaces, Native American crafts, rough-hewn wood and organic toiletries. All the practicalities have been taken care of, including complimentary WiFi. There is even a mini kitchen where you can brew up the complimentary tea, coffee & cocoa before relaxing in front of your own real log fire or enjoying the fire from your terrace. Some units also have private hot tubs.
Choose from a Standard, Studio, Mountain Suite, Mountain Loft or a Mountain Home, all in tranquil settings, surrounded by pine trees and aspen groves on the edge of an alpine wilderness.
Dining options are plentiful at Sundance with plenty of fresh ingredients and local produce on offer, integrating the earth-to-table philosophy at all the dining venues.
The Foundry Grill pays homage to the frontier settlers, farmers and miners who settled the land, and around the room, antique farming tools are displayed on the walls. The hearty, seasonal flavor is achieved through cooking techniques centered around the open kitchen. You can enjoy breakfast, lunch or dinner here, as well as the legendary and utterly delicious Sunday Brunch.
The Tree Room (our personal favourite) is an award-winning Forbes Four-Star restaurant specialising in fresh, seasonal mountain cuisine, lit by romantic candlelight centred around a real tree. The restaurant is decorated with stunning examples of American Native art from Robert Redford's own personal collection, including a selection of his antique kachina dolls.
Another wonderful place to kick back and relax is The Owl Bar. The bar in its entirety was moved to Sundance from Thermopolis, Wyoming. The restored 1890's bar is the original Rosewood Bar (complete with original bullet holes!) once frequented by Butch Cassidy's Hole-in-the-Wall Gang. Redford remembers dismantling it and taking it across to Sundance "piece by piece".
There are nods to the film, Butch Cassidy And The Sundance Kid, dotted around, making it a very atmospheric place to enjoy a cocktail or one of the speciality craft beers. There's always a great choice of live music during the weekends. Don't miss the Bluebird Cafe collaborations where you can experience a little bit of Nashville.
The Sioux tribe call it a Hocoka; a sacred environment where the restorative powers of nature are summoned for healing the body and restoring the spirit. At Sundance, they refer to it as simply the Spa. Cocooned in a peaceful setting, the only sounds to break the tranquillity are that of an occasional Native American flute and the soothing crackle of a log fire. Respecting the healing powers of nature, and the legacy of the canyon, the Spa's empahasis is on helping the body restore and maintain balance through the change of seasons.
Healing herbs and botanicals that are indigenous to the region are carefully selected for treatments. We sampled the Gemstone Aromatherapy Energy Balance Massage, a deeply relaxing and energy-balancing massage/body treatment where imbalances are magically brought back into alignment. Organic aromas and four gemstones which have been energized along with herb infused oils, purify, soothe and naturally oxygenate tissues to support overall balance in body and mind.
Away from the Spa, there are also complementary wellness offerings available for guests. You can start your day with a guided meditation every morning seven days per week. Yoga is also available for all levels and there is also a chance to connect with Mother Nature and the spirit of Mount Timpanagos with a sacred nature walk.
If you're a skier, the unspoilt Sundance area is a dream. For gentle slopes, try Maverick and Rays Run before graduating to the steeper blues and blacks off Amy's Ridge. The difficulty gradually increases towards the Bearclaw Cabin, but it's worth it for the view from the top: breathtaking Rocky panoramas as far as the eye can see.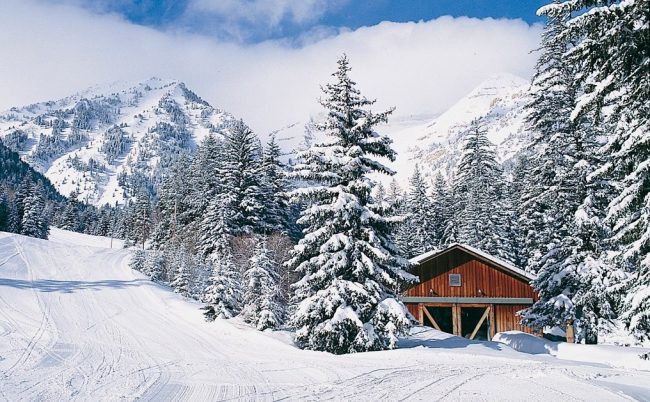 The Nordic Center provides cross country rentals for all ages and abilities for both classic and skating techniques. Snowshoe and boot rentals are available for all ages providing for a great family outdoor experience, and these are 15km of daily groomed trails to explore. And for the real adrenalin junkies, the Sundance ZipTour is one of the most exciting and scenic zip tours in the world, boasting over 3,870 feet of riding.
Sundance Mountain Resort is of course a resort that can be enjoyed all year-round. Due to its spectacular location, it's an equally stunning place to stay no matter what the season, and it brims with cultural and sporting activities during both the winter and the summer months. Equally, there is no pressure to engage in any activity; just being in tune with glorious nature is enough. There really is something for everyone here in this ancient magical canyon.
We're always inspired by these words by Robert Redford which have been carved out in stone; a gentle reminder of what Sundance truly represents:
'This place in the mountains, amid nature's casualness toward death and birth, is the perfect host for the inspiration of ideas: harsh at times, life threatening in its winters of destruction, but tender in attention to the details of every petal of every wildflower resurrected in the spring. Nature and creativity obey the same laws, to the same end: life'.  Robert Redford
For further information visit: www.sundanceresort.com
The 36th Sundance Film Festival will run from 21 to 31 January 2021 www.sundance.org
All images by CELLOPHANELAND* and Sundance Resort.
CELLOPHANELAND* were guests of the Sundance Resort.