This year's Manchester International Festival (MIF19) which ran from 4 – 21 July, was one of the city's most exciting and compelling to date. Beginning with Yoko Ono's Bells For Peace: the artist encouraged people to join in the free event at Cathedral Gardens, by each bringing a bell and ringing it for peace.
"Come and join together to send a message of peace to the world. The beauty of this piece will break the sky and more. Ring for peace! PEACE is POWER. I love you all". Thousands of voices, with Yoko joining by video link, and a beautiful orchestra of bells ringing out across the city, was the most perfect and heartfelt way to kick-off the biennial festival. This new MIF commission is the first major work that the artist has created for Manchester.
The MIF pulse was located in the heart of the city at the tree-lined Albert Square, renamed Festival Square during the 18 days. Here a stage, deck chairs, and bars/eateries were festooned with pretty garlands of flowers and lights, opening from noon until late every day of the festival; a great place where people could mingle, recharge and listen to the live acts and DJs.
There were so many magical events happening right across the city, that it's impossible to cover them all here on a single post, so we have highlighted our personal favourites:
My Head Is Disconnected is the first major UK exhibition of David Lynch's paintings, drawings and sculpture. The show features 88 works across four thematically curated chapters dating from the 1960s to the present day, and runs until 29 September.
The first chapter of the exhibition is titled City on Fire, and explores extreme, dystopian landscapes and how they affect the people that inhabit them. Nothing Here looks at the human psyche and the fragility of the mind through a set of broad characters. Industrial Empire presents drawings on the themes of labour, industry and the environment. The final chapter of the exhibition, Bedtime Stories, features new works by Lynch that fold his dark narratives and characters together in their own universe. Lynch's paintings are three-dimensional in form with scratched and charred surfaces in dirty earth tones or black and white. It was utterly fascinating to see Lynch's paintings alongside his lamp light sculptures, and discover the startling similarities with themes of fire, electricity and wood which run through much of his work.
Best known for his dreamlike, surrealist films such as Eraserhead, Blue Velvet, Mullholland Drive, and TV show, Twin Peaks, many are already familiar with Lynch's on-screen vision, but some may not know that he originally trained as a painter/visual artist. Lynch's prolific body of work encompasses painting, sculpture, photography, printmaking, drawing, installation, music and film. The artist and filmmaker literally took over HOME for the duration of MIF19, with his art in the gallery, Lynch-inspired music in the theatre, and his films screening in the cinema.
David Lynch Presents featured a special series of one-off live shows from Lynch-inspired musicians including Chrysta Bell who played the role of Tammy Preston in Twin Peaks: The Return, Anna Calvi, Douglas Dare, These New Puritans, Whyte Horses, Oliver Coates and Hatis Noit.
It's a Great Big Wonderful World  is a film season dedicated to Lynch's movies and those of the directors who influenced him, including Lynch's rare short films. Screenings continue until 29 September. David Lynch At HOME has offers a rare opportunity to dive inside the mind and world of one of contemporary culture's most important and creative visionaries.
There was also a fascinating panel discussion entitled The Power of Transcendental Meditation which featured Deirdre Parsons, Executive Director of the David Lynch Foundation UK, Tim Burgess from The Charlatans with David Lynch joining by video link. In 2005, the David Lynch Foundation for Consciousness-Based Education and World Peace was founded to ensure that every child anywhere in the world who wanted to learn to meditate could do so. The Foundation is actively teaching TM to adults and children in countries everywhere to help them transform their lives from within by using stress-reducing programmes, and working with students, stressed out teachers, the homeless, prisoners, and many thousands of war veterans suffering from post traumatic stress disorder (PTSD). Watch the full discussion here.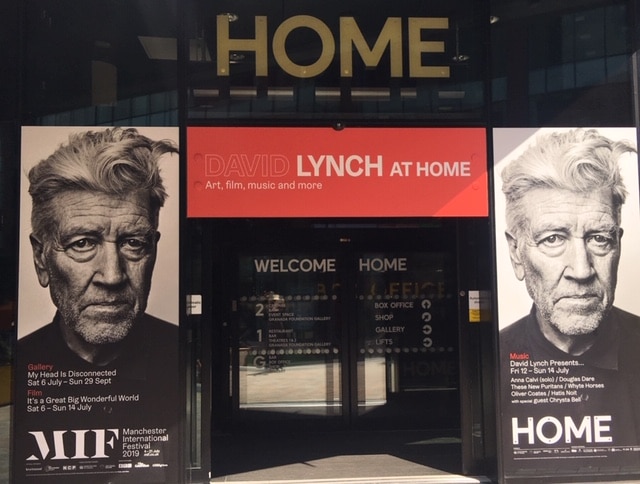 To The Moon was another memorable work at The Studio, Royal Exchange Theatre. Fifty years after man first landed on the Moon, Laurie Anderson and fellow artist, Hsin-Chien Huang, have collaborated on a project which consists of two parts: a lunar installation featuring film, images and music, and an unforgettable dreamlike VR experience which feels like your very own Moon landing! Created as part of Anderson's MIF19 residency, this project is a unique opportunity to explore the ideas and inventions ahead of her new work which she will be premiering at The Factory, MF's future home.
Tao Of Glass, by Philip Glass and Phelim McDermott had its world premiere at the Royal Exchange Theatre. An unforgettable play which was an exploration of life, loss and a single question: Where does true inspiration come from? Composer Philip Glass and performer/director Phelim McDermott have previously worked together on acclaimed opera productions in London and New York, but this was their most personal collaboration yet.
Inspired by a dream, the part-concept, part-performance marries ten meditations on life, death and Taoist wisdom with ten brand new pieces of music from Glass, presented by McDermott with an ensemble of musicians and puppeteers. Circles were predominant themes throughout, including the three large rings suspended over the stage which symbolised the "cone of consciousness". McDermott stood under the rings as he verbally explored dreams, creativity, meditation, and the different levels of consciousness.
A truly sensational moment was the surprise appearance of Philip Glass himself at the finale of the show. There were audible gasps as one of the world's greatest living composers walked out onto the stage and in an unassuming manner, sat down at the piano and began to play. An earlier part of the performance had featured Phelim McDermott laying horizontal on the stage recalling how as as his 17-year-old self, he would listen to the album Glassworks over and over and over again. And now here, at the end of his theatrical love letter to Glass, his personal hero is at the keyboard, playing the same repeated arpeggio patterns, and the circle is complete.
An electrifying finale to MIF19. See you in 2021!
For further information on the Manchester International Festival, please visit here
For further information on David Lynch at Home and film screening times, please visit here
To find our more about the David Lynch Foundation and the benefits of Transcendental Meditation, please visit here
For further information on Transcendental Meditation, please visit here
Images by CELLOPHANELAND* and MIF.