If the Copacabana Palace Hotel looks somewhat familiar it might just be that it was inspired by two of the 'grand dames' of the Cote d'Azur – Nice's Negresco and Cannes's Carlton. Built in 1923, it was the first true luxury hotel in South America and before long, like its French predecessors, became a magnet for Hollywood stars and the glamorous high-stakes gamblers who flocked to its casino.  In its heyday the likes of Elizabeth Taylor and Marilyn Monroe were guys, nowadays its main clientele are wealthy businessman and international travellers splashing out for a few days of the city's best.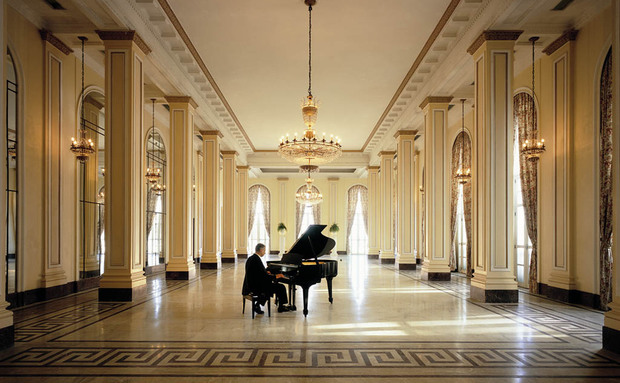 Located a few sandy steps from Copacabana Beach, the hotel's neoclassical facade is a stunning architectural statement; beautifully maintained in cream, it is a welcome break from the largely nondescript hotels that line the beach. Inside you will find plenty of old style quality featuring plenty of marble, crystal, plush carpet, wood paneling, period style furniture and delicate splashes of floral chintz. The whole hotel has recently undergone an extensive $20m renovation evidenced by a clean blend of traditional style and contemporary luxury.
The rooms are appropriately comfortable and elegant; the light, airy décor offset with pastel green, yellow, gold and dark wood. We recommend that you book the Oceanview rooms – these are more expensive than those at the rear, but a view of the Copacabana streets somewhat detracts from the glamorous atmosphere. Also request a room with bath and show – some only have bath and shower combined.
Many of Rio's hotel pools are disappointingly small, but thankfully the Copa's is one of the city's largest and most attractive, and a delightful place to while away a few hours people watching. Adjacent is the Pergula restaurant, the only place to be for Saturday lunch when the locals queue for their feijoada – a local spicy bean stew speciality. It is also open for informal dining in the evenings whilst later the Bar do Copa, a glittering poolside nightclub, is apparently a favourite amongst Cariocan socialites.
The other of the hotels two restaurants is the Cipriani. Specialising in delicious northern Italian cuisine, locals assure us that it is considered among the city's very best. For something extra special, book ahead for the tasting menu with paired wines at Luca Orini's Chef's Table.
The grand arc of Copacabana Beach of course is right outside. Enjoy it either by day; the hotel has its own area with loungers, umbrellas, monogrammed towels and waiter service, or by night, join the locals in a leisurely stroll down the patterned Portuguese mosaics.
The only slight negative aspect worth mentioning is that the adjacent Ipanema and Leblon are now rather more fashionable and better places for both dining out and nightlife – a short inexpensive taxi ride being the relatively minor penalty. But who cares when you are staying in a genuine Rio landmark. There really is no other choice in town.
For further information please visit: www.copacabanapalace.com
Images by Belmond Copacabana Palace and  CELLOPHANELAND*
CELLOPHANELAND* was a guest of the Belmond Copacabana Palace.