It would be very easy to visit this beautiful city and miss the Prada Foundation Milan. This is because since its opening in May 2015, when it received much coverage, mostly in respect of its architecture – the online travel pages of the major publications appear to have declined to add the foundation to its list of travellers 'must-sees'.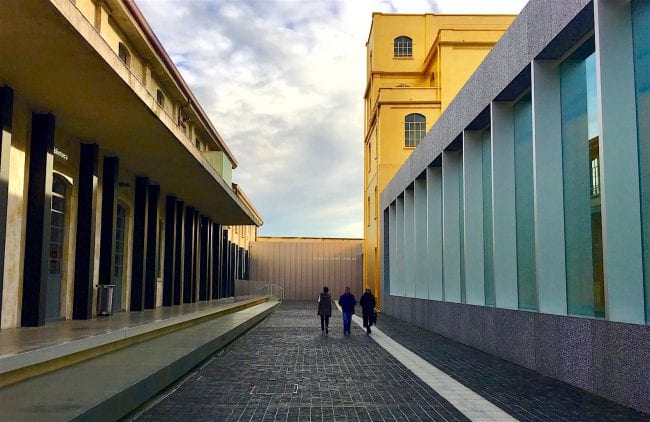 It almost seems as if Milan has been pigeon-holed as a centre of either fashion and furniture design, or as a historic city break. Maybe it will take more time to attract contemporary art lovers?  Perhaps the Prada Foundation Milan is just what the city needs?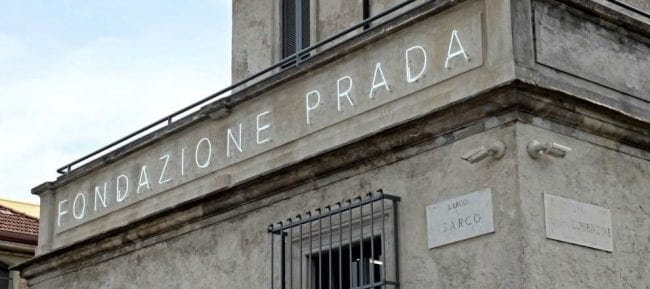 Located in the southern part of the city, the Prada Foundation Milan compound requires some modest determination to visit, but is well worth the effort. We love the transformation of the former distillery that dates back to 1910 combinings seven existing industrial buildings with three powerful new structures These are called Podium, Cinema and Torre.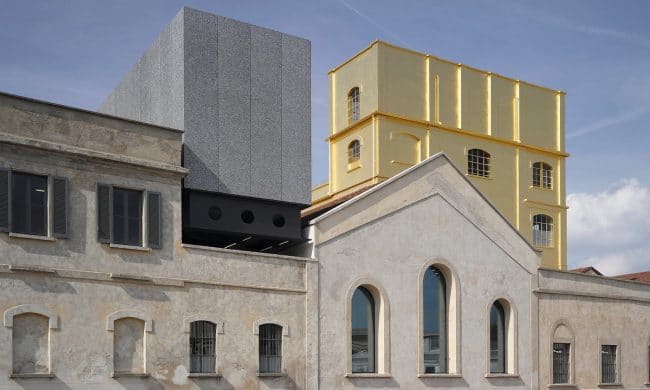 The architect, Rem Koolhaas, is keen to emphasises the differences between the buildings which he is keen to preserve. "The Fondazione Prada is not a preservation project and not a new architecture. New, old, horizontal, vertical, wide, narrow, white, black, open, enclosed – all these contrasts establish the range of oppositions".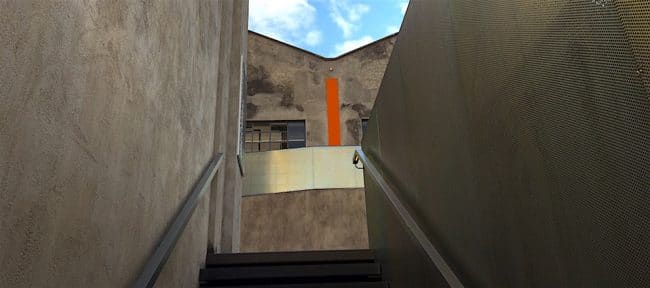 Indeed the turn of each corner brings revelation as historic buildings are mixed with new ones of expanded metal, steel and glass. Sometimes they are cantilevered over the old or descend into the ground.
There is even a stunning building clad in gold. Surprisingly this is quite economical says Koolhaas: "Gold is a very cheap cladding material, compared to marble or even paint."
Interiors bring similar depth of experience with varied curatorial techniques and display strategies. An old multi-storey house of small bare rooms is home to an intriguing permanent exhibition from Louise Bourgeois and Robert Gober.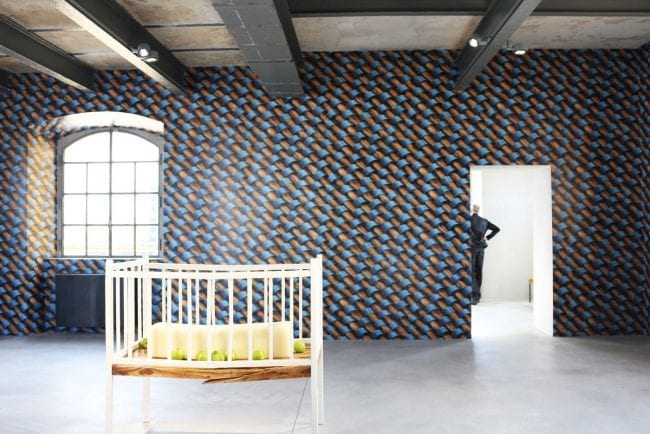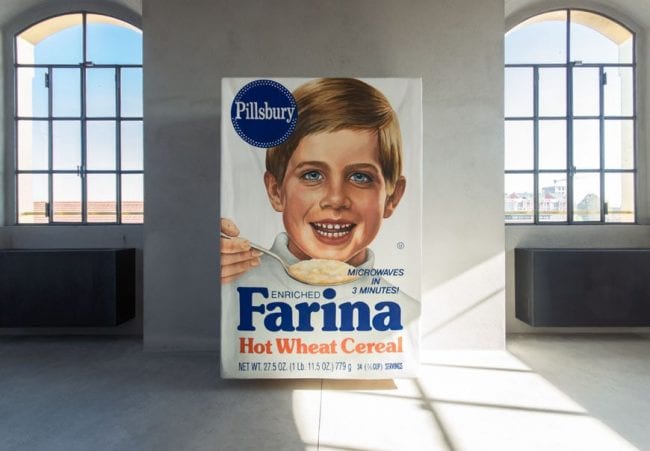 Inside the Fondazione Prada Torre structure, project Atlas, emerged from a dialogue between Miuccia Prada and Germano Celant. It hosts works from the Prada Collection displayed in a sequence of distinct environments. We spotted works from Carla Accardi and Jeff Koons, Walter De Maria, Michael Heizer and Pino Pascali, William N. Copley and Damien Hirst, John Baldessari and Carsten Höller.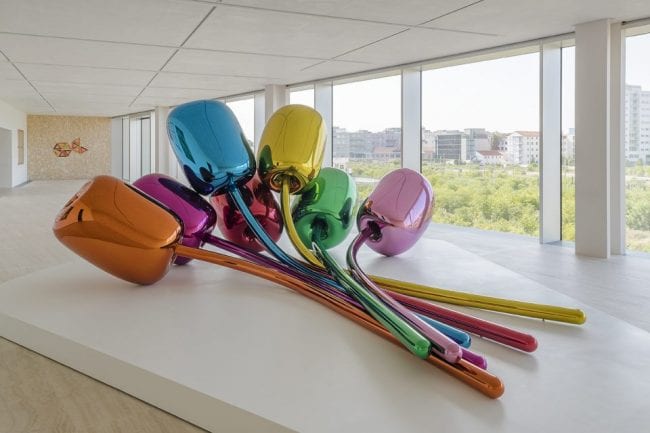 Need a breather? Enjoy a break in a 1950's bar designed by director Wes Anderson. In shades of green and gold, pinball tables and juke boxes complete the retro look. "The approach I used to design this bar is exactly the opposite I usually use for the set designs of my movies. I tried to make it a bar you'd like to go to five times a week. When I was really young I wanted to be an architect, and this chance I've been given to pretend to be a real one is a childhood fantasy come true!".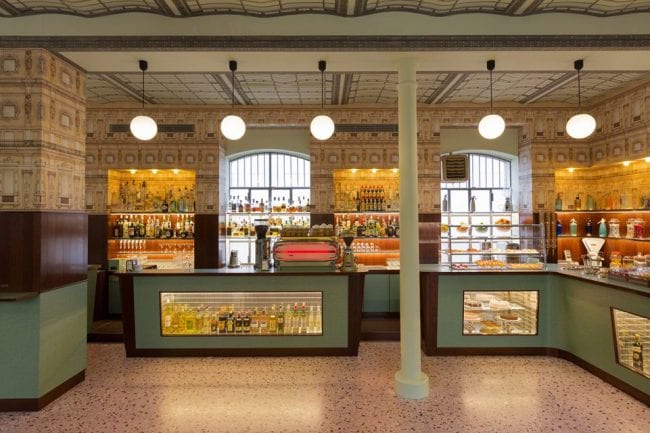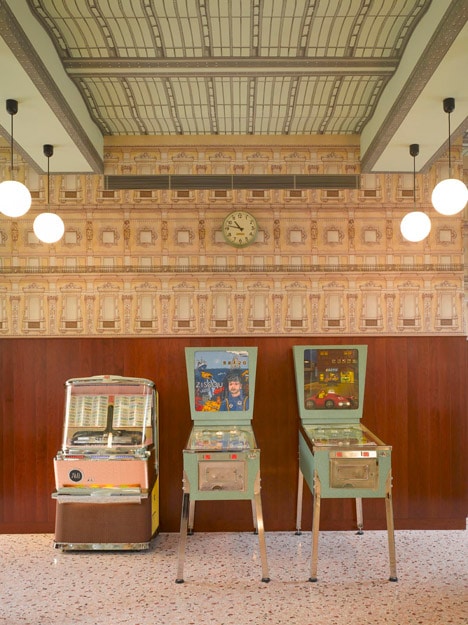 Exhibitions running to September 2020, include The Porcelain Room, an exhibition curated by Jorge Welsh and Luísa Vinhais, that explores the historical context, scope and impact of Chinese export porcelain.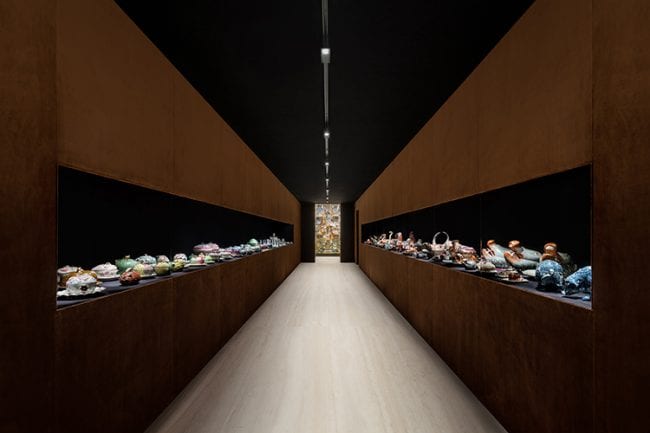 Prada Foundation Milan is a remarkable place and we highly recommend that you ensure that it is added to your itinerary.
For more information visit Prada Foundation Milan
For our curated recommendations for Art, Culture, Design and Architecture books visit the CELLOPHANELAND* bookstore