'I love London' Vincent Van Gogh wrote to his brother during his on and off stays between the spring of 1873 and the winter of 1876. Van Gogh and Britain looks to expand on this in the first half of this exhibition, claiming his stay exerted a deep artistic influence on the young artist.
The second part examines the later influence of his art on later British artists whilst a superfluous, but enjoyable, extra room looks at the exhibition of French artists which led to the term Post-Impressionist.
Van Gogh was just 20 when he joined the London branch of art dealer Goupil and immediately threw himself in to local life. He bought a top hat, avidly read Dickens, travelled the new underground and explored the parks and galleries. Sadly for the Tate, Van Gogh was not yet an artist and it was only four years after leaving London that he started to paint.
The exhibition therefore looks for, and to be fair, finds some interesting links back to his city sojourn. Despite his poverty, he collected around 2,000 engravings. 'My whole life is aimed at making the things from everyday life that Dickens describes and these artists draw' he wrote.
We see sketches and early drawings where he drew direct inspiration from these prints, copying their imagery and style without yet arriving at his unique style which appeared after Van Gogh was introduced to the pointillism of Paul Signac and Georges Seurat.
We see his only London painting Prisoners Exercising, from Gustave Doré's print of Newgate Prison. It was however only made in Arles towards the end of his life. Its link to the City is as tenuous as the painting is wonderful – a circle of prisoners in a claustrophobic yard of swirling brush strokes that glows with light from above.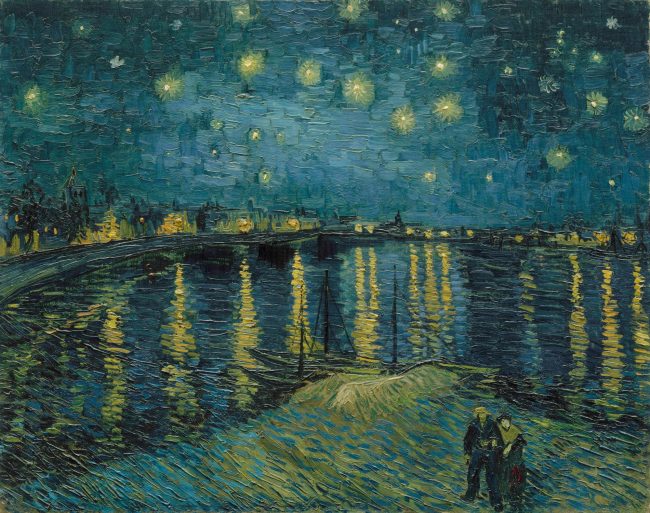 We also see Whistler's Nocturne and Dore's Thames as potential influences on the majestic Starry Night, with its illuminated riverside, golden reflections and twinkling stars.
Other comparisons are drawn with Constable and Millais, and there are plenty of dull engravings, sketches, drawings and minor works to examine, for those with the time and willpower. It is however hard to spend much time on these when you know there are some gems of Van Gogh's genius to come, dotted through the exhibition.
A room dominated by Van Gogh's Sunflowers looks at his influence on the flowers paintings of British artists. There are examples, often clearly derivative, from William Nicholson, Samuel Peloe, Harold Gilman and Christopher Wood amongst others. A final room looks at later Van Gogh inspired works and include a fabulous Francis Bacon triptych.
As enjoyable and eductional as this exhibition is, unfortunately the claim of a strong British influence on Van Gogh is not quite as convincing as the Tate would have us believe. It is nevertheless a thoroughly enjoyable look at some of his influences, and the development of one of the truly great artists and a rare opportunity to take a close look at a handful of masterpieces of post impressionist art.
For more information visit www.tate.org.uk
CELLOPHANELAND* were guests of The Tate Gallery