It is not that many  years ago a vegetarian option in a restaurant was just an salad or omelette and chips. We have come a long way since then, but it is still surprisingly hard to get good and varied vegetarian and vegan food. Most establishments will have a token offering but there always remains the suspicion that somewhat less effort is being put in to this – usually very limited – 'choice' than in to the lovingly prepared meat dishes.
Surveys put British vegetarians for example at somewhere averaging 5%, and increasing slowly, but what is undeniable is that there is a significant jump in meat-avoiders – people who plan to eat little or no meat – perhaps now around 30% of the population, even more in younger people. Despite this, dedicated vegetarian eateries are few and far between, but surely an increase is on the way soon?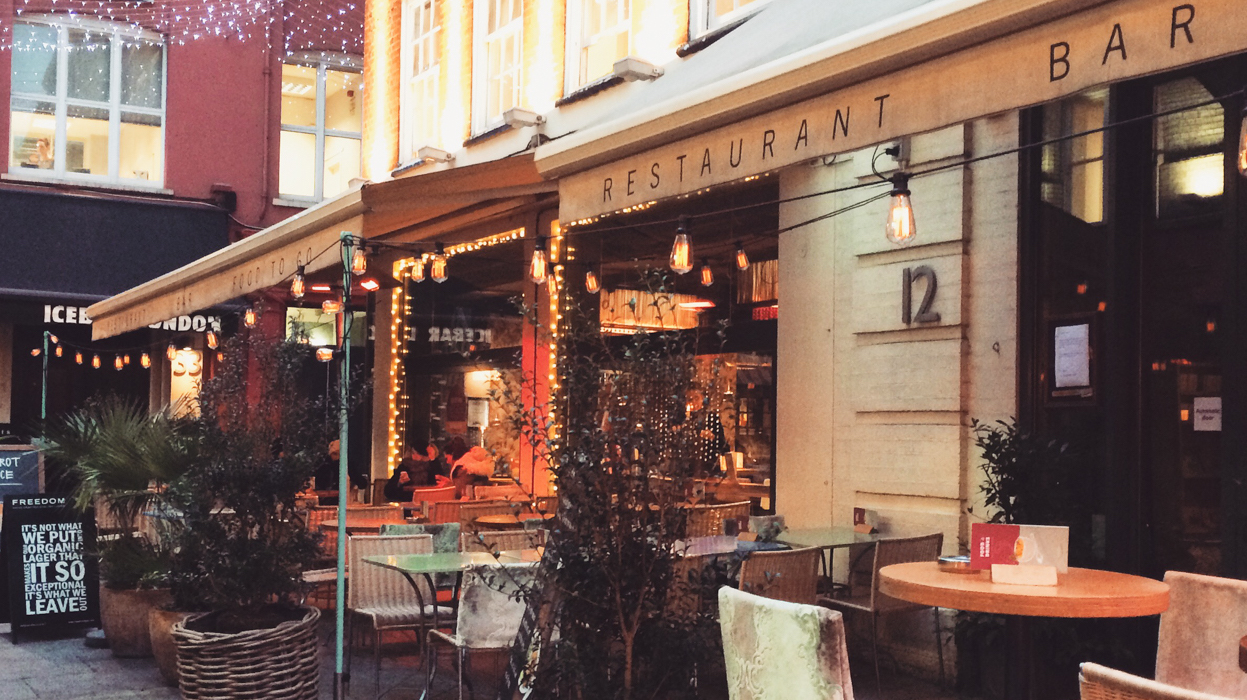 tibits is one restaurant that has recently arrived and hoping to take advantage of this 'meat avoiding' trend. It is actually a small Swiss chain, founded by three brothers – Reto, Christian and Daniel Frei, along with vegetarian pioneer Rolf Hiltl – who were, perhaps unsurprisingly, unable to find a good vegetarian restaurant in their home city of Zurich. Since opening their first branch in 2001 they have slowly expanded to the current eight, with three more Swiss locations due to open soon.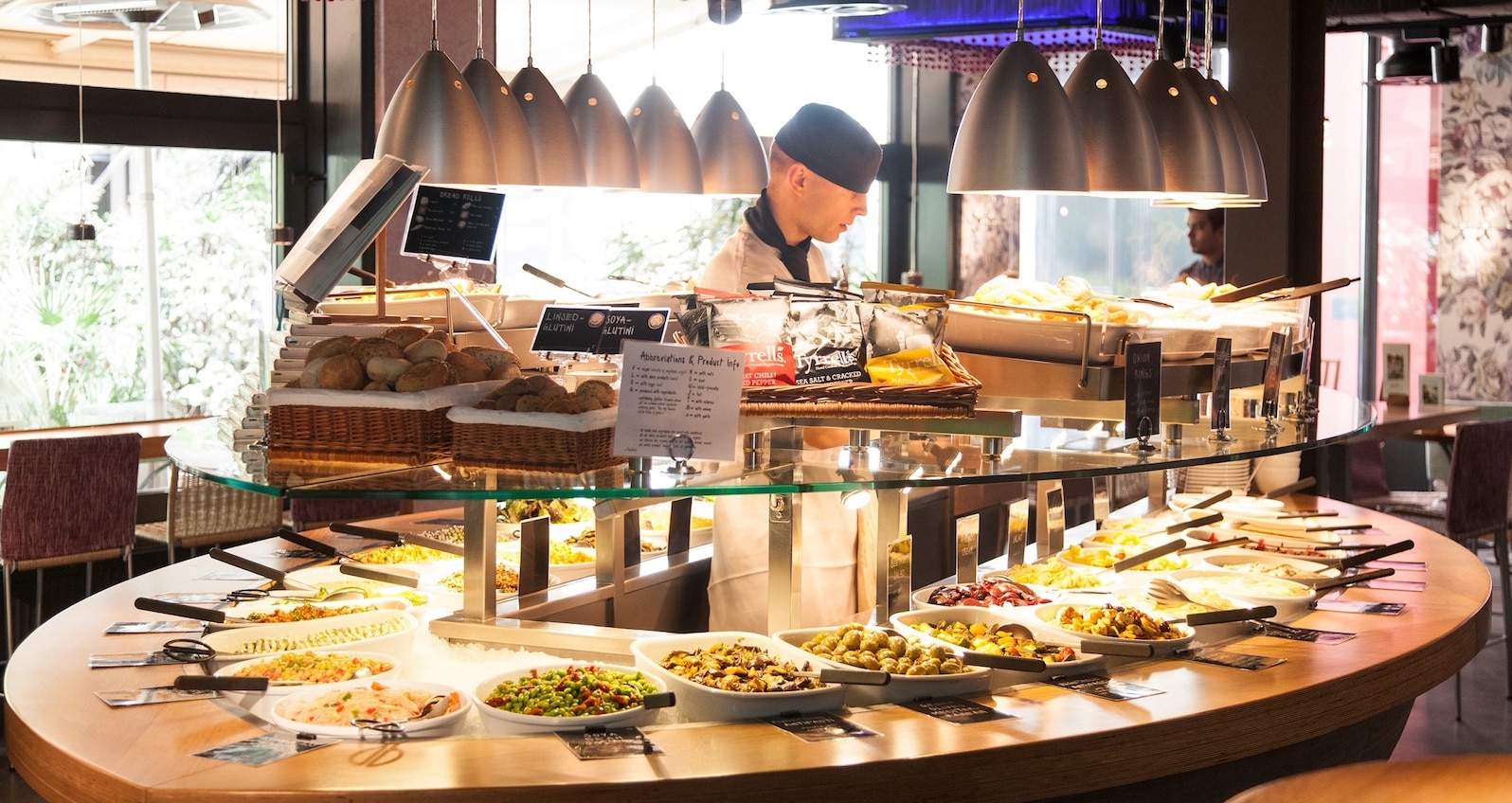 We tested out the sole current British venue in the heart of the West End. Just off bustling Regent Street, in peaceful and pedestrianised Heddon Street, right opposite the blue-plaqued doorway made famous on Bowie's Ziggy Stardust cover. It has a delightful outdoor terrace as well as an atmospheric indoor area on two floors. Soon to be refurbished, the new 'signature' tibits look will use reclaimed materials such as oak and concrete, glass – all in line with the  earth-friendly, cosy and welcoming philosophy.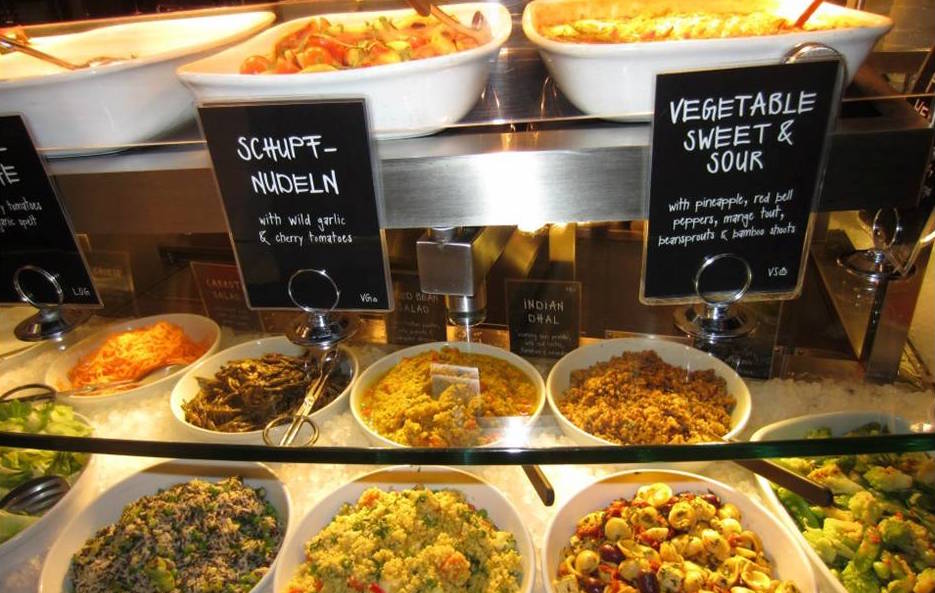 The focus of the indoor area is a large oval buffet. Here there are over forty hot and cold dishes and desserts, freshly made by hand daily and seemingly continually replenished. In contrast to a typical buffet, where it always seems an effort to find something desirable, the problem here was to resist trying absolutely everything.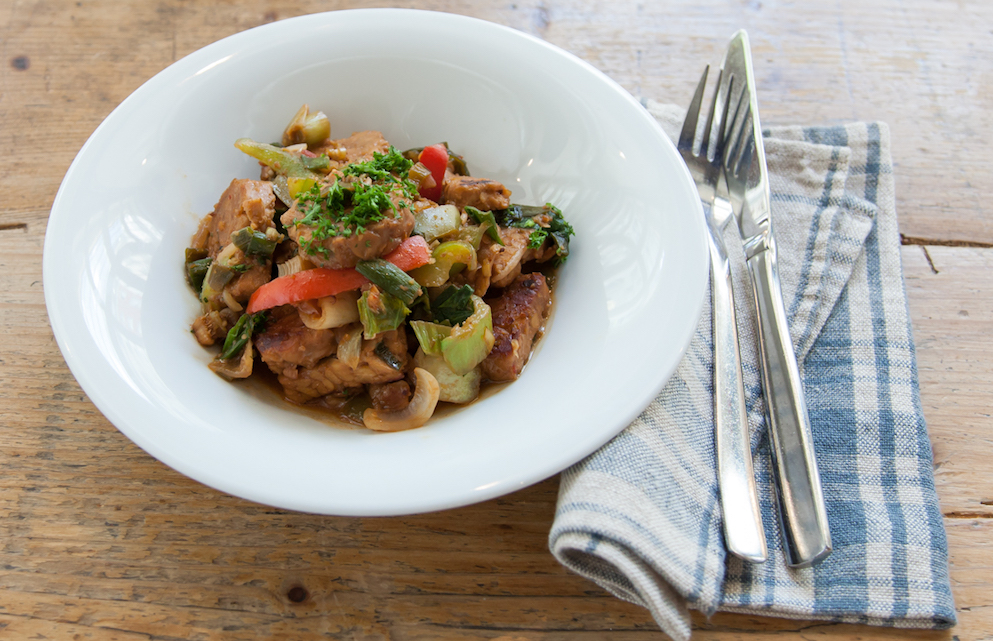 Attempting to be selective, we tested some cold starters that including for example a vegetable ceviche and parsnips salad. There were plenty of surprises and new tastes; we went back for extra portions of a delicious wakame salad – a Japanese seaweed and noodle dish – and a vegetable tatar, that looked just like mashed carrot, but that also contained pickled gherkins, parsnips and capers and tasted divine.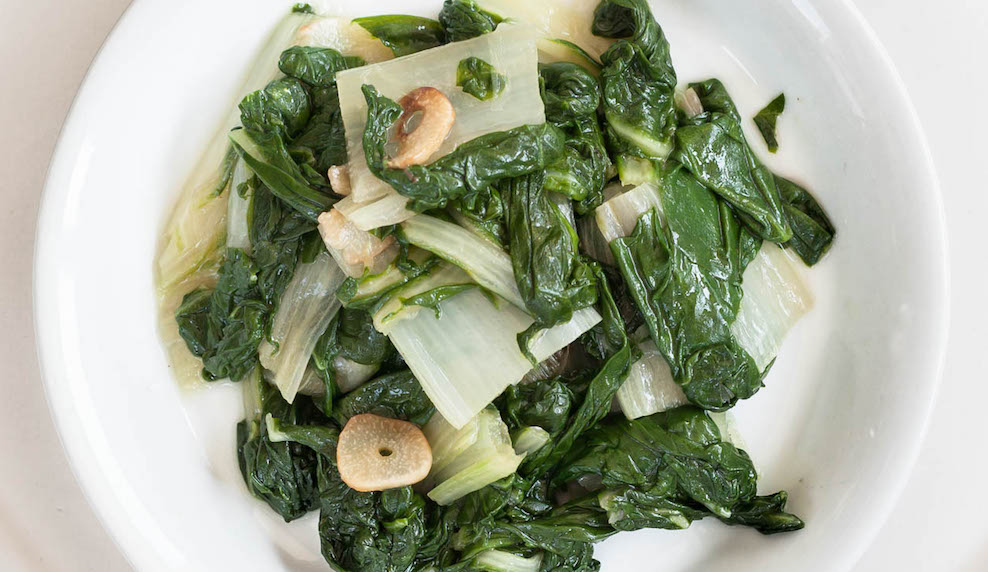 Another favourite course was a sweet potato and papaya curry but there were so many more: parsnip gnocchi, soba noodles with shiitake and asparagus or tikka vegetables, green pea dip with oven potatoes. There were soups to try before and plenty of breads, rices and buses to supplement the meal. Each was labelled with diet notes such as gluten free or vegan. Naturally there were delicious juices and smoothies to wash it all down.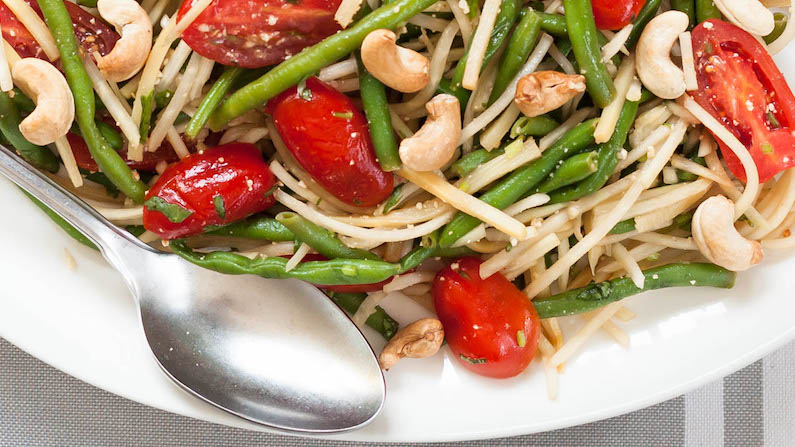 Our delicious, healthy and ethical meal would usually be more than enough reason for anyone to return repeatedly but there are more plus points like no waiting for service, the opportunity to try a wide variety of food, and very reasonable prices.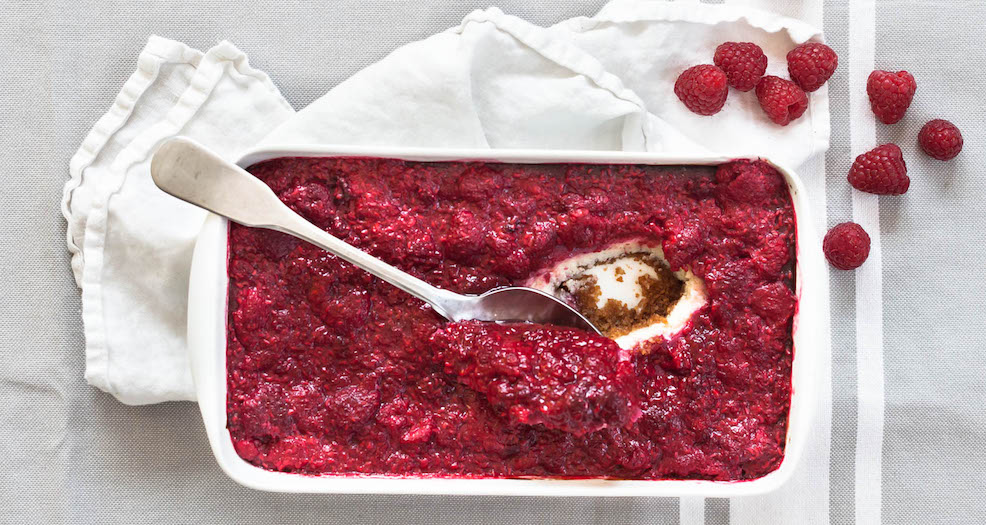 Ethics play a big part, too – tibits chefs carefully source their largely organic and GM free produce and ingredients, working with small and local suppliers where possible. They are also mindful of their carbon footprint – each restaurant using 62% less CO2 than the average, which apparently means every meal saves about one kilogram of CO2.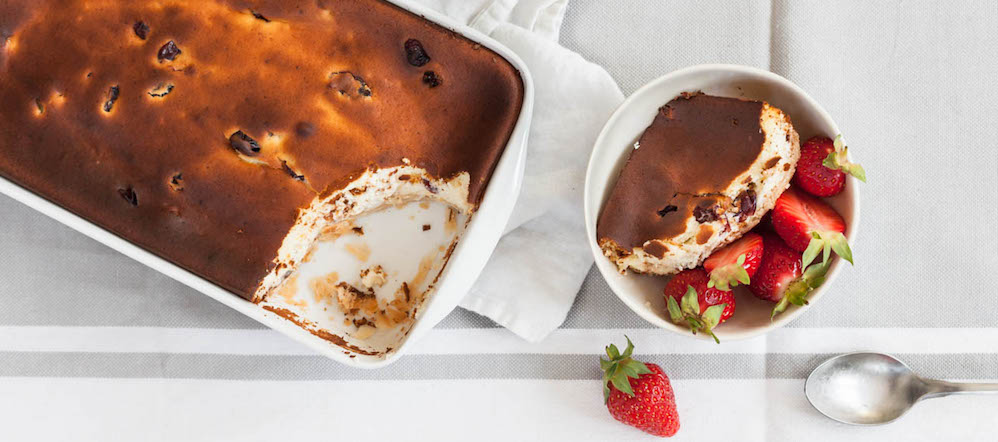 For those who might find this all too virtuous, there are some (only slightly) less healthy deserts – we tried rhubarb crumble, chocolate pot, sticky toffee pudding and beetroot and bean brownies. There is also a full bar plus espresso coffees and speciality teas. Did I mention that they are also open for breakfast, lunch and afternoon tea – and that all the recipes are very generously listed on their website?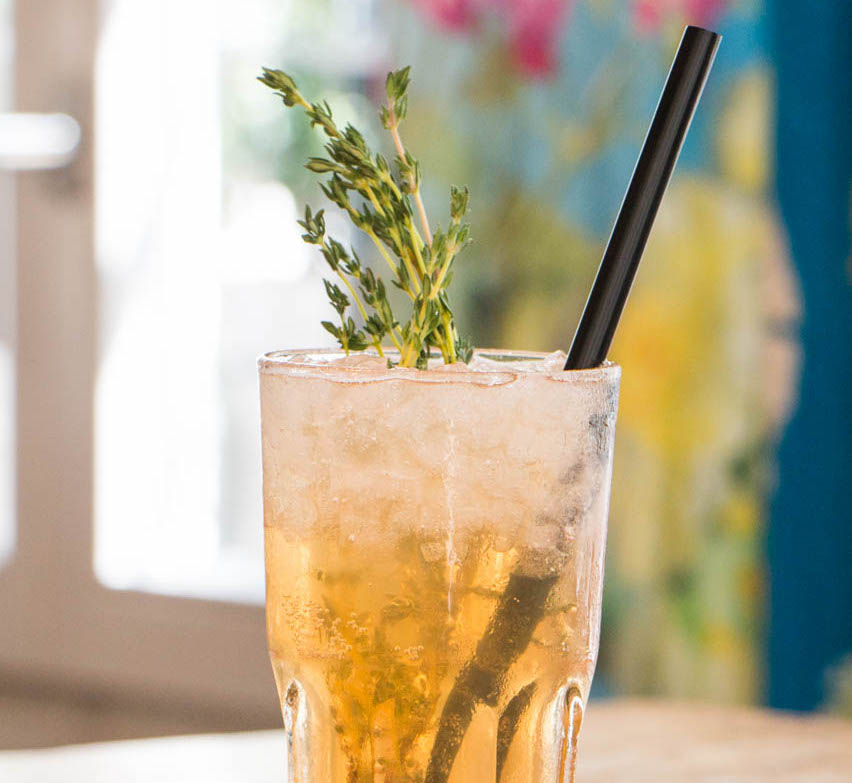 tibits is a prized restaurant for anyone lucky enough to drop in, meat eaters might not even notice the missing ingredient. This is a valuable name on the London restaurant scene, and we can't wait for more new openings.
For more information visit www.tibits.ch
CELLOPHANELAND* were guests of tibits.