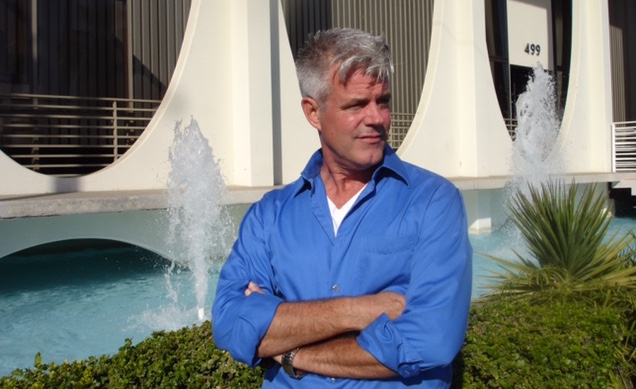 William, what first led you to study architecture and design?
I think it was aesthetics and my environment. My parents built their post and beam house in 1962. They would show me the blueprints and walk me through how things were laid out. Then during construction, we would visit every Sunday to see what had been accomplished that previous week. My family was big on improving things around them, whether it be the interior or exterior.
You now live and work in Palm Springs, CA.What does a perfect day in the desert look like to you?
Sunny, blue skies and in the 70's…so when getting in your car and running about, it's a manageable temperature. Attending a reception at a satisfied client's house!
What for you personally is so special about Mid-Century architecture and design?
The common sensibility of it. It's philosophy originates from looking at everyday materials in a new way, and using them in ways that previously they had not been used in. The beauty is its simplicity. Almost Zen-like.
Do you have a favourite Mid-Century designer and if so, why?
Well, that is a loaded question! Probably Albert Frey. I realize he was Swiss and worked in Le Corbusier's office in New York, and his work here in Palm Springs was a synthesis of those influences as well as integrating his designs with the desert environment.
What are your memories of working on the iconic Kaufmann Desert House designed by Richard Neutra?
I can't really put that in print! Actually, the diversity and amount of people that came to experience it and photograph it, and the sensation it made. Also my cherished memory is the friendship with Julius Shulman that developed there and lasted throughout his life. Within the first few days of meeting him at the Kaufmann house, he took me on what I refer to as a 'Master Class' of photography around the grounds. He related working with Neutra when photographing the house: how Neutra wanted the shot and then what Julius suggested to improve the shot. Even at the time I knew it was a once in a lifetime experience out there amoungst the boulders with Julius.
Where does your inspiration come from?
From the very aspects of the project itself. The reason I am called is that clients need a solution to something that isn't working for them. I am partial to a more minimal, architectural supportive solution to the landscape.
What is your favourite book, favourite film, favourite piece of music?
It's usually what I've just finished reading, watching and listening to. I find myself influenced by the here and the now.
What are your favourite colours to work with both for interiors and exteriors?
Apple green and sunset orange always with a shade of grey.
If you had to choose your favourite building in the world, what would it be?
Aah, a difficult choice. Well my favourite piece of architecture is the Golden Gate Bridge. Loved that bridge, ever since I was a child. I finally got to walk across it when I was in college…I love it every time I see it. Building: The Seagram Building.
Can you talk a little bit about your involvement in Modernism Week in Palm Springs?
Yes, I founded it eleven years ago with Stewart Weiner, upon the idea of keeping people in town between two February weekend events. It was apparent that there were people coming for the Modernism Show one weekend and then the Museum's Design Symposium the next weekend. Stewart Weiner, then the Editor for Palm Springs Life, and I spoke about what could we do to keep them here during the week. We had a few architectural tours and I asked other preservation groups to come up with an event and thus Modernism Week! I believe we had six events and 300 people participating, I thought: "Well, this could continue to work…".
How would you define good architecture?
Balance, proportion, inventiveness of materials, drama, form, function all have to come together in an amazing reality.
You were the President of the Palm Springs Preservation Foundation for nine years, what were your most memorable projects?
We produced the tribute journals that were a focus on desert architects or styles. They were intended to give an overview of the subject and make people aware of the amazing inventory of designers and architecture we possess here in the desert. Often times, the story of what influenced a building being created is as fascinating as the finished product itself, whether it be Mid-Century Modern or Spanish Colonial Revival.
Which of your projects do you feel most proud of?
Well, commercially it would be the Ace Hotel. And for residential, there are many for many specific reasons.
For further information on William's design work, please visit: www.insideoutsideinc.com
Recommended reading: Palms Springs: A Modernist Paradise, purchase here
Palm Springs Preservation Foundation
California Preservation Foundation