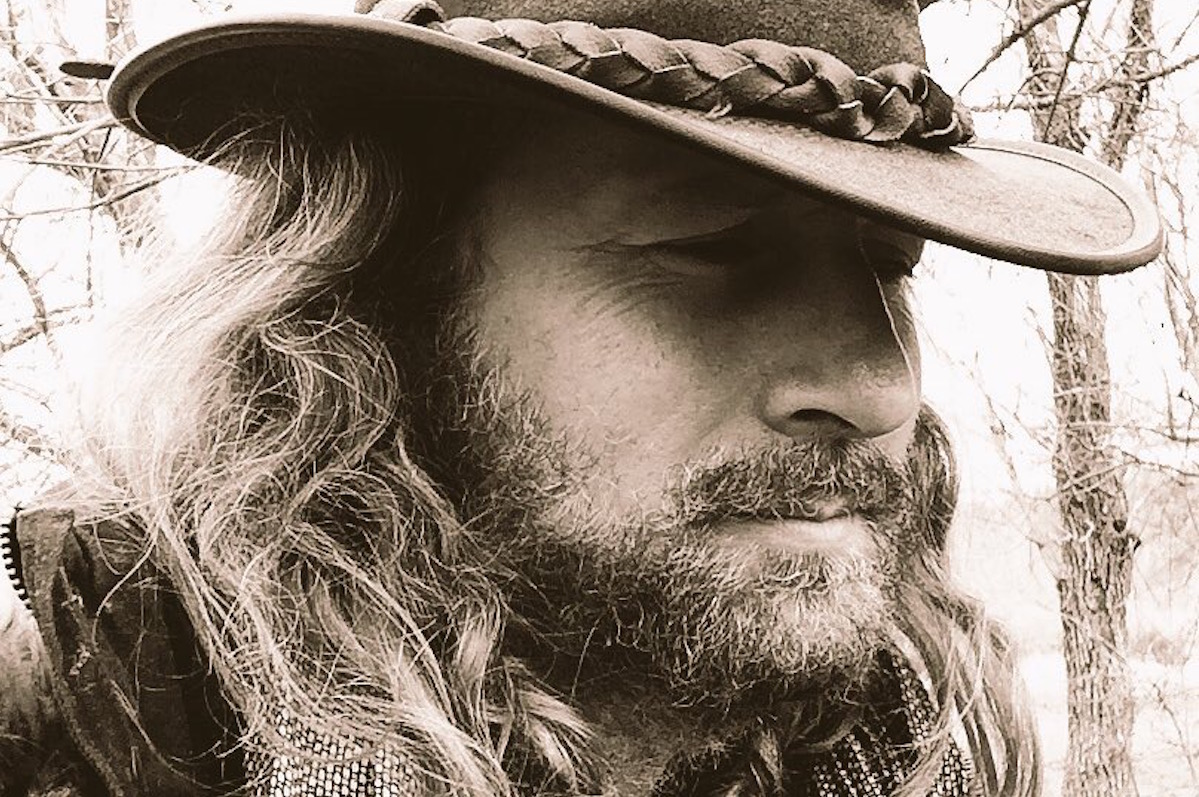 Tom, who were your musical influences growing up?
Weirdly my first thought to that was, I dunno. When you're young you hear stuff around you, at home, on the radio, the TV, wherever and you don't know who it is but you listen and you take it with you. And maybe because you have that distant relationship with it, you take the sound of it, the vibe of it, not the detail, not the name. I remember in the deep and distant memory of early childhood there was this guy and I really liked the way he played guitar, melodic and percussive at the same time. It was only a little later that I would realise that the guitarist was John Martyn.
In terms of other early musical influences, I was classically trained so it'll be Beethoven or Rodrigo. My finger picking on guitar started there. And then visits to my grandparents in Dingle.
In my teens I was a classic rocker guitarist so Hendrix, Zep, Floyd, Clapton, Lizzy. My first riff on electric was, like thousands of others: Back in Black. And then I got more into songwriting and songwriters like Dylan, Cat Stevens, Van Morrison… the list goes on
So I guess they all play their part. Some of the most important influences aren't musical but translate into music. For me music was a haven. I didn't try to imitate anyone. I just did what comes naturally.
In what ways do you think your Irish roots have influenced your music?
Ah yes, from Kerry. Many visits to grandparents in Dingle Bay as a kid, rugged, beautiful and wild, love it there. And yeah, that's exactly where it comes from, the violin, the mandola, the lyrical melodies, the story telling. My grandfather was a great story teller. At Christmas he would stand up in front of the family and recite Dickens. I feel very connected to there, in the blood in the same way that heavy sea air is in your bones.
You studied at the London School of Economics, did you always want to be a professional musician, or did that come after finishing University?
I always wanted to play music. I guess when you're younger you don't think about it in those terms, being a "professional." You just want to play. That's all musicians ever really want to do, do what we're here for and earn enough money to survive. I started playing guitar when I was six so let's say it started then.
The thing is it's not like you have a choice, writing and playing is like breathing to me. It's gotta be said though that, with recorded music now becoming free, the air is getting a bit thinner.
It might also be an idea if someone told our education minister that artists do not "choose" to be what they are, they are what they are. It has been very saddening to read her comments trying to stop kids from following their natural talents. You don't put a lion on a lead.
I gotta say that if anything LSE was also a spur to writing songs with social commentary. That's where it started. It's where I wrote the song Freedom which is on Fire in the Doll's House about the fall of the iron curtain.
You were based in Los Angleles whilst studying at the Musician's Institute. How do you think that experience impacted your career?
That was a great experience. I guess firstly I improved technically as a player but I also learned a little more about communicating through your playing. I was always taught that in classical training, the importance of feel, dynamics and touch, the importance of listening. Young lead guitarists can sometimes get obsessed with tricks and speed (shredding). I saw a lot of that at the Musician's Institute. The thing is that that really only impressed other guitarists and metal head air guitarists. Communicating to people musically is the difference between the good and the great.
Of course living in LA is a life lesson in itself. I was loving the LA rocker lifestyle hanging out in the Rainbow with all the rest of them. That was a cool place, like a sanctuary for the tribe. They would all be there, some of them in pretty famous bands. It's about a code and that's all there is to say about that. I know why Lemmy lived upstairs. By the way, as you would expect, he was one of the coolest most courteous cats you'd ever meet.
The memories are still strong from my time in LA. I guess that's where some America permeated into my musical soul and you can hear that in my music these days. Mix that with some Irish roots and blues and you get pretty close to me now.
Nature seems to play a big part in your life…captured in your videos, photography etc. Where are your favourite places in the world to go and recharge?
Probably by a river in a forest and it could be anywhere on the planet. Right now that river is called La Siagne which is not too far away from where I live. I live here because of it. In the forest is where I feel most at home, like it is my home. Maybe it's to do with a past life. I do a lot of thinking there, contemplation, it's just a beautiful place to be, and nature speaks to me. If you listen closely you can here the murmur of people talking in the river or whispering in the wind through the trees. And I listen closely to try and hear what they're saying.
I'm lucky, if I want to go anywhere in the world to recharge, right now it's not far away.
I revere and love nature and I believe that to revere nature is to protect it. If mother nature could have a say in the US elections, she'd vote Bernie.
Your album The Road was set to be released in 2013, but was delayed for two years due to an unfortunate accident where you suffered prolongued concussion. Can you tell us a little bit about that difficult time, and your road to recovery?
Man, that was really hard to get through. I gotta say, first off, that most doctors don't actually know what concussion is. After it happened the doctors I saw were totally blasé about it and wafted me away as if it was nothing. Essentially that's like sending someone into a trap. Because of their negligence, things got worse.
It affected everything, my balance, vision, hearing, memory. To be honest, if you were to design a living hell for me then that was it. So I have been there. It is difficult to think about it now. In that state you can't do much. Thankfully I have Watson my dog and we would go walking for hours on end each day. It was me and him, our pack. I guess one of the positives that came out of it was a passion and a little talent for photography that I discovered on those walks. It was a way of finding beauty in the darkness.
So some advice to people with concussion. Go home, stay home, rest, sleep, be looked after, try and eat well, sleep, no TV, radio is ok. Do not leave home until you are fully fully recovered. And when I say do not I mean DO NOT leave home unless it's on fire.
As far as concussion is concerned, call it what it is: brain damage.
The road to recovery was slow and hard, like walking over a World War One battlefield. How do you do it? Quite literally one step at a time.
When he heard your song Me and the Sun, David Crosby from Crosby, Stills & Nash, was really impressed and said that he hoped to meet you "somewhere sometime". Have you guys connected yet?
No not yet but it will happen. Life has a way of bringing kindreds together. We exchange a message or two on twitter now and then. Somehow I know that we'll meet somewhere sometime.
Your beautiful dog, Watson, features greatly in your work. How did Watson come into your life?
Thank you. He really is, in both senses of the word. A musician I know, Neil Cowley, the jazz pianist, posted a picture on FB of a tiny German Shepherd pup saying she was coming home to his place in a few weeks. So I asked where he got her from and next thing you know I'm visiting a farmer just outside Melton Mowbray looking at some pups and in particular a little black one that had a particularly cool attitude about him. I walked in and he walked towards me, looked up at me as if to say "yeah, you'll do" and walked on…. So I thought, yeah, you're coming with me. And he's just come up to say hello as I write this. He reads my mind.
Watson is my rock. Dogs are all about unconditional love which is what my song By Your Side is all about. He helped me write it.
You have recently collaborated on a Songs of Bob Dylan EP. How did that come about? Do you have a favourite Dylan track?
I had met Katey Brooks on the road when doing an interview for the BBC radio. Subsequently, we did a gig together and without much planning at the end of the gig we did a duet of I Shall Be Released. It worked really well so we decided to record four of our favourite Dylan songs. We got together with Tristan Longworth who produced my last album The Road and put down the tracks. I'm really pleased with how it went. We didn't try to be clever with it, it's just a good rootsy folk rock vibe with an haunting version of The Times They Are A-Changin'.
If I had to then I'd have to say that the track that is most part of my personal soundtrack in life is Blowin' In The Wind.
Dylan is of course a major influence in my music. People may have seen him as a protest singer but to me he was just writing about what was going on around him, what he saw, what he felt, what he heard. I can relate to that. The Sunday Times said of me once "the protest singer has a pulse again" but really all I do is write about life, my life, your life, our lives. Sometimes I write about love and other times I write about war, and if I write about war I'm a protest singer. If I write about austerity I'm a protest singer. If I write about bankers I'm a protest singer. In some ways it's used by some people as a derogatory term because they want to quieten protest. Fuck 'em.
The journalist asked me at the time if I was worried about being seen as a protest singer. I wasn't, but I was worried that he asked me…
Right now I look around and I find it strange that more people aren't singing about the times we live. There's so much to write about…
Who do you like to listen to when you're not working?
I'm always working… although there are times when I'm more focused on writing. I've been writing a lot recently which means I haven't listened to much. It's part of the process. It's not always this way but when I'm working on a song I tend to live and breath it, playing it in the background in my mind throughout the day. It's about letting your creative mind be totally free, just doing its thing. And then you're walking through the forest and it's like your mind throws out a lyric or two to go with the melody you've been playing and I catch the words and write them down. One of the things about that discipline is not listening to anything else.
When I'm not deep into a song in that way then I'll listen to a little more music. Right now the sort of stuff I'm into is the likes of Ben Harper, Lamontagne, Vedder, a little more Dylan and Joni, some Jose Gonzales, Iron and Wine, Damien Rice, Amos Lee, John Martyn always, Bon Iver, Glen Hansard, Weller, CSN, Neil Young… it's all about songwriters I guess. Always looking for new stuff. My fans often point me in the direction of someone good.
Of course there's loads of other stuff, when I play lead guitar I'm a blues rocker so I love Stevie Ray Vaughan, Clapton, Page, Walsh. I'm probably gonna play some lead guitar on the album after next. As a singer, well, so many but I was really sad when Joe Cocker left us. I learn something from him every time I listen to him and every time he reminds me that I've got so much more to learn.
You're currently writing your third album in France at the moment, do you have any plans to go on tour afterwards?
Yeah I do. As I say, I've finished writing The Shore so now it's just a question of deciding where to record it. I've got a few ideas. After that, I'll be looking forward to getting out on the road.
For further information on Tom's music and photography, please visit: www.tommoriarty.co.uk
iTunes: https://itunes.apple.com/gb/artist/tom-moriarty/id393536904
Instagram: https://www.instagram.com/thetommoriarty/
YouTube: https://www.youtube.com/user/officialtommoriarty