Since relocating from London to Gloucestershire we've been on a mission to find the best gastropubs in the Cotswolds, and they really don't come any better than the The Kingham Plough at Chipping Norton.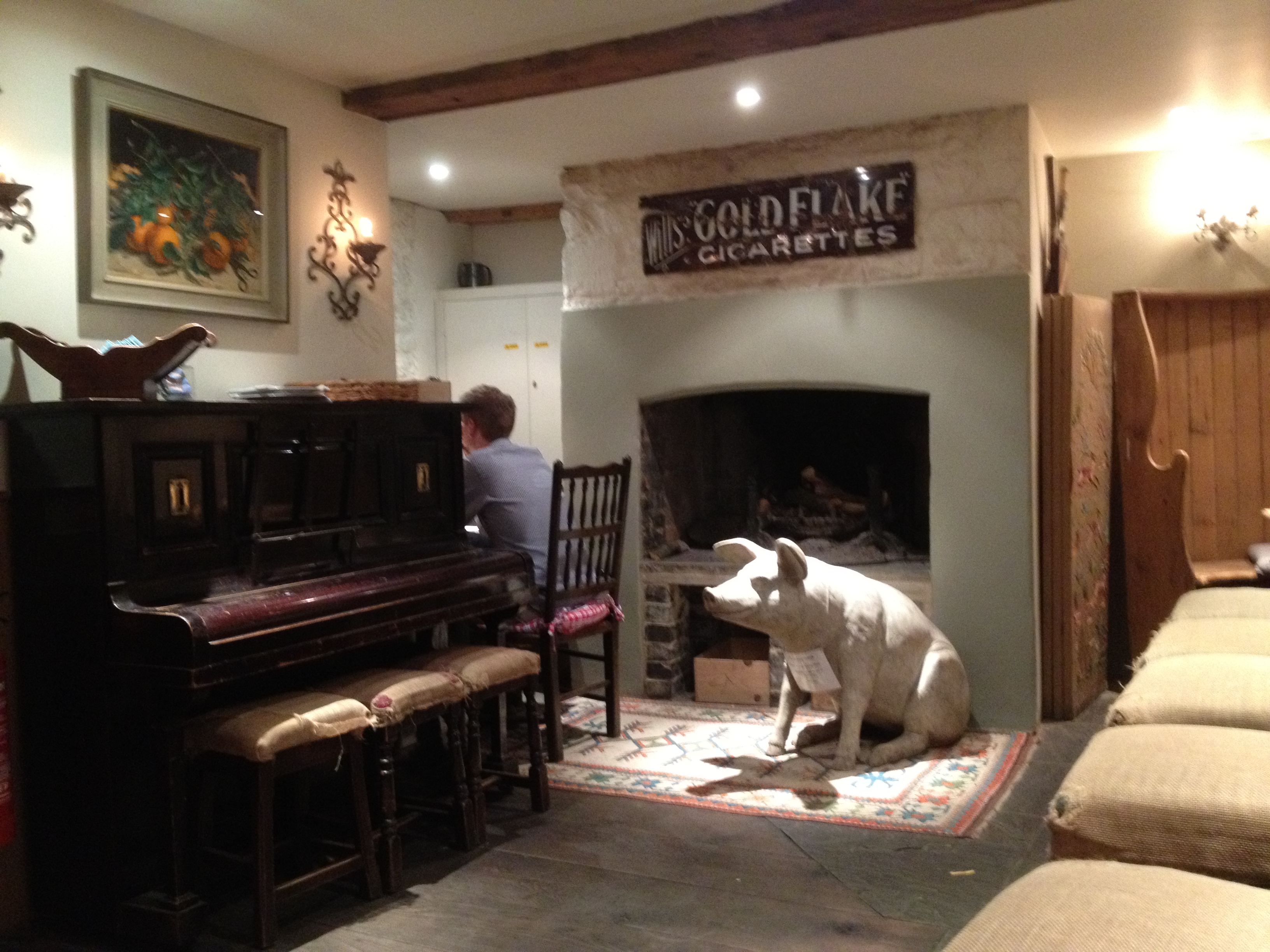 The very first time we walked through the door, we had to pull a deft manoeuvre around Blur's Alex James, as he braved the cold outdoors to smoke a cheeky fag. Not surprising really as he lives in Kingham and has a farm just round the corner. We couldn't give a toss about celebrity endorsement, but we happen to like Alex and if he's here, then the cheese must be good.
Hand on heart, we've never had a bad meal at this gorgeous pub. The Plough prides themselves on using traditional recipes. Quite literally. The team spend hours scouring through ancient cookery books, using ingredients which are native and seasonal to the Cotswolds. Everything is made on site from bread to ice cream.
I love the beautiful, homely dining room.
The inspiration for recipes may be old, but cooking methods are thoroughly modern. Using the art of sous-vide (under pressure) cooking in a temperature controlled water bath, means that no other ingredients interrupt the natural flavours of the meats, fish and vegetables. Unlike traditional methods of cooking in a frying pan or oven, here the heat gently permeates through the food cooking it perfectly throughout, thus avoiding burning on the outside and making sure it's not undercooked on the inside.
The Plough has developed a highly creative working relationship with the many dedicated farmers, cheese makers, brewers and vegetable growers in the region, keeping it all very local. Since opening under new management in 2007, it has been awarded 2 AA Rosettes, Cotswold Life 'Dining Pub of the Year' twice and most recently, The Good Pub Guide 'Country Dining Pub of the Year' award. And if that's not impressive enough, even the utterly impossible to please, AA Gill, gave the guys a thoroughly well deserved (positive!) review in The Sunday Times.
If you happen to overindulge and find that you can't quite make it to the car, there are seven delightful en-suite bedrooms awaiting, all tastefully decorated with lovely claw footed baths and Penhaligon toiletries.
For further information and reservations please visit: www.thekinghamplough.co.uk