"The best four days of my life".
– John F. Kennedy on his trip to Ireland, 1963.
It's been a few years since we visited The Kennedy Homestead in Dunganstown, Co. Wexford, southern Ireland, where John F. Kennedy's great-grandfather, Patrick, was born in 1823. Patrick Kennedy was an Irish farmer who emigrated to East Boston, Massachusetts at the age of 26, setting sail from the port of Liverpool. Patrick died from cholera on 22 November 1858, exactly 105 years to the very day his great-grandson succumbed to an assassin's bullet on that fateful day in Dallas in 1963.
JFK was proud of his Irish ancestry and even took his oath of office as President of the U.S using the Fitzgerald family bible, which had been brought to the U.S from Ireland by his forebears. In June 1963, just five months before his assassination, JFK visited his ancestral home of Dunganstown as part of a four-day trip to Ireland. Kennedy referred to the trip as "the best four days of my life". The homestead was a small croft building and a farm, run by his cousin, Mary Ryan, who welcomed him with a kiss on the cheek.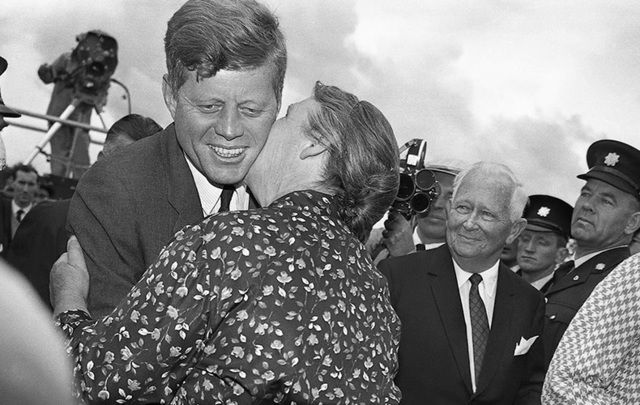 Tea and cake was served on trestle tables in the yard and a banner declared "Welcome home, Mr President". JFK met 15 of his Irish cousins, and with teacup in hand said: "I want to drink a cup of tea to all those Kennedys who went and all those Kennedys who stayed".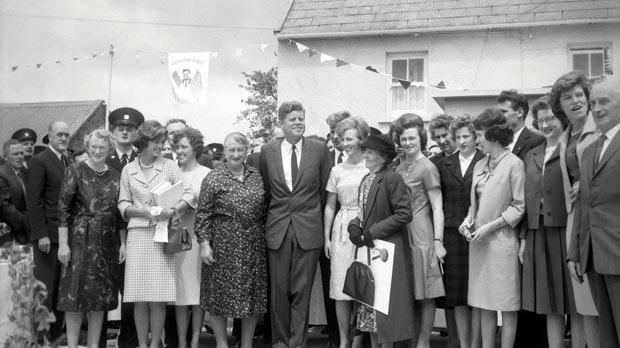 Today, the croft building and farm are pretty much as they were when JFK came home, and you can still drink tea in the yard.
When we visited, we met with the current owner, Patrick Grennan, third cousin of President Kennedy (pictured below with JFK's daughter, Caroline Kennedy) who showed us around the original barn where the exhibition used to be housed. But since then, things have expanded and the result is a fantastic new visitor centre. Using the Kennedy archival collection in Boston, Patrick has curated a state-of-the-art exhibition which charts the story of the most famous Irish-American family through the 20th century to the present day.
In June 2013, Caroline Kennedy, wearing an emerald green dress, officially opened the new exhibition, and following in her father's footsteps, mingled with her Irish cousins over a cup of tea.
For further information please visit: www.kennedyhomestead.ie
Recommended reading: The Kennedys. To purchase a copy, please visit our bookstore.