We were recently invited to stay as a guest of  The Grove in Herfordshire for an exclusive preview of their Russian Christmas. The luxury hotel and spa, situated in Chandler's Cross, is otherwise known as London's cosmopolitan country estate due to its close proximity to London and a convenient three minute drive from the M25.
The sheer grandeur of the estate is apparent as soon as you drive through it's stately gates and 300 acres of beauty envelop you. It's hardly surprising considering that The Grove was owned for generations by the illustrious Earls of Clarendon. The artist George Stubbs used to cycle to the stables to paint his famous horses and Queen Victoria liked to hold lavish house parties at the house. The Grove went through many incarnations until in a ruinous state, it was rescued and opened it's doors again in 2004 as a luxury country house hotel and spa, just in time for Tiger Woods to win the World Championship on it's magnificent golf course in 2006. It has since become a haven for stressed out Londoners needing to escape the city.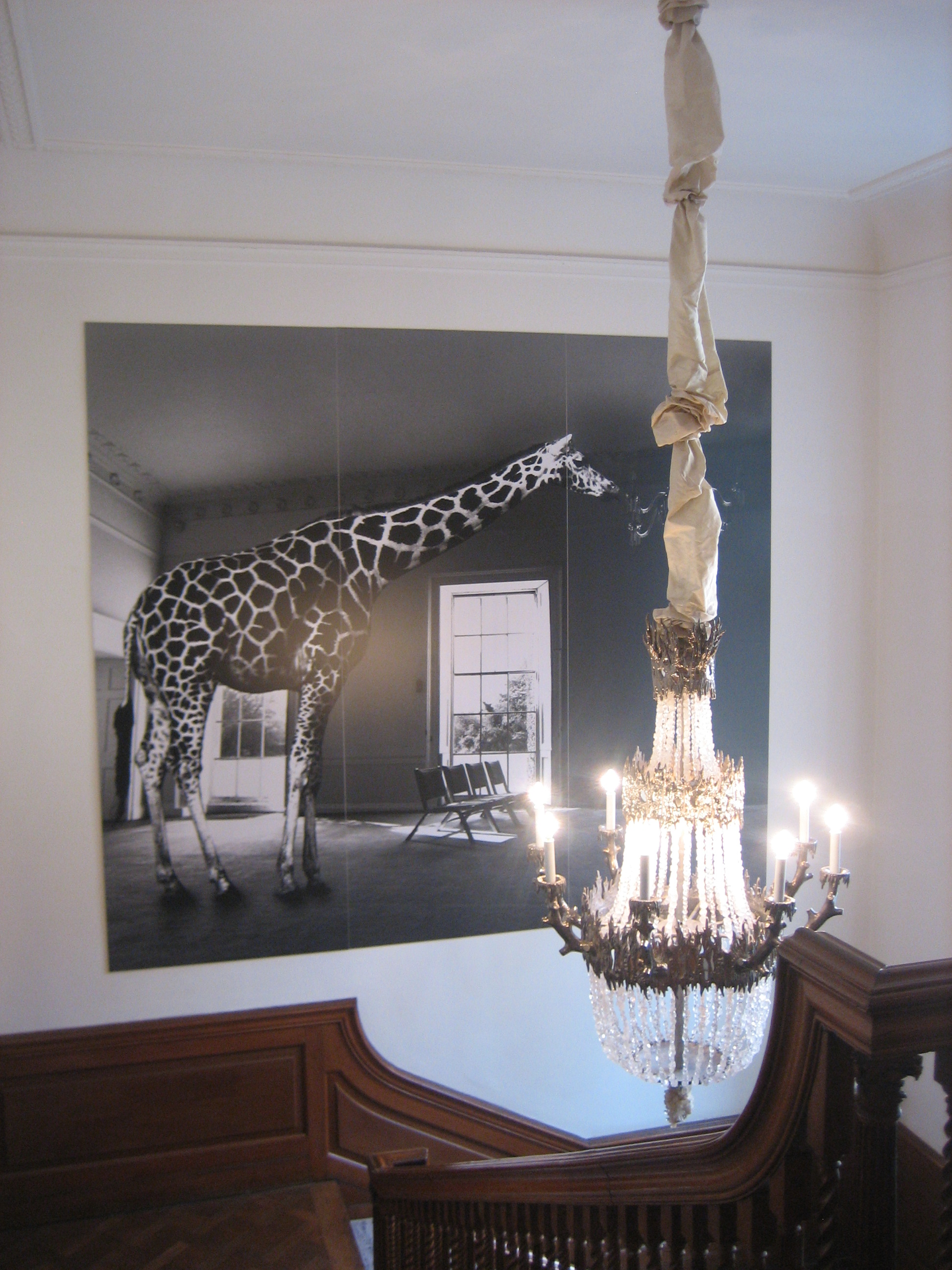 It felt a little strange to be here on a beautiful cloudless summer's day to review a Russian Christmas, but The Grove are renowned for their spectacular themed Christmases. Last year it was Narnia and this year it's all things Russian.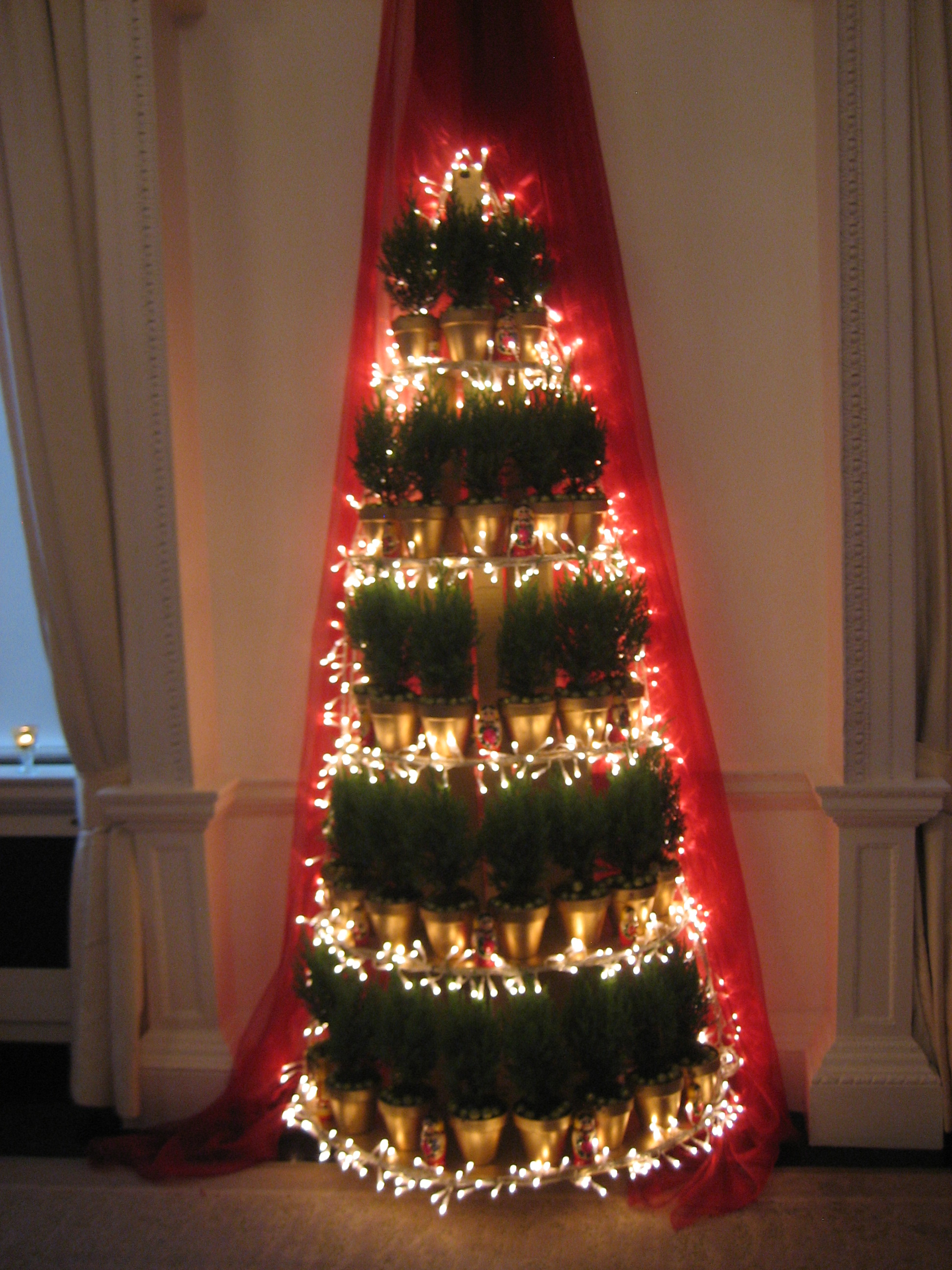 First stop was the drawing room which had been artfully draped in swags of scarlet. Jewelled-coloured glass Babushka dolls lined the side tables and twinkled in the candlelight. The Grove's personal florist McQueens had designed a unique Christmas tree made of groupings of miniature firs displayed in gold pots stacked up into the shape of a larger tree separated by wooden babushka dolls and white fairy lights.  To further set the scene, a cake tray laden with tempting macaroons and scones along with piping hot tea served from antique silver teapots arrived transporting us to a chilly winter's day; the only thing missing was the crackling of a log fire…. and maybe a little vodka.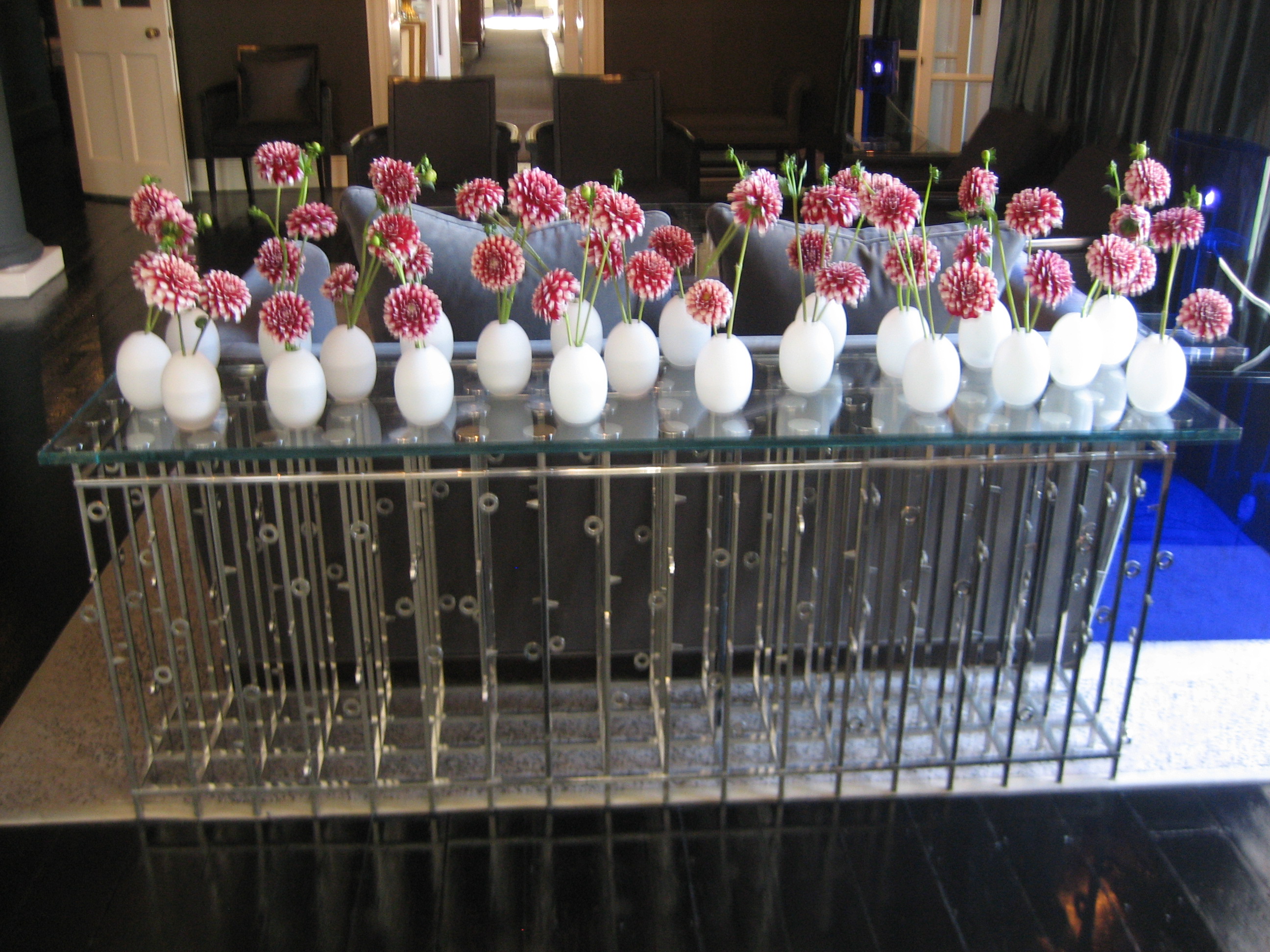 As as part of the Russian Christmas preview, McQueens florist had invited us to participate in a festive flower design masterclass. McQueens was founded in 1991 by Kally Ellis.  Kally had bought the business from Alexander McQueen's aunt. The revered fashion designer was then at the beginning of what was to become an illustious career and was a regular client. McQueens worked with Lee on his spectacular fashion shows right up until his sad death earlier this year.
The florist's flagship store in Old Street, EC1 soon began to garner an enviable reputation which spread throughout the UK, USA, Japan and beyond. Their cutting edge, contemporary and innovative flower displays have illuminated the Vanity Fair post-Academy Award party, the Cannes and Tribecca film festivals, events for A-list clients, fashion shows and high society weddings. Their internationally renowned McQueens Floristry School is also based within the Old Street store.
Today's masterclass  is led by Luis da Silva, Course Director of McQueen's Floristry School. After magically creating a festive Christmas bouquet of stunning Grand Prix roses, it was now over to the class to work their magic. After feeling like a contestant on the Generation Game and a few false starts with the thorn stripper – not to mention the realisation of just how heavy 18 Grand Prix roses are when held in one hand – we cracked it and happily the resulting bouquet looked amazing. Luis also showed the class how to make some spectacular Christmas arrangements using tall simple glass vases, dried orange slices, red chillies and moss.
The Grove will be holding two masterclasses on 26-27 November and 3-4 December. McQueens will teach participants all the top secrets to help create the perfect contemporary Christmas look at home. Master Patissier Eric Lanard, Channel 4's Cake Boy, will also be on hand to share his tips for creating glamorous Christmas cakes.
For further information on The Grove's Russian Christmas and McQueens/Eric Lanard masterclasses, please visit: www.thegrove.co.uk
For further information on McQueens Florist please visit: www.mcqueens.co.uk
For further information on Cake Boy please visit: www.cake-boy.co.uk
Recommended reading: Alexander McQueen, visit our bookstore to purchase
Images by CELLOPHANELAND*
CELLOPHANELAND* were guests of The Grove.