"Winemaking and filmaking are two great art forms"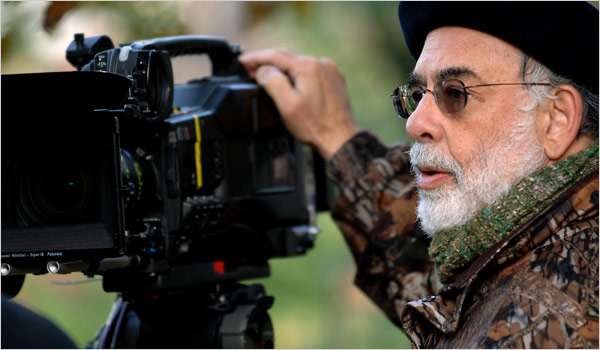 Francis, are there similarities in your approach to making films and wine?
Winemaking and filmaking are two great art forms that are very important in California. They both start with raw ingredients – in the case of wine, the land and the grapes, and in the case of film, the script and the actors performance. The grapes can be affected by weather, the actors' performance by many factors. The winemaker takes these raw materials and ferments and blends, saying yes to this batch, no to that one, and the film director does the same thing – a series of yesses and nos, from casting to costume through edits and sound mixes. But in both cases, you have to start with top-notch raw materials, whether it's a land or a script. And sometimes you improvise and let nature take its course.
How did you come to purchase the Inglenook Estate, Napa Valley?
A local real estate mentioned that the estate was up for auction and so we drove through it; in those days it was only half the size. We made a bid for it, but didn't get it. Later, when the people who bought it were forced to sell we bought it, and the kids, Gio, Roman and Sofia went to the local schools there. I had this pretty house and we were surrounded by grapes and everyone wanted to buy the grapes. I began to think, gee, if everyone wants to buy the grapes…I was broke. It was after Apocalypse Now. My mother loaned me the money. I bought some barrels and we decided to turn the winery around. Our goal has always been to make one of America's great wines. You don't get involved with an estate like this without that as your goal.
Which aspect of winemaking thrills you the most?
I've never had an expert palate. I drink wine what I like and know what I don't like, but I've never pretended that I have an expert palate, so I voice my opinion, but I voice it very quietly. I've always been much happier designing wine labels, packaging and marketing.
Is entertaining important in your work?
As I became a film director, there were collaborations with my fellow artists, writers and actors. They would come to my home and I would cook, and later serve my own wine. I used meals as a way to bond with the cast, to create sense memories that would carry over to their performance. When I auditioned Marlon Brando for The Godfather, I brought along some Italian food – platters of sausages, olives that sort of thing, and as he began to get into the character, putting shoeblack in his hair and cotton in his cheeks, he started to nibble at the food.
What's your favourite type of food?
I enjoy things that are not fussy with too many ingredients. I like Italian, of course, but also sushi, a perfectly cooked steak or beautifully fresh frilled fish. My favourite dishes to cook are chicken under a brick (I flatten it using a curling stone from the Scottish game). Mrs Scorsese's lemon chicken (that's Marty's mother's recipe) and various pastas. I probably make pasta pomodoro most often, but with no garlic. There's a misconception that Italians put garlic in everything, and that's just not true.
What are your early food memories?
As a child the happiest times for me were holidays such as Thanksgiving and Christmas and family get-togethers when all my uncles and aunts and cousins came home. There was laughter and plenty of kids and people were united around the table with these extraordinary Italian dishes and wines. For the kids, apple cider. I liked Thanksgiving so much because of the apple cider. Those occasions remained with me as the way to enjoy life. The Italian tradition of gathering everyone around the table and eating, drinking and having conversation long after the food is gone is too little practised in this fast food, rush-rush world.
How did the resorts in Belize and Guatemala come about?
I came back from Apocalypse Now having found that I could acclimatise to the jungle. I read in the paper that British Honduras was becoming Belize, so I took my eight-year-old son and said let's go find Belize! We found what is now Blancaneaux Lodge in a very remote area. It looked bad, but I peeked through its windows and thought I could write here, so I used it for a summer retreat. I'd been looking for some kind of tropical Utopia and I immediately knew that this was the hideaway I had been looking for. The kids liked it and in order to keep it, we needed someone to take care of it. It became so successful that we referred a lot of our upscale patrons. Blancaneaux Lodge has a tranquil atmosphere, which envelops you as soon as you shed your city clothes and your worries. The spa, the hot pool the sound of the river all lull you into a peaceful state that lets you reconnect with yourself and stimulates creativity.  Following Blancaneaux's success, I realised that a lot of guests also wanted to visit Belize's coast so we added Turtle Inn in southern Belize. The year after I bought it, we got hit by a hurricane. I built a new resort in one year. I got carried away as usual, but it was a big hit. The Balinese-inspired cabanas have artisan-crafted furnishings, luxury private baths and broad, screened decks to welcome in the tropical sea air. Then we heard about one in Tikal in Guatemala; I've always liked Central America, and I was looking for something a little more rustic. La Lancha is more rustic with rainforest casitas which have views of the surrounding rainforest, and the lakeview casitas offer a breathtaking panorama of Lake Peten Itza. La Lancha offers guests the chance to step back to an earlier, mystical time: you can sit on your deck and listen to the primeval call of Howler monkeys. All three resorts are now very successful.
How much input do you have with menus for the resorts?
I have a great deal of input. For La Lancha we wanted authentic Guatemalan fare, while at Turtle Inn the menu is based on the sea. We have local fishermen who pull up on our beach with their catch. At Blancaneaux and Turtle Inn we have a wood-burning pizza oven and offer some of my Italian favourites. Some of the cooks we've had over the years at the resorts have come up to Napa and spent part of a summer cooking with me.
What's the first journey you ever remember taking?
I was the first member of my family to visit Europe and specifically Bernalda and Napoli, representing the origins of my father and mother. That was in about 1962 and I was working on a film that took me all over. It was a memorable trip, where I met my wife, Eleanor, who was also travelling. We met in Dublin and our romance began in Rouen, a city which I always associate with a romantic moon.
Where are your favourite places?
The cities of San Francisco, Buenos Aires, Rio de Janeiro, and Paris, to name only a few. But if I had to stay in one place, I would stay in the most beautiful place I know: northern California.
For further information on Inglenook Estate please visit: www.inglenook.com
For further information on the Coppola resorts please visit: www.coppolaresorts.com
Recommended reading: Francis Ford Coppola Interviews. Visit our bookstore to purchase.