Our arrival at the beautiful Fairmont Copley Plaza was enthusiastically greeted by Carly, the attractive raven-haired hotel ambassador. Sadly she soon got bored with our company, and returned to her basket in the corner of the lobby.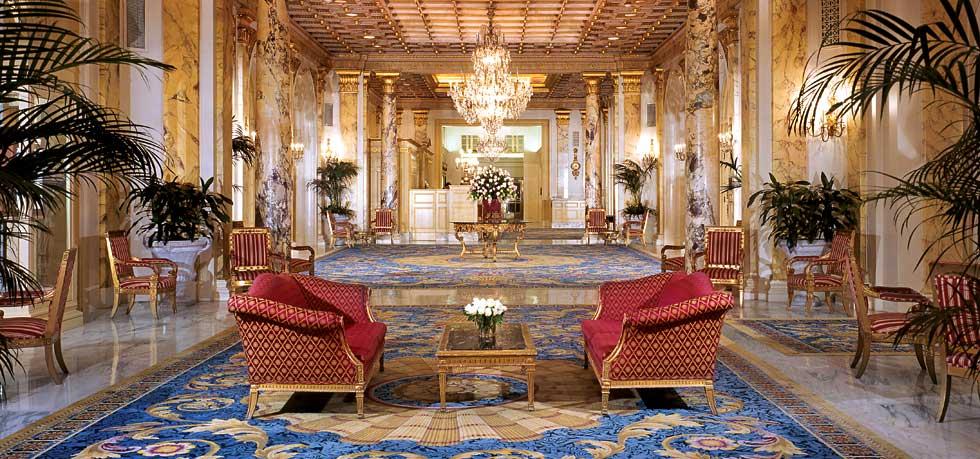 For this was an ambassador of the black labrador variety who can be booked out for walks and takes part in children's storytelling events. Her predecessor Catie, now retired, even has her own book: Catie Copley, a children's book inspired by the adventure of the hotel's resident canines. A 'pawtographed' copy can be purchased at the Fairmont Store. Greetings by happy Canine Ambassadors really do make for the best kind of hotel welcome!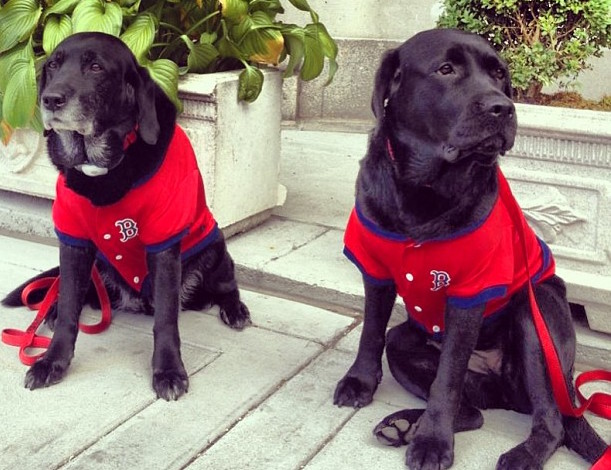 Booked into the private Fairmont Gold level – with its separate reception area, private concierge, lounge and exclusive service staff – we received an exemplary and fast check-in.
There has been a recent extensive renovation of the hotel's 383 guest rooms and suites, ballrooms and public spaces with the addition of a rooftop health club, so the Fairmont Copley Plaza is shining brighter than ever.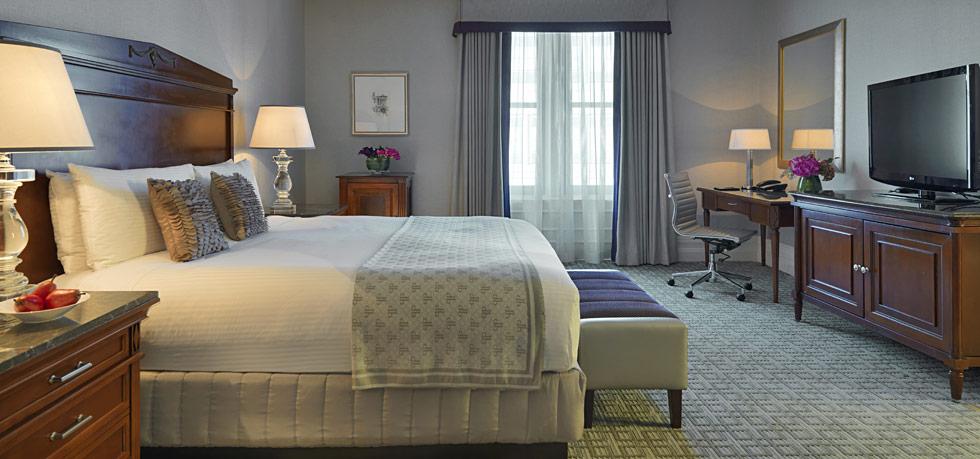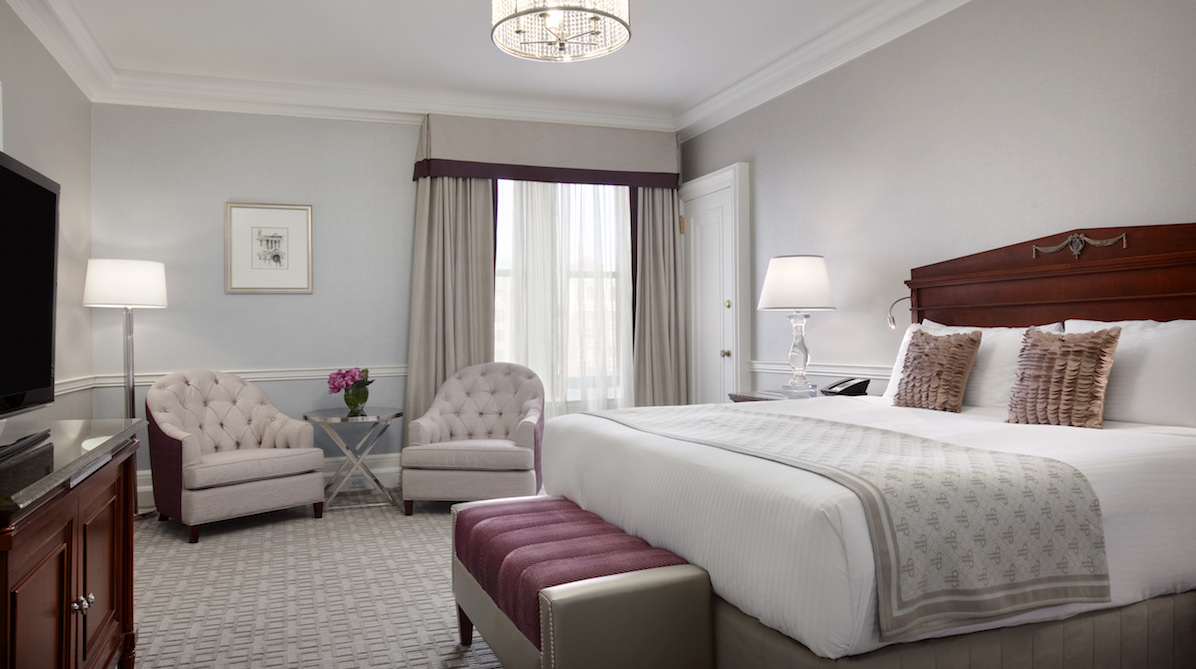 Our room (top) was stylishly upmarket, formal and comfortable decorated in tones of cream, brown and gold, complete with a very spacious bathroom tiled in rich marble. Every possible extra seemed to be at hand including Nespresso machine, luxurious linens and robes and wonderful Le Lobo Rose 31 toiletries. Many other levels of rooms include a suite; a one bedroom suite pictured (above).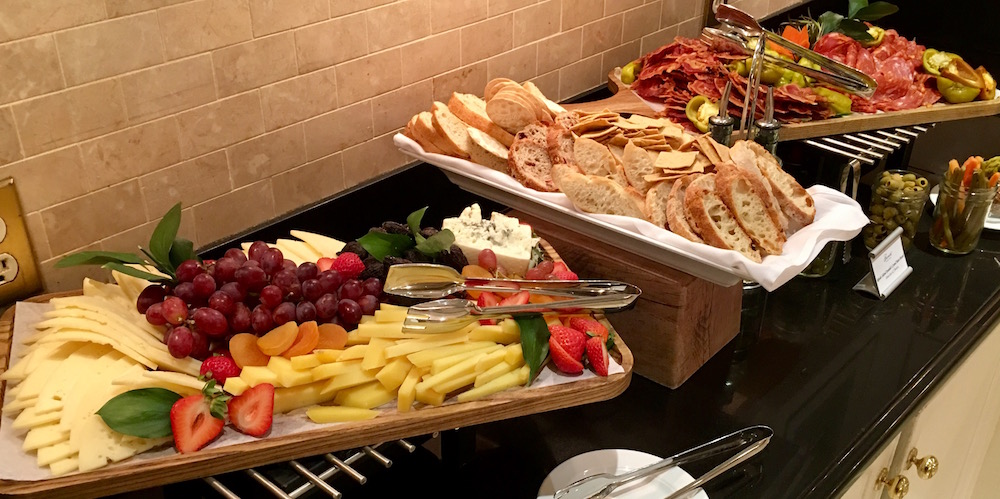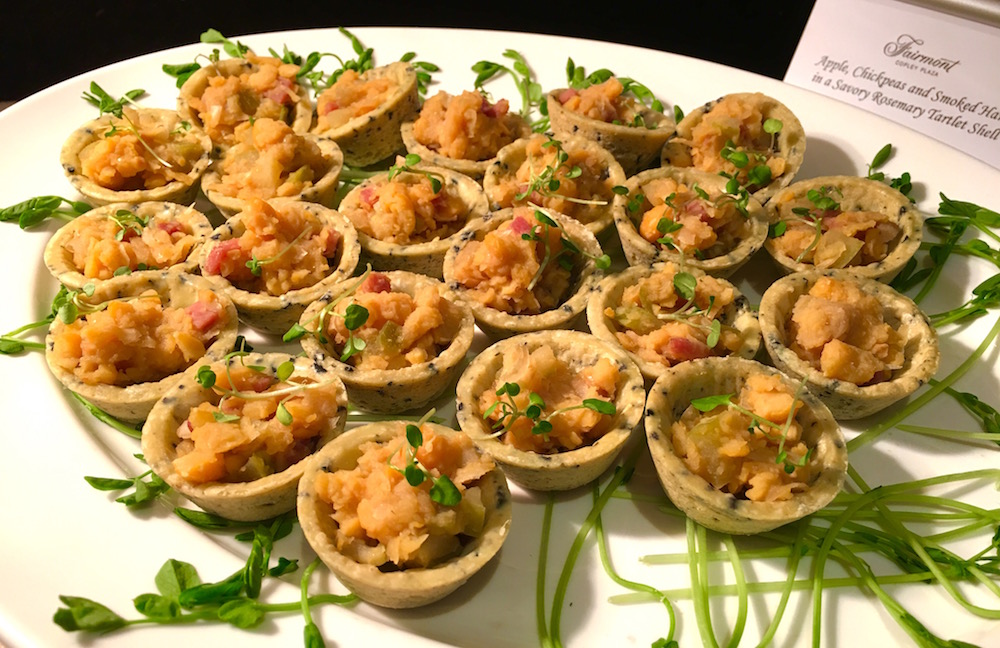 Apart from the fabulous service from the always-friendly and attentive concierge, the Gold level rooms also include a generous breakfast buffet (advertised as continental but with lots of hot choices), an honesty bar with free soft and hot drinks, and an afternoon snack buffet that was so impressive that it could easily stand in for a light dinner. Unlimited wifi is included. We cannot recommend the Gold upgrade highly enough, and it is well worth the modest extra cost.

The hotel itself has been a symbol of Boston's rich history and elegance since its gala opening in 1912. Designed by Henry Hardenbergh, the same architect as The Plaza in New York, the hotel is one of America's Grande Dames. Centrally located in Back Bay, the Fairmont Copley Plaza is just steps away from many historic sites, including Newbury Street, Boston's most exclusive shopping area.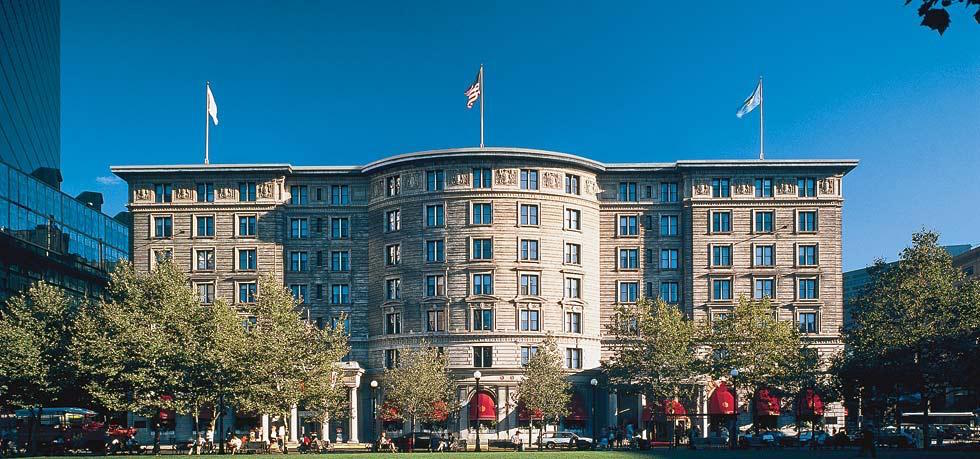 To stay is to slip back to the New England mansions of the Great Gatsby era; a gilded age of expensive and ornate decor. Crystal chandeliers hang along colonnaded hallways and rich Persian carpets sit on marble floors. An enormous ballroom features gorgeous artworks and a trompe l'oeil sky and cloud ceiling. Signed lithographs by Matisse, Picasso and Chagall decorate the walls of the Lobby Lounge, and during the recent renovation, the original 1912 hand-done mosaic tile floor was restored to its former glory.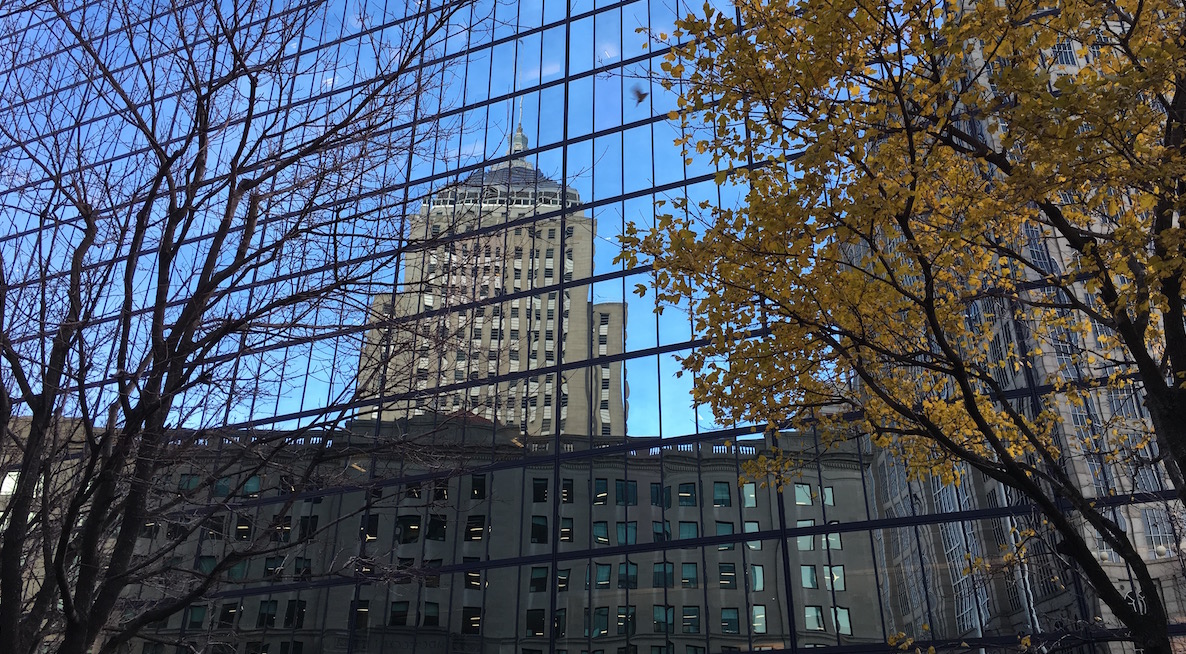 The Back Bay location is equally impressive. The plaza is home not only to the hotel  – an important historic building in its own right, but much more; the Romanesque revival Trinity Church – one of the ten most important buildings in the USA on one list – where windows were designed by Edward Burne-Jones and William Morris; the Boston Public Library which incorporates artworks by John Singer Sargent; and the modernist John Hancock Tower, New England's tallest.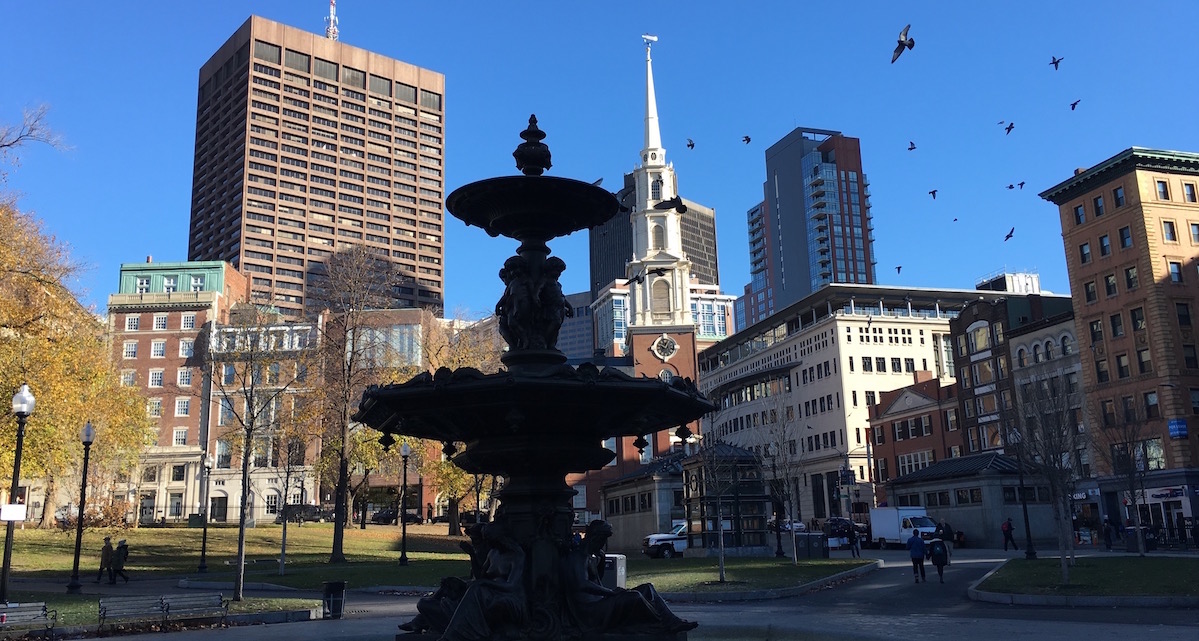 This is 'America's Walking City' and Boston is full of historic sites. Most of these are located in a relatively compact area of often cobbled streets lined with lovely colonial-era architecture. Beacon Hill, the Public Garden and Boston Common, can also easily be reached on foot.
The Common is the starting point of the Freedom Trail, a 2.5-mile walking tour through some of Boston's oldest neighbourhoods. Marked by double rows of red sidewalk bricks or a painted red line, it includes 16 historic sites linked to the American Revolution. A great day out is to walk the trail (and perhaps taxi back).
If the Gold level buffet is not enough, we recommend dinner at the Hotel's old-school brasserie, the OAK Long Bar + Kitchen. In this soaring neoclassical space with its vaulted ceilings, original beaux arts plaster and restored copper mullions, sip a thoughtfully curated cocktail and sample a farm to table American menu where dishes like Georges Banks scallops and lobster rolls never let diners forget they are in New England.
There really is no other place to stay in Boston.
For more information visit Fairmont Copley Plaza
CELLOPHANELAND* were guests of Fairmont Hotels.
Images by CELLOPHANELAND* and Fairmont Copley Plaza.