The Charlie really is one of West Hollywood's hidden gems. A cluster of 17 British style shingled cottages set amongst beautiful foliage dotted with hummingbirds, and shaded corners to hide away with a good book. In fact, The Charlie is one helluva hideaway; a place for a dreamy one night getaway or indeed – as many A-listers in this town do – stay on as a resident. It's completely private here, and you can come and go unnoticed.
Once the home of Charlie Chaplin (you can stay in his cottage) who had a pied-à-terre here in the 1920s. It's said that Chaplin had the door made smaller so that guests would have to bow upon entering. Faithful to his British roots, he would take tea every day at 5 o'clock sharp by the outdoor fireplace.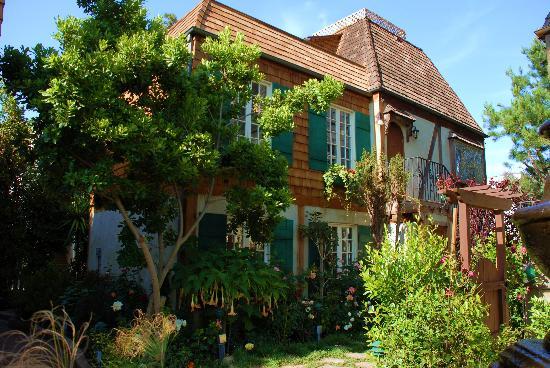 Chaplin would rent out the bungalows to struggling actors over the years, and these included everyone from Bette Davis to Marilyn Monroe (who lived here during the 1940s). By 2002, the property had fallen into a sad state of disrepair. About to be razed to the ground for a condo complex, current owner, Menachem Treivush, stepped in to save the day, and spent five years on a complete remodel. Many of the vintage features were preserved, such as the beamed ceilings, stained glass windows and black and white bath tiles. During the refurbishment, two canes and two typewriters belonging to The Little Tramp were unearthed in the basement. The rose-filled garden was designed by a former assistant of Chaplin.
We stayed in the Sasha; a one bedroom first floor apartment with a fully fitted kitchen, and a private outdoor terrace. The window seat, backed by a resplendent stained glass window, is the perfect spot to while away an afternoon reading.
Those looking for typical hotel amenities may be disappointed; no room service here! But if you're looking for a secluded home from home stay in a cool part of LA, The Charlie is for you. Upon checking out, we discovered that one of our favourite directors had been staying in the apartment below.
The Charlie cottage and that tiny door:
Time for tea:
For further information, please visit: www.thecharliehotel.com
All images by CELLOPHANELAND*
CELLOPHANELAND* were guests of The Charlie.