Pimlico has always seemed to me to have been unfairly ignored despite lying adjacent to fashionable Chelsea and elegant Belgravia. This seems strange when one strolls around the peaceful grid of elegant Georgian and Victorian streets at Pimlico's heart. Rows of immaculate houses are interspersed with an occasional chic shop, local restaurant or traditional pub; it is a delightful place to spend time.
The Pimlico branch of the Artists Residence Hotel 'chain' – if one can label three small and charming hotels this way – has taken advantage of the areas convenient location. Just a short distance from the heart of Chelsea, and handy for Victoria Station, this is a perfect spot for a chic hotel – handy for everything and yet peaceful and secluded.
The hotel's theme is described as 'eccentric, fun and friendly', and it's hard to disagree. Right from a cheery and helpful check-in to the buzzy public spaces, the hotels charms are evident. The eccentricity stretches from the wonderfully eclectic and individual designer decor in the varied bedrooms, to the cosy New York style cocktail bar in the cellar.
There is also a residents lounge with bare brick walls, velvet and kelim-covered sofas, alongside a private dining room with rustic table, and a giant convex mirror. Meanwhile the 64 Degrees Restaurant is pure industrial style.
We stayed on the fourth floor in a fabulous room called the 'Loft' – one of the largest of the hotel's ten rooms (note that there is no lift, so those averse to stairs should request a room on a lower level).
It was an interesting combination of urban, industrial and rustic: the bedhead was an old gate, overhung with an antler chandelier and bedside lamps were vintage style angle-poise. There were lovely old floor boards, an office cabinet doubling as a wardrobe, and recycled weathered wood and bare brick walls.
A fabulous deep bath sat open-plan upon a wooden plinth with views over the local rooftops. The lovely generous-sized toiletries were from Bramley. A Nespresso machine sat on a rustic shelf over a retro Smeg mini-fridge.
Restaurant 64 serves up wonderful and varied tapas-style portions from a menu that changes daily. We loved it, but big eaters need to beware of the small portion sizes, which can quickly grow in to a relatively high cost meal. Breakfast can be also taken here in the mornings.
This is a very lovely place to stay with absolutely unique styling. Despite its modest size, the Artist Residence's delightful blend of styles and spaces has recently earned a place in the Sunday Times list of the 'Ultimate 100 British Hotels'.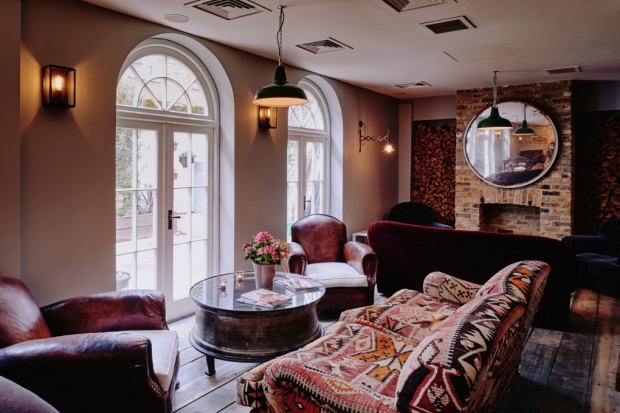 Images by CELLOPHANELAND*.