Mark Greenaway is perhaps familiar to British television viewers following recent appearances on the likes of BBC's Great British Menu, but he has however been creating a buzz for several years now in his Scottish homeland with his stunningly innovative cooking. Having opened his eponymous venture in 2013 on a smart street in Edinburgh's New Town, he has quickly been awarded three AA rosettes, a host of awards and a place in Britain's Top 100 at the National Restaurant Awards.
 Discrete signage on one of the grand Georgian buildings – typical of the area – guide you in to a modestly sized restaurant with three small dining areas. Set within the converted living rooms of an elegant townhouse, the walls are a pleasant shade of blue and the lighting clever and understated.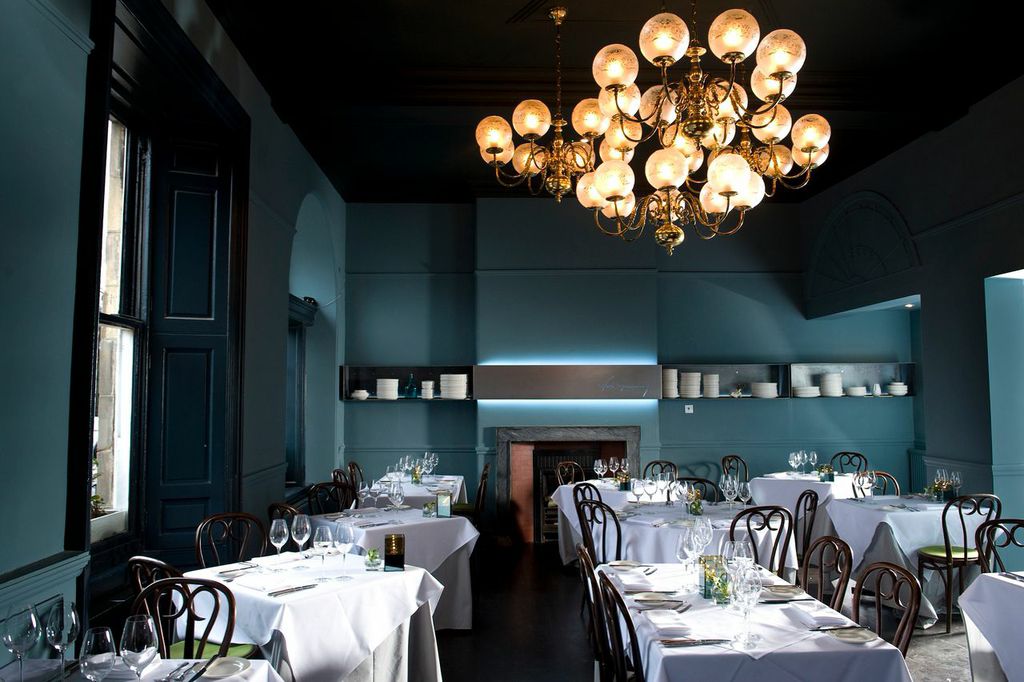 Simple bentwood chairs sit at tables with brilliant white tablecloths. The setting is perfect – elegant, calm and classy, right down to the chic Cafe Coste soundtrack. The stage is set for the main attraction – the food. Having put ourselves in Mark's capable hands with the eight course tasting menu, accompanied by paired wines, the main attraction soon starts to arrive.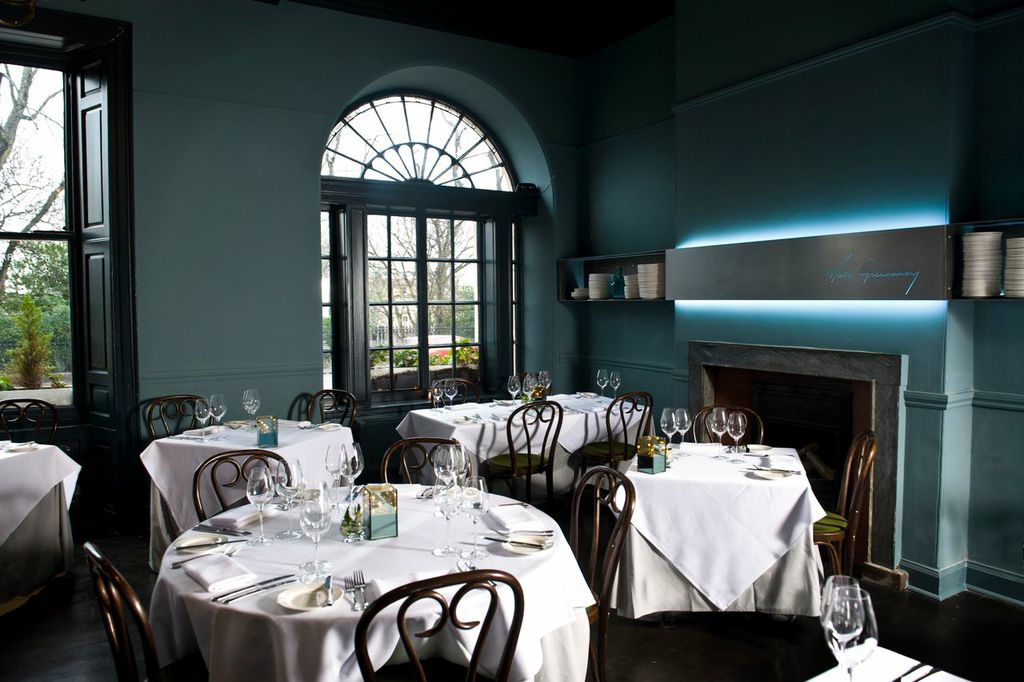 Immediately one notices the startling range of containers: bowls and plates of all shapes and sized join with the likes of flasks, beakers and test tubes. Presentation is astonishing – shape, colour and texture are carefully considered as each course contributes to not only a culinary but a visual feast.
A duo of local scallops for example is served with soy caramel and exotic sea vegetables. Some are served raw and you cook them at the table by pouring over a hot pot of dashi broth. The flavours are delicate and beautifully complimentary.
For another course a delicious crab cannelloni sits atop a glass jar of smoked cauliflower custard. Its bowl works as a lid to trap a puff of smoke which imparts a delicate smoky flavour to the concoction below. Delicious.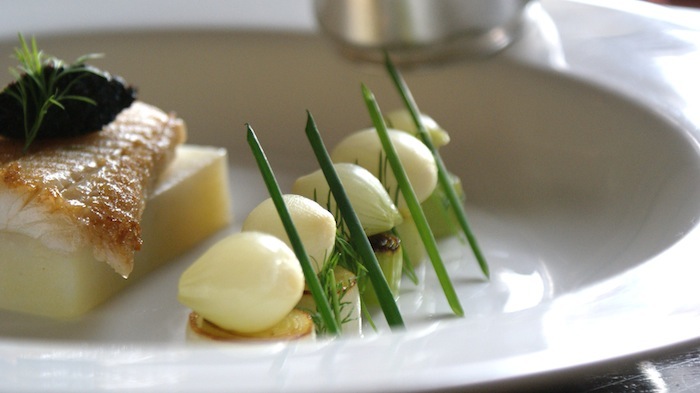 A hake fillet is perfectly cooked and served with a tasty lobster tortellini, purple mash, butternut squash and a delicate ginger and spring onion broth.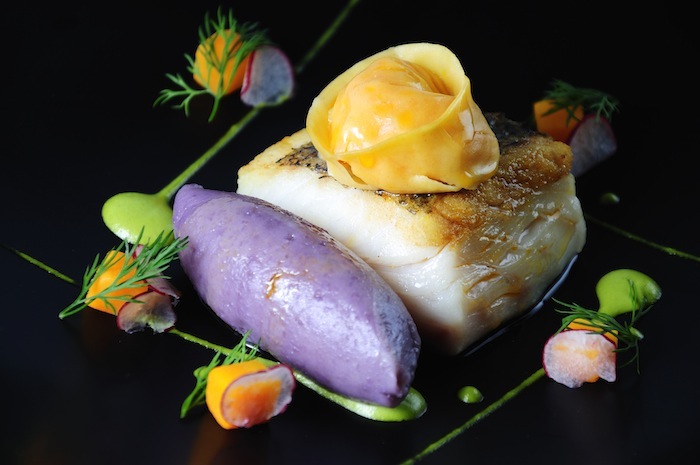 Courses arrive in perfect tempo despite their complexity and the service strikes a difficult note – it is careful, impeccable and timely whilst still managing to be friendly and cheerful. It looks effortless but such balance is so hard to get right.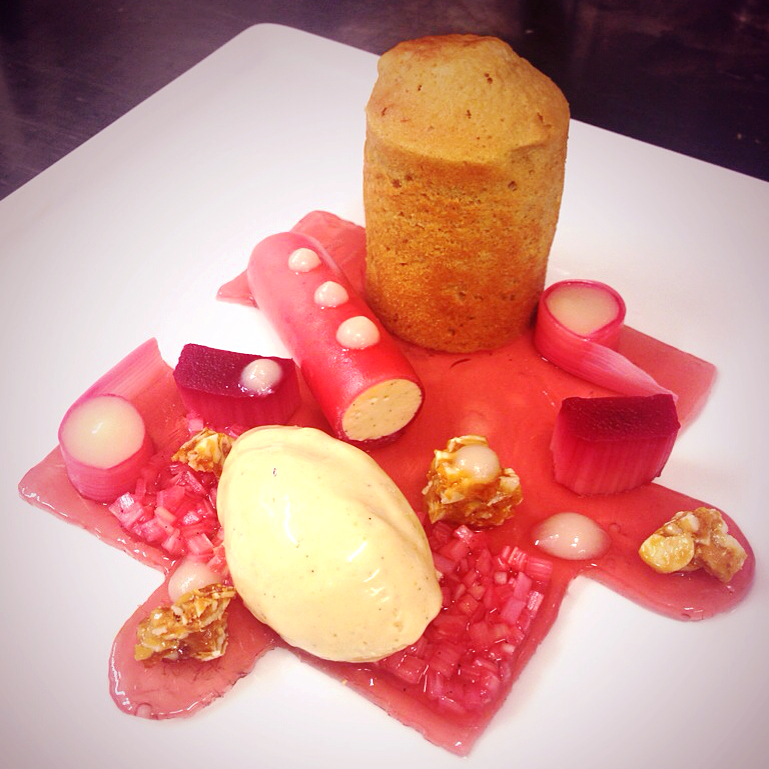 Mark is famed for his desserts, which were equally remarkable whilst the ultimate final flourish was delivered at the adjacent table where a group of well-heeled Americans were dining. Two giant and perfect, football-sized, baked alaskas were greeted by gasps of awe. This was quickly followed by howls of laughter as the giant versions were revealed as false and which the waiter elegantly whipped off to reveal perfectly-formed miniature versions below.
It was a final coup de theatre which elegantly summed up the restaurant. Despite the theatricality and sleight of hand, which in lesser hands could detract from the enjoyment of a meal, the careful combinations of flavours and textures and the high quality of ingredients ensure that the food never comes out second best. Bravo!
Mark Greenaway has also opened the Bistro Moderne in nearby Stockbridge. For further information please visit www.bistromoderne.co.uk