Prestat, chocolatier to Her Majesty The Queen, has created two fairytale boxes and filled them with a magical assortment of truffles especially for The Diamond Jubilee. Once again artist and illustrator, Kitty Arden, has created a fantastical design featuring a royal coach, a lion and a unicorn, and a couple of mischievous corgis.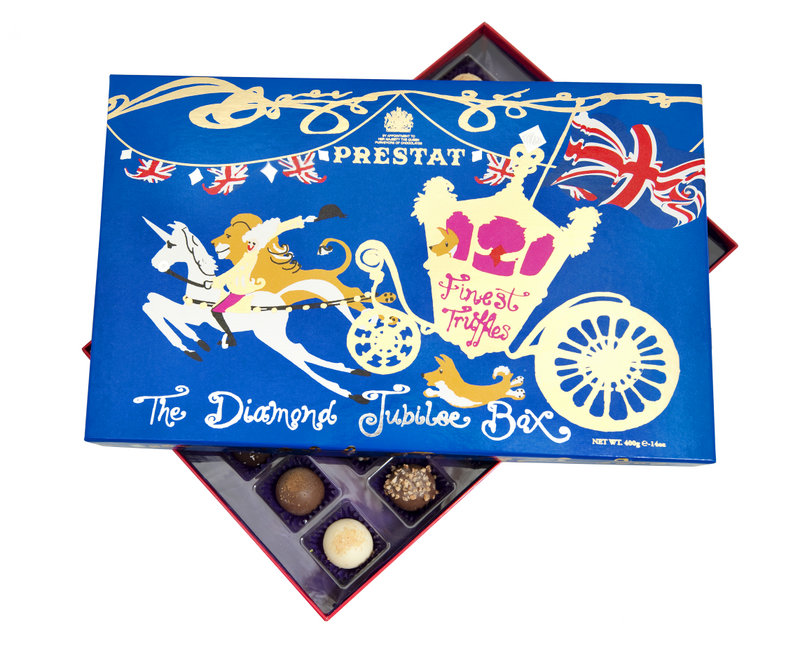 We adore the Prestat boxes and always hang on to them – post devourment of chocolate – to store things such as old theatre ticket stubs and buttons. But thankfully, the truffles are always equally as exquisite as the packaging. Here, the finest praline, caramel and ganache has been combined with flavours of bergamot, frankincense and cinnamon to create a wonderfully unique flavour.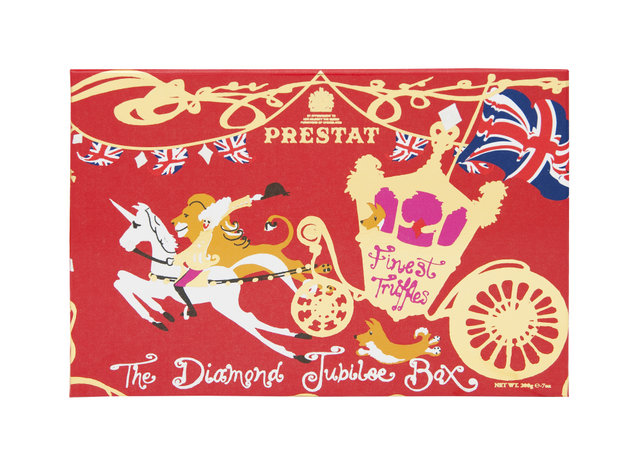 And if you're wondering who the rider is wearing the pink tights on the front of the boxes, that's 'Sir Pink Tights'. Nick Crean, MD of Prestat, recalls a conversation he once had with Billy Tallon, Her Majesty The Queen Mother's long-serving Steward of the Backstairs. Buckingham Palace staff apparently had nicknames for almost everyone including 'Sir Pink Tights', a courtier who regularly rode out the royal horses wearing pink jodhpurs. As the story was too appealing to resist, Kitty Arden designed the figure to sit atop her unicorn!
Prestat was founded more than 100 years ago by the descendants of Louis Dufour, the man who created the world's first ever truffle, becoming widely available with the opening of the first Prestat shop in South Molten Street, London. All chocolates are still made in Britain.
The Diamond Jubilee Box 400g is priced at £30.00 and the 200g box at £15.00.
Stocked at the Prestat shop, 14 Princes Arcade, Piccadilly, London SW1Y 6DS, Tel:020 7 494 3372. Also available at Liberty, Selfridges, John Lewis and the Prestat concession in Harrods.
Please visit: www.prestat.co.uk for further information.