The countdown to the Royal Wedding is now officially underway and Prestat – Chocolatiers to Her Majesty the Queen – are flying the flag with the launch of their new Union Jack Box. A bespoke selection of five truffles are presented in a fabulously contemporary and unashamedly patriotic box.
To celebrate the wedding of  Prince William and Kate Middleton, Prestat -whose founders invented the chocolate truffle in 1895 – have chosen the new selection of five truffles enrobed in the finest milk, dark and white chocolate. How about a Sea Salt Caramel, Pink Marc de Champagne or Passion Fruit for starters. Or maybe the St Clement's truffle which combines oranges and lemons in the finest dark chocolate, inspired by the ancient nursery rhyme 'Oranges and Lemons' which features St Clement's and several of London's other historic churches. Friday 29 April 2011 will be a reminder that no other country 'does grandeur' better than the British and Prestat believes that, within the world of truffles, Hazelnut Pralines are the ultimate in culinary grandeur and therefore, it is no surprise that they were chosen as one of the special five!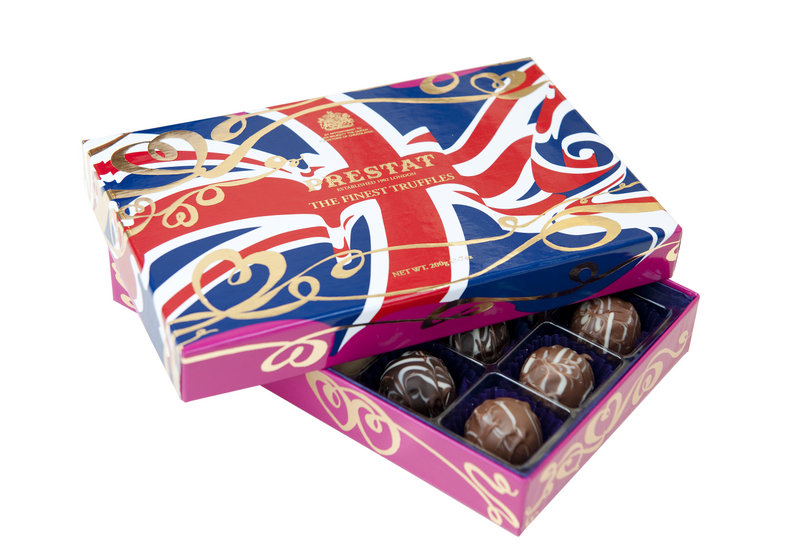 We have long been a lover of Prestat's chocolates, not only for the fact that they make some of the best choclates in the world, but that they are all made by hand in England and as they are served at every major state banquet, they come with a real sense of history and occasion. Everyone from the Queen Mother to Roald Dahl were fans. The writer even referred to the chocolatiers in his autobiographical recipe book, 'Memories of Gypsy Corner': "I also adore so-called truffles…as Prestat makes them."
Renowned artist and illustrator Kitty Arden, has designed the striking Union Jack box with gold hearts to capture the romance of the event, the billowing Union Jack to sum up a sense of national pride and Prestat's typically exuberant swirls and bright colours to match the mood. Indeed as a chocoholic our love for Prestat (and their boxes!) knows no bounds and I think this is quite possible their best selection yet and even though the truffles are long gone, we shall be finding a use for the cool britannia decorative box.
Union Jack Box is £15.
For further information please visit: www.prestat.co.uk