One of our favourite destinations in the world is Antigua, a jewel of a city in the central higlands of Guatemala. A UNESCO world heritage site, Antigua is dotted with spectacular ruins of colonial churches, and Spanish Baroque influenced architecture which shimmers under a usual azure sky. It never fails to dazzle. Having first visited on a special mission: to undertake a course at a Spanish language school (Antigua is one of the best recognised centres for Spanish language study) and after many memorable lessons conducted under the shade of a macadamia tree, we have returned again and again.

Our favourite hotel is the Posada Del Angel boutique hotel. Located on a very quiet cobblestone street, just a couple of blocks from the main plaza (Parque Central), the hotel occupies an original Spanish colonial casona, where the rooms are situated around a central patio, a small lap pool, and an enchanting garden. With only seven rooms, the Posada Del Angel is always so tranquil. It is almost church-like and as dusk falls, candles flicker in every corner and line the entrance way, so it's especially romantic to arrive in the evening.
Here's the pool by day: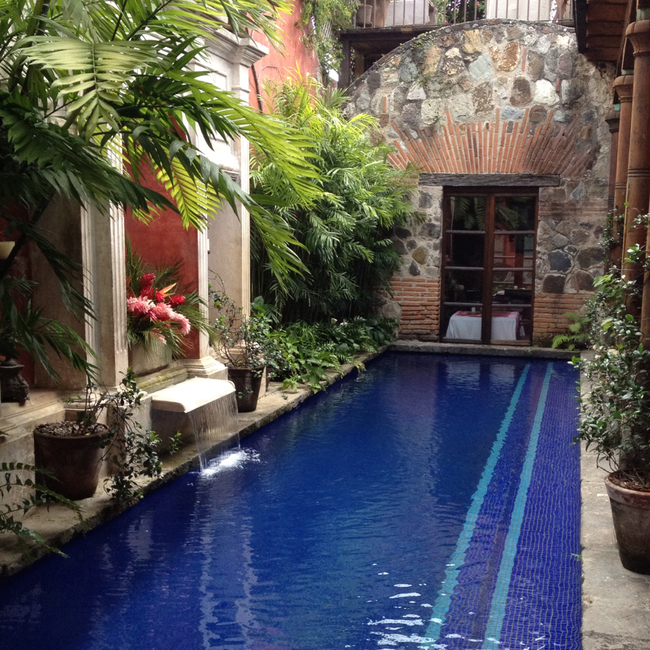 Rooms are very spacious, all en suite. Open fires, beds swathed in Mayan textiles, carved wooden sculptures, and hand hammered copper decorations add to the indigenous design.
The roof terrace is a spectacular location for breakfast with its early morning vistas of the Agua volcano.
Remarkably for such a small establishment, the hotel has its own restaurant: Mangiare Bene. As the name suggests it offers Italian cuisine – a natural step for the owners as their grandparents were of Italian origin. All pasta is homemade on the premises by Chef Christian Rodriguez, and the meals are excellent and traditional.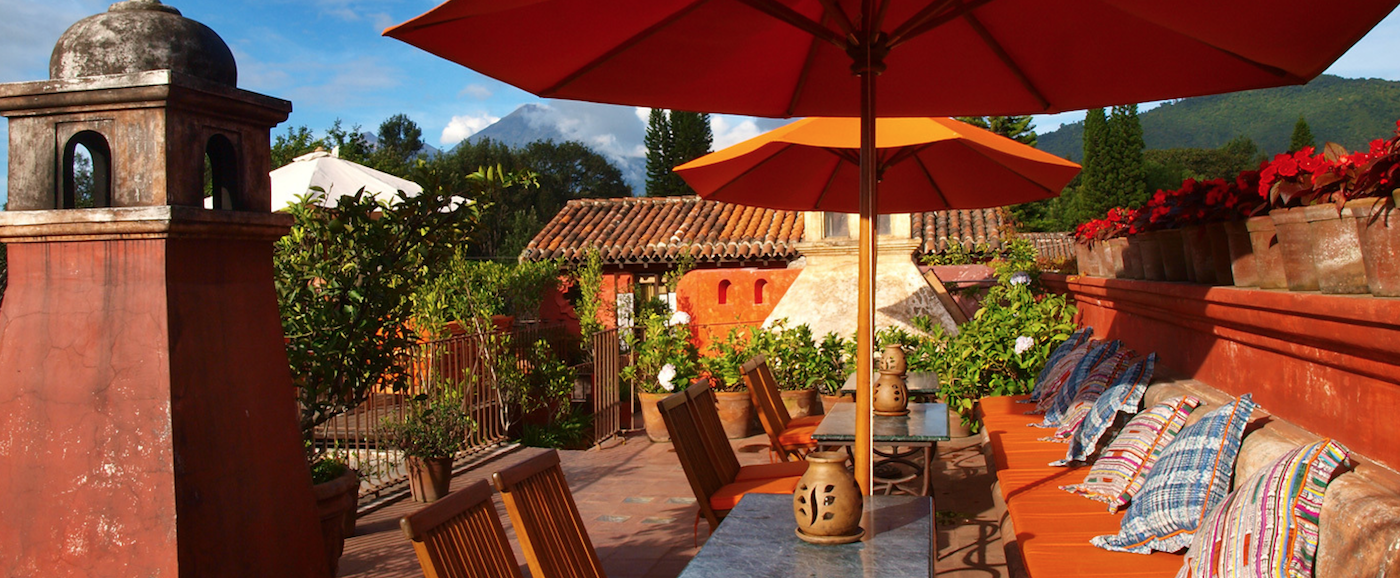 Step out of the hotel doors and you are straight in to the peaceful cobbled streets of the town centre. Its a delightful place just to stroll around and take in the local sights. Finally, no visit to Antigua is complete without a visit to the Mercado de Artesanias: a local craft market selling the most amazing fabric, blankets and wooden sculpture. It is one glorious riot of colour. Just like Antigua itself.
For further information please visit: www.posadadelangel.com
All images by CELLOPHANELAND* and Posada Del Angel.