Bohemianism is a way of life. A state of mind. An atmosphere. It's about living richly and irreverently, beyond convention. It's about being uninhibited, unbuttoned, creative and free.
– The Bohemian Manifesto
Petit Ermitage is a proper hidden gem. After an exhausting 11 hour flight from London, this quirky boutique hotel provided us with the perfect sanctuary right in the heart of bustling Los Angeles.
Infact this remarkably quiet street in West Hollywood – just minutes from Sunset Strip – is indeed an official sanctuary; most notably for butterflies and hummingbirds, as recognised by the National Wildlife Federation. And right on cue, when I opened the door to my balcony on the first morning, there was a tiny magical bird, no bigger than my thumb, obscured by a whirl of flapping wings, sipping the delicious flower nectar.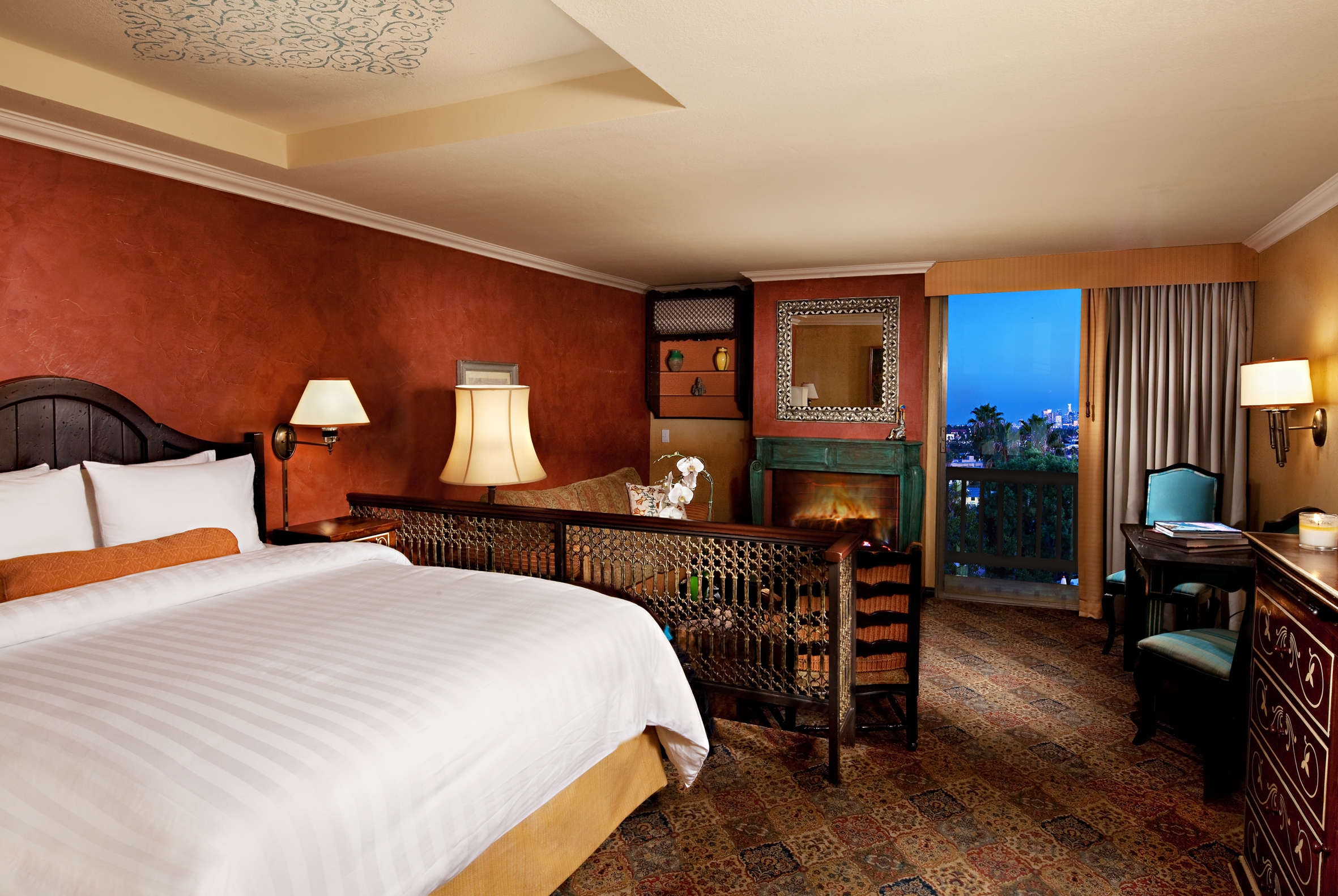 This space doesn't feel like a hotel, more of a private pied a terre. Many of the 80 suites contain eclectic European antiques, turkish rugs and homely fireplaces. Walls and ceilings have been hand painted by local artisans and custom railings are from India. Indeed we had to frequently remind ourselves that we were not actually somewhere far more exotic than central Hollywood.
An enviable variety of art (from the owners own private collection) adorns the hallways with original works by Miro, DeKooning, Erte and Dali as well as a beautiful selection of pre 20th century oils. And the antique gramophone in the lobby is fully functioning. Artistic whimsy defines this adorable hotel.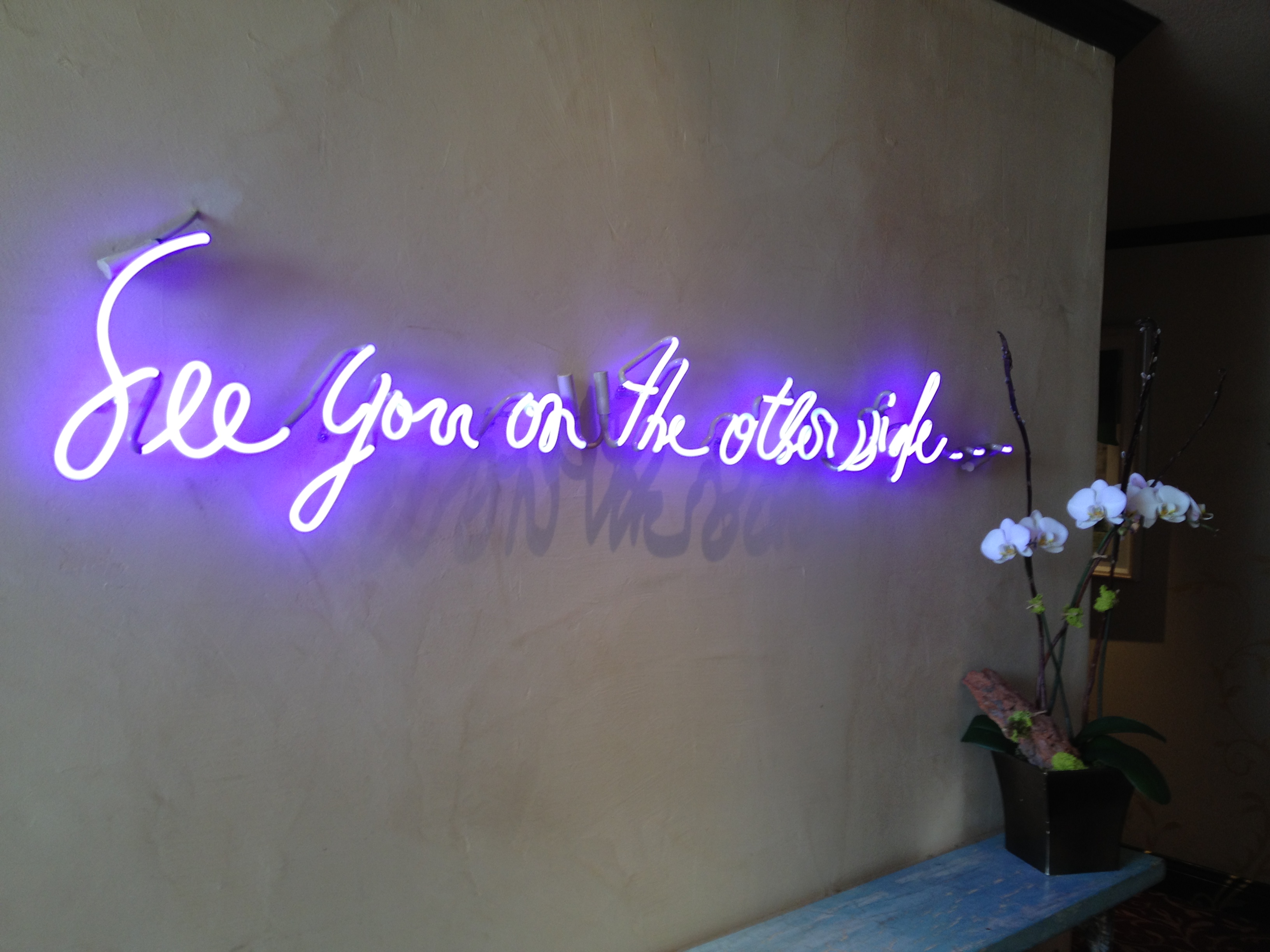 Without doubt, the highlight of Petit Ermitage is its fantastic rooftop with breathtaking 360 degrees of the Hollywood Hills. This view soon snapped me out of my sorry jet- lagged state. The Private Rooftop Club replete with native gardens, a heated salt water pool, cabanas and an outdoor sunken fireplace is garnering a reputation as one of LA's top private spaces.
Ever Monday there is movie night on the terrace around the fire. Fresh popcorn is popped in an antique popcorn machine as guests snuggle beneath faux fur blankets. Below, the rooftop club on a music night with the LA skyline supplying the perfect backdrop.
In addition there are weekly cultural gatherings in the Master's Lounge for those who want to become enlightened by music, art and unique experiences. Every Wednesday there is complimentary yoga on the Firedeck. In suite spa services can be arranged and there is also a gym if you feel the need to exercise after no doubt spending all day lounging around the pool, cocktail in hand.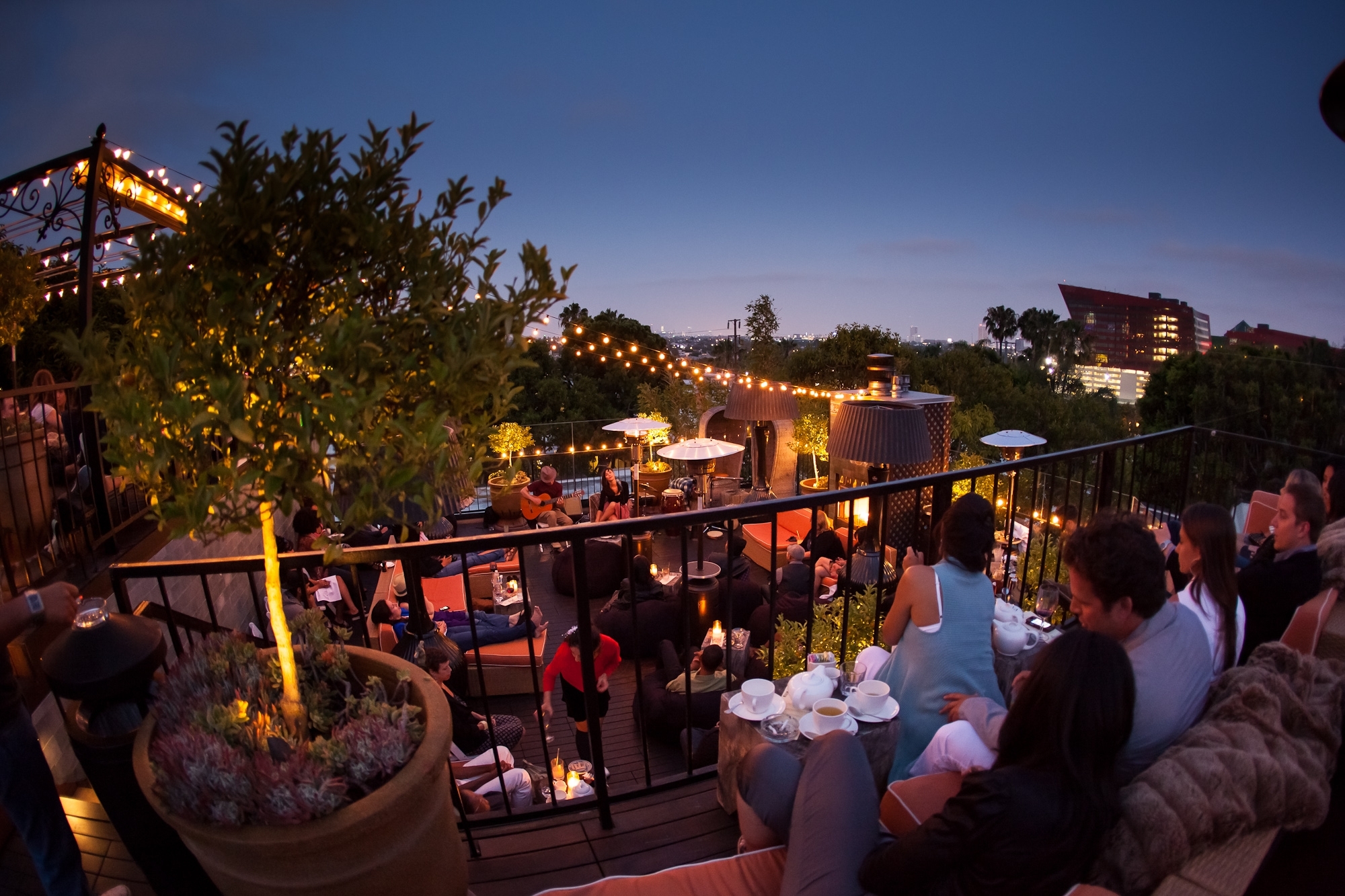 But in the mornings, this must be one of the most serene places to have breakfast in LA. There is a modest but top quality buffet – all beautifully presented – and if you're really lucky, you may just spot a hummingbird or two.
For further information please visit: www.petitermitage.com
All images by Petit Ermitage and CELLOPHANELAND*.
CELLOPHANELAND* were guests of Petit Ermitage.