We can't believe it has taken us so long to head over to White Cube, Mason's Yard to see Raqib Shaw's stunningly beautiful Paradise Lost exhibition. But having had the chance to view this weekend, we think it's quite possibly the best exhibition in London at present.
John Milton's epic poem based on the Fall of Man has inspired many artists (such as William Blake) but London-based Raqib Shaw, prefers to interpret his own imaginary paradise.
From a distance, one could be viewing the most delicate form of pretty Japanese encrusted inlay, but upon closer inspection, the true carnage becomes apparent. Swirling swallows attack tigers, who in turn attack monkeys. In fact, every beautiful painting is composed of rampant wildlife going about their bloody business on the forest floor.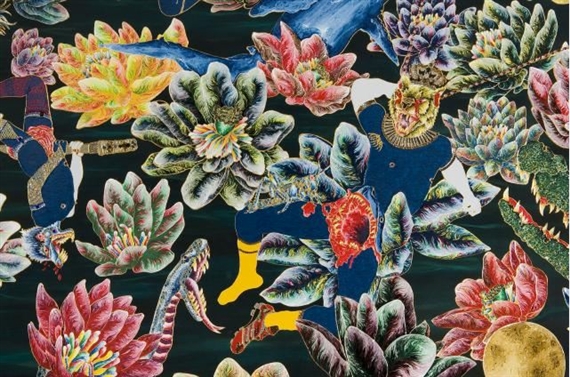 Shaw stages his Paradise Lost paintings according to a specific time, climate and season. One one side of the gallery, three pictures depict a wintry mountainous nightscape, lit by a full moon, while on the opposite wall, spring is in full blossom.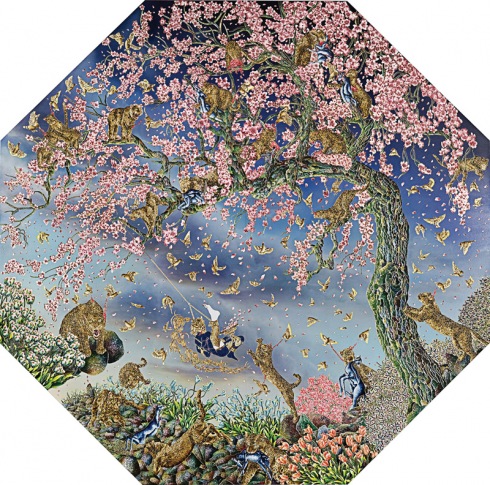 These paintings are mirrored in format as two octagon-shaped paintings sit either side of an elliptical panorama, each depicting a lone character attempting an impossible feat: trapping moonbeams in an ornate chalice or attempting to catch the falling blossoms.
Viewed from a distance or examined close-up (and I think it's equally important to do both), these paintings are exquisite. And they become even more special when you discover that Shaw achieves this effect by manipulating the enamel and metallic paint with a porcupine quill! 
Shaw was born in Calcutta and raised in Kashmir, leaving India in 1998 to study in London at Central Saint Martins School of Art.
Paradise Lost is at White Cube Mason's Yard until 12 November 2011.
For further information please visit: www.whitecube.com
All images by CELLOPHANELAND*.