Palazzina Grassi is a breathtaking 16th century palazzo situated right in the artistic heart of Venice, minutes from Palazzo Grassi, overlooking the Grand Canal. Opened in 2009, it was the first hotel designed by Philippe Starck in Italy, and as can be expected, is a fusion of history, tradition and experimentation. Traditional Venetian materials and decorations: mirrors (nearly 300), mahogany and glass are juxtaposed with the most innovative contemporary design.
The three-storey hotel has only 16 rooms and six suites including it's very own Krug Lounge; only the second of its kind in the world (the other is in São Paulo). Situated in a wing of the palazzo with sweeping views of the canal, this has to be one of the most glamorous spots for a private members club. Beautiful white silicone chandeliers, a bar covered in Murano tiles and some fairly novel, bottom-numbing bar seats.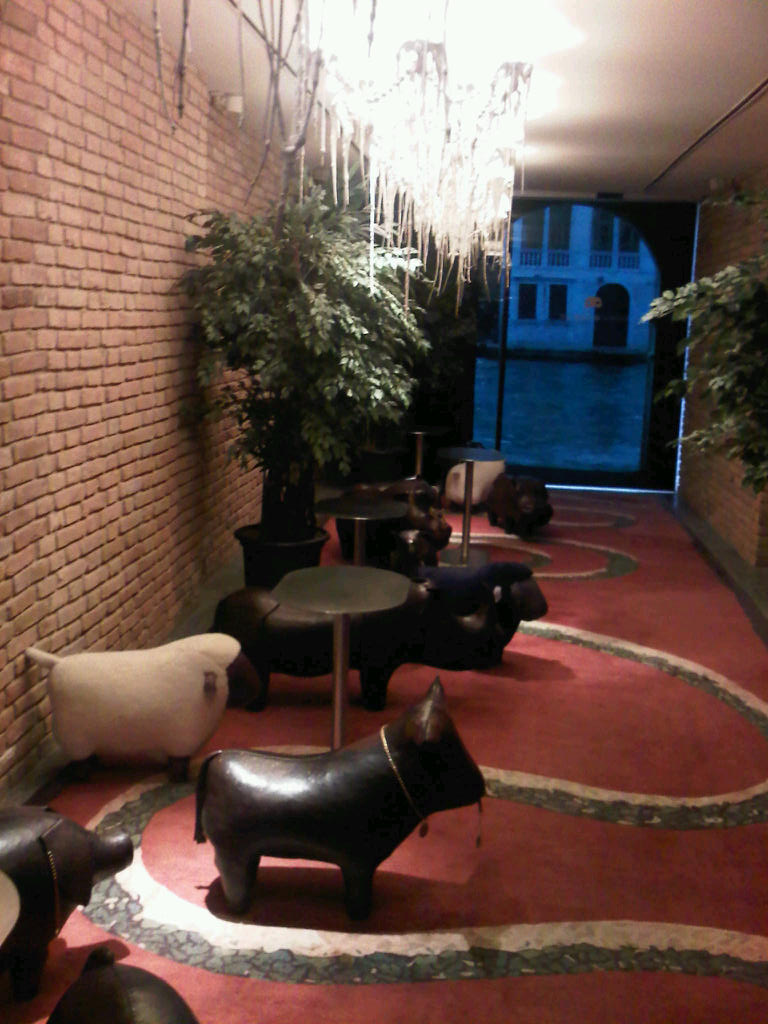 It took us a little while to find the hotel as there are no signs; just two stylised, but extremely welcoming, bull heads by the artist Aristide Najean. Once inside, the hunt for a reception desk proved futile. Instead, extraordinary glass art in the form of two fantastical lagoon creatures greet guests from the canal side, whilst two tentacular figures greet those entering from Calle Grassi. Guests can either check-in on the private 1962 vintage Celli speedboat launch, or in the privacy of their room.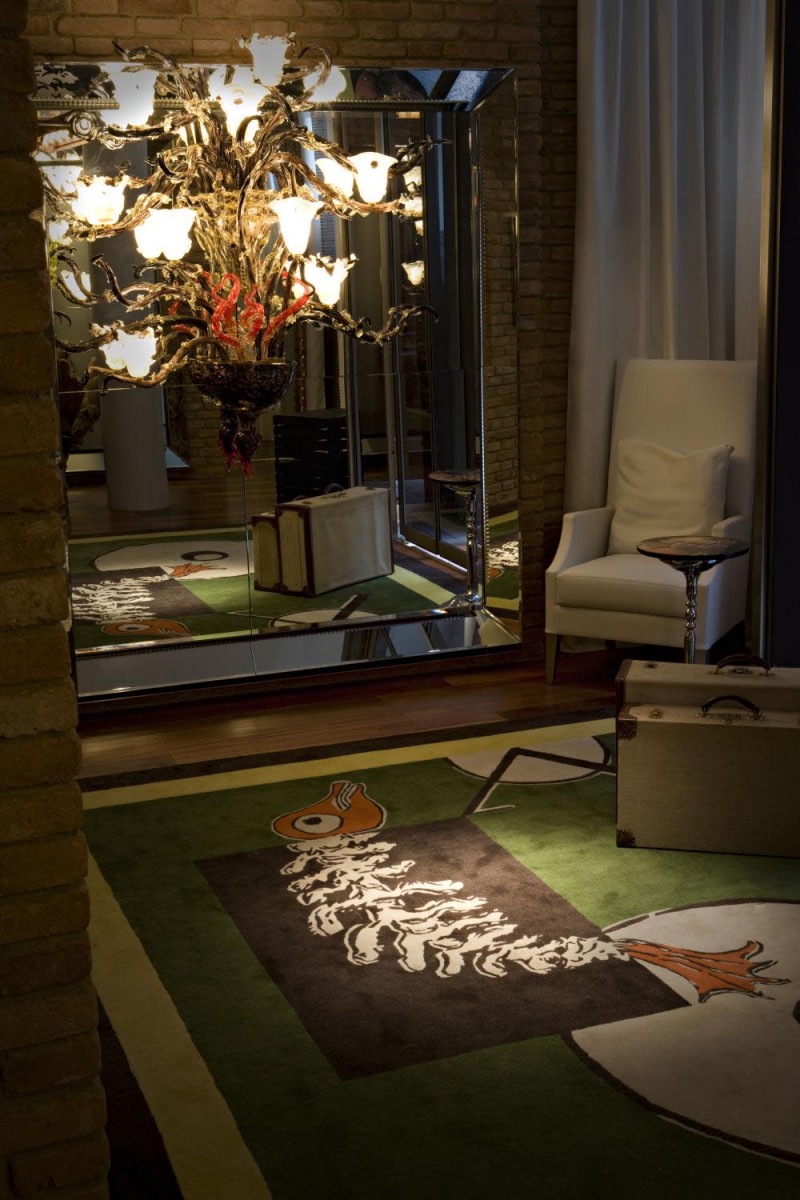 We loved the unexpected colours in the corridors: red, mauve and acid yellow, and of course, the mirrors.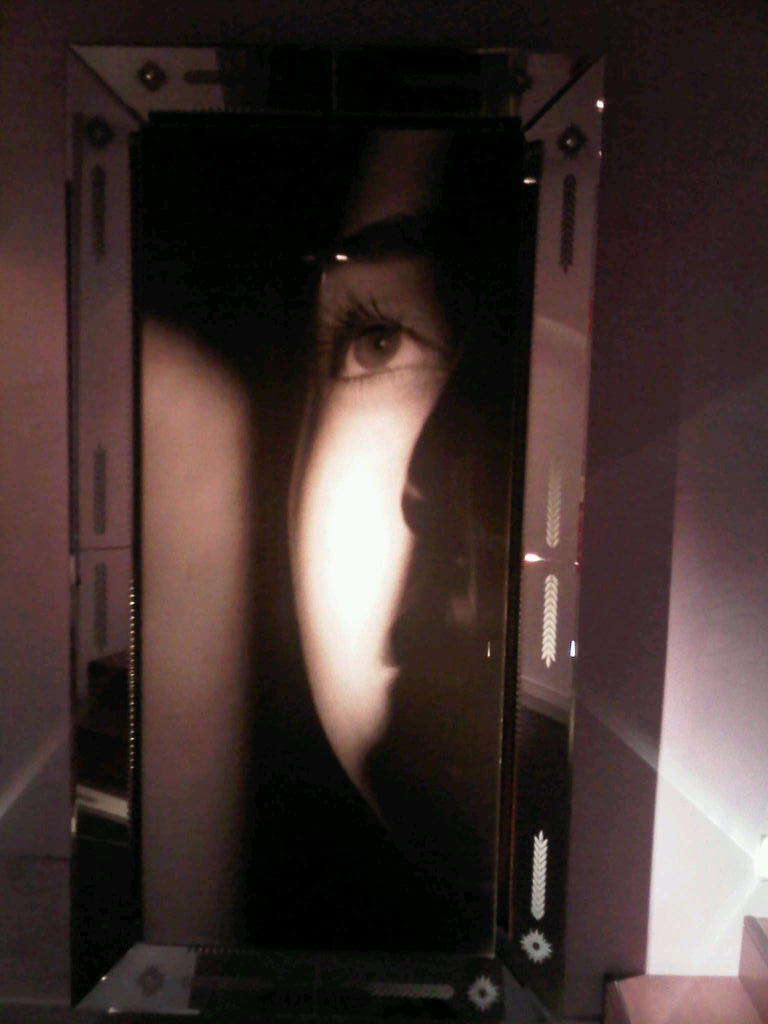 All rooms and suites are characterised by large backlit mirrors (there really is nowhere to hide!), with reinterpretations of classical Venetian patterns with lots of lovely Fornasetti accents, warm lighting (sometimes Starck designs can be a little clinical, but not here) with jewel box wardrobes and original artworks. Wooden floors are topped with thick, luxurious rugs and pastel shades colour the walls, creating a surprisingly homely vibe.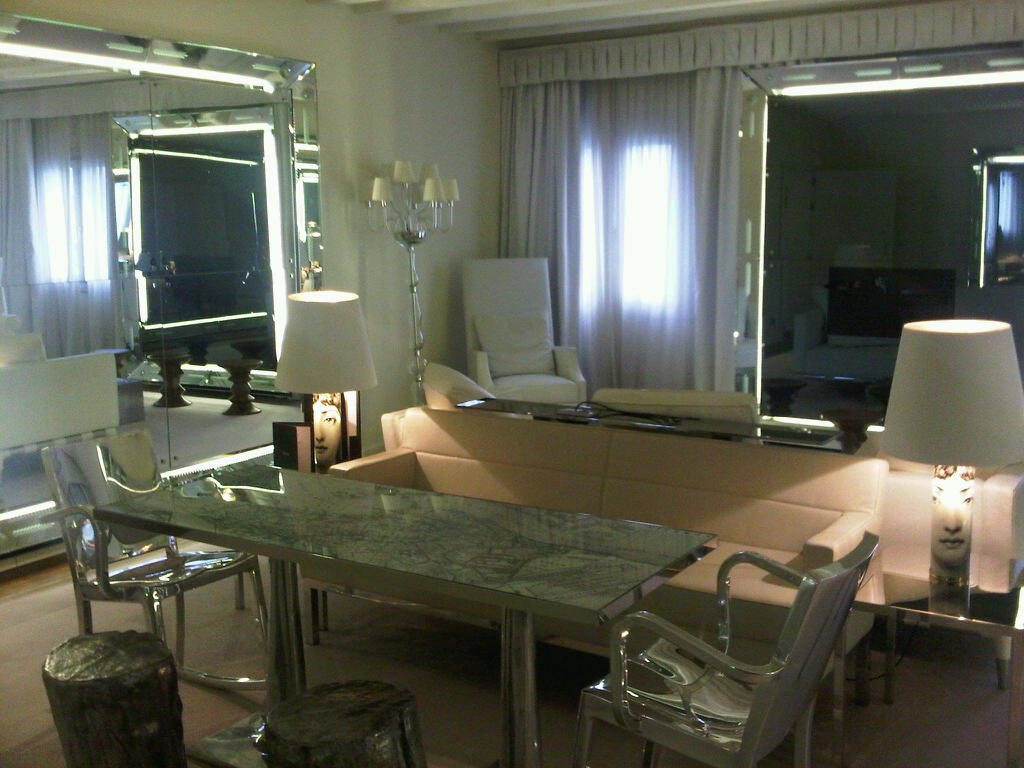 A nice, and very typical Starck touch, on the balcony.
PG's Club restaurant and bar, on the ground floor, is a dark and clubby space filled with baroque style sofas, dominated by 19th century columns marking the opening to the dining hall. Murano glass in various forms once again provides the backdrop, together with a gallery of one-off pieces from the private Zoppi collection.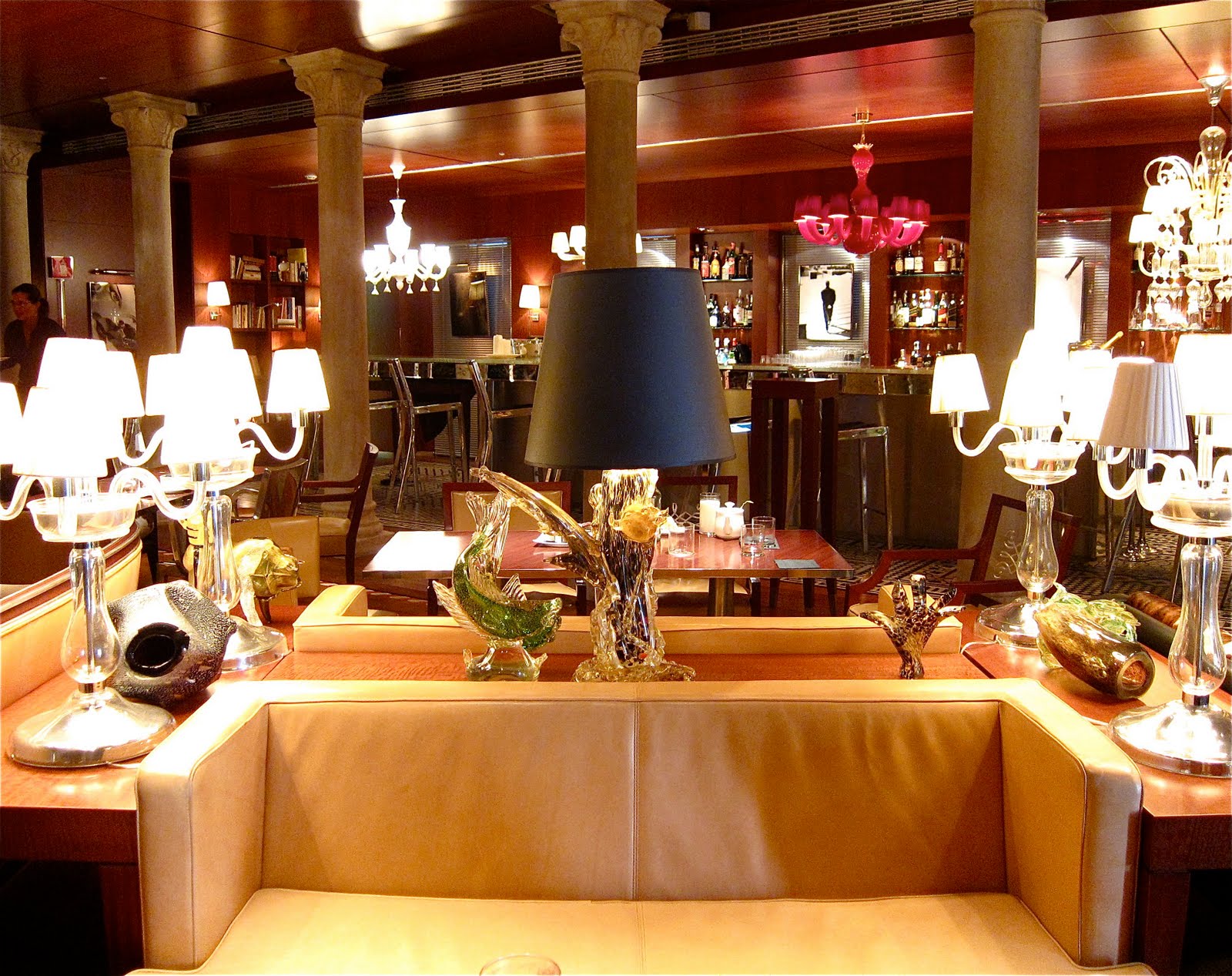 The illuminated, theatrical, open kitchen looks like a potential stage set. Facing the long restaurant table, designed to allow diners to interact not only with fellow guests, but the chefs, too. At PG's all the dishes are made with fresh ingredients sourced daily from the local Rialto Bridge markets, or from the fish market on the nearby island of Sant Erasmo, and all the pasta, bread and desserts are homemade. We sampled everything from the delicious cicchetti (venetian tapas) Montagnana ham to erbette rave (pink chard) to castraure (artichoke sprouts) to favourite, canestrei (lagoon scallops).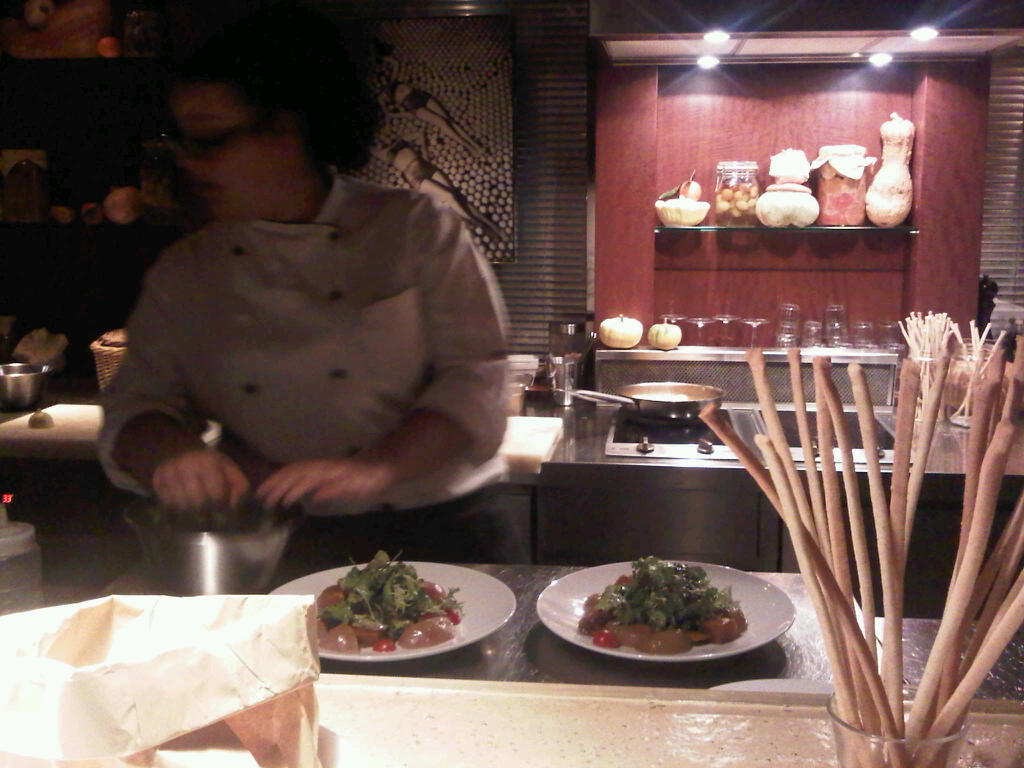 As we did, you can choose to opt for bespoke cuisine at the chef's table, and for the serious foodies, there's an opportunity to take cooking lessons in the home of a Venetian countess, with your own private cooking instructor.
No wonder Johnny Depp decided to stay here throughout the entire filming of The Tourist. Sexy, playful opulence, coupled with very best personalised service.
For further information please visit: www.palazzinagrassi.com
For further information please visit: www.mrandmrssmith.com
All images by CELLOPHANELAND* and Palazzina Grassi.
CELLOPHANELAND* were guests of Palazzina Grassi and Mr & Mrs Smith.