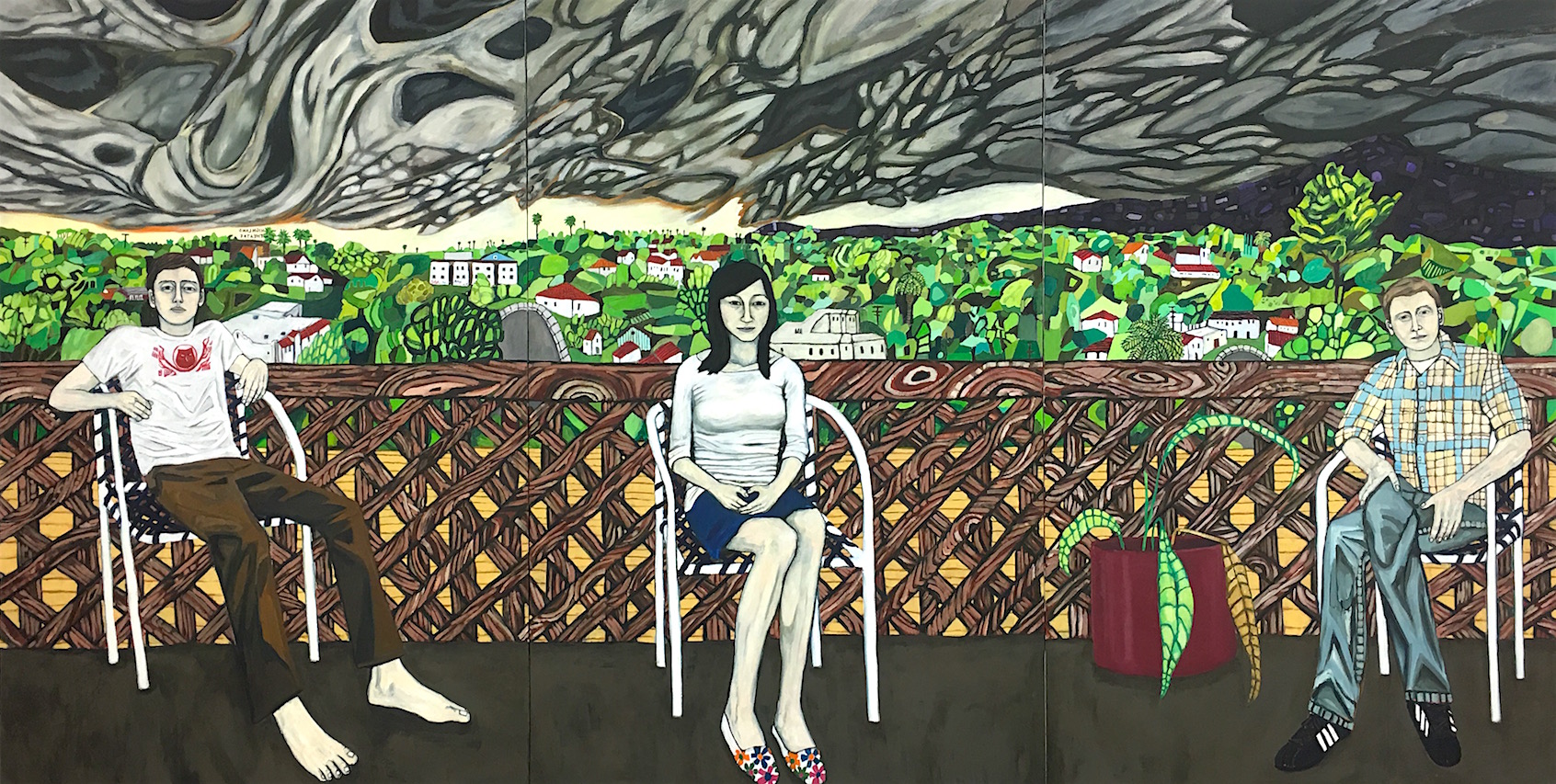 Painters' Painters is a good exhibition with much to commend it, but the Saatchi Gallery has again created a problem with its title. Painters' Painters firstly suggests that this is an exhibition of artists that are particularly admired by other painters, whilst the subtitle informs us that these are 'Artists of today who inspire artists of tomorrow'.
But who says? They provide no evidence and indeed there are arguments for a contrary opinion. These are artists who graduated between about thirteen and thirty years ago and despite their obvious talents, they seem to me to be better categorised as individuals who have for many years been carving their own path rather than a group acting as beacons for young artists of today.
Worse, the current show features only men and hence suggests that there are no inspirational female artists within Saatchi's vast archives (pop upstairs by the way to see Phoebe Unwin who could easily have been included). You may recall a recent exhibition of female artists was entitled Champagne Life, somehow intimating that bubbly drinks have a serious connection to art made by women (yes, it was sponsored by a Champagne house too).
Why the gallery cannot bring together more impressive exhibitions from its large collection without these trite and condescending curatorial excuses is an enduring mystery. For now Painter's Painters shows each of nine artists in one of the gallery's cavernous rooms. There are varied styles and plenty to divide opinion.
Dexter Dalwood and David Salle both use a collage style to different effect. Salle brings together disparate elements of contemporary culture, from varied media sources, in a comment on our confused identities in the modern world, whilst Dalwood uses borrowed imagery to create views of historically significant places which he has never seen, such as Brian Jones' swimming pool and the Bay of Pigs in Cuba.
David Brian Smith draws on family history for his impressive other-worldly and hallucinogenic paintings. A scene from a found photograph of his Shropshire sheep-farming great grandfather is a repeated motif set against multicoloured and trippy skies.
Ryan Mosley crafts a wonderful and unique world of bearded Victorian (?) men, hats, snakes and strange vegetation in a spontaneous de tete technique where images flow directly from mind to canvas.
Richard Aldrich is equally a conceptualist as a painter. Wilfully avoiding categorisation he drifts between abstraction, figuration and installation. Without specific style and any internal stylistic progression, the work can be enigmatic and confusing but also can be quite compelling.
Raffi Kalenderian largely paints disaffected portraits of his young, ambivalent-looking friends against an ultra-flat two-dimensional space, the patterns on clothing and furniture forming elaborate abstractions. His work has an undeniable charm, as he attempts to capture a total moment, not merely the sitter in isolation from their environment but the complete psychological framework in which they exist.
The remaining artists we found less appealing. Bjarne Melgaard's New York graffiti-style works were poor versions of Basquiat, whilst Martin Maloney's bright, childish and naive style has aged rather badly.
Ansel Krut uses humour and a sense of farce to poke fun at the traditions of painting. It perhaps only appeals if for example a vase of flowers, where the blooms are actually all bottoms, floats your own particular boat.
This is a bright, attractive show that is great fun as a light-hearted diversion. You will like some work and hate others but just do not ask too many questions about the curation.
Painter's Painters continues until 28 Feb 2017
For more information visit www.saatchigallery.com