Having just celebrated its first birthday, Mollie's Motel & Diner has been a huge success in reviving drab UK roadside stays. With a nod to 1950s Americana, it's fun to hear the words 'motel', 'drive-thru' and 'diner' in this pretty but sleepy corner of the Cotswolds in Buckland, Oxfordshire. It's therefore no surprise to discover that Nick Jones, founder of the Soho House Empire, is behind it all.
But unlike many US diners, there's nothing kitsch about Mollie's. Gorgeous green/blue leather booths, a chrome bar, and a stylish black and white tiled floor provide the relaxing backdrop. The menu features diner favourites including dirty burgers, Mollie's chicken in a bag, milkshakes, sodas et al but all with high quality ingredients, and it also includes great veggie options and fresh juices. But don't expect gourmet food; the fare is simple but well presented.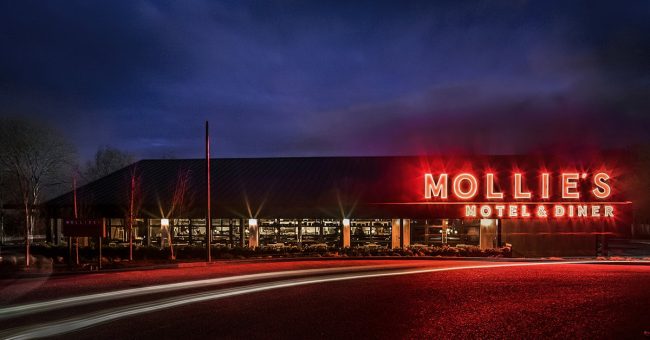 Before Mollie's, there had been A Little Chef on the site since the early 1990s which was knocked down to make way for the new diner and 79-room motel. Although inspired by US motels, again Jones wanted to avoid the retro or kitsch look. The reception area is full of glass cabinets filled with Hershey's chocolate and popcorn, there are shelves of design books, objets d'art, plants and shaggy rugs, giving it all a Mid-Century Modern feel. Bedrooms have a modern, Scandinavian feel with an abundance of wood panelling, and pale colours. Egyptian cotton, rainforest showers, and Cowshed products (the spa brand is part of the Soho House group) are a little touch of luxury in such reasonably priced rooms (which average £75.00 per night, and £50.00 on Sunday nights).
There's also a drive-thru open from 7am till 10pm where you can enjoy a selection of favourites from the Diner, including breakfast baps alongside hand-spun milkshakes, sodas and coffee.
There are ambitious plans for development; the team are hoping Mollie's can become the first in a series of new openings at roadside and city centres across the UK with two already under construction in Bristol and Manchester.
For further information please visit Mollie's Motel & Diner