Lucian Freud is not an easy person to nail down. He had no interest in 'family' yet had fourteen children. He could be witty and charming, yet could be rude and impatient. He was often accused of being unkind to his wives, and lovers whilst being able to inspire devotion. He was incredibly generous on occasion; buying houses for sitters, and he was as comfortable hanging out with East End gangsters as he was with aristocracy. The grandson of Sigmund Freud, the founder of psychoanalysis, he was never introspective; preferring to observe others.
The tantalising carrot held out by Lucian Freud: The Self Portraits – which has just opened at the Royal Academy – is that we will at last get to know the 'real' Freud better.
Think of Freud's most famous works: Benefits Supervisor Sleeping, Girl with a Kitten, Girl with a White Dog and Interior Paddington perhaps. Self-portraits do not really figure – are there even enough of them to give us an idea of his world? But amazingly the Royal Academy have gathered together over 50 examples in a once in a lifetime opportunity to examine the artist.
Spanning 64 years we see a fascinating journey from a bright-eyed teenager to an old man. As a student we immediately see his crisp, clean linear style. Copying Michelangelo; his head tilted back with black holes for mouth, and pupils.
In much of this early work he presents us with a narrative and symbols. He gazes sidelong at us from behind a large thistle – an indication of his spiky personality, or perhaps he is just telling us to keep well away. Another has an oversized hyancinth with a less obvious interpretation – the cycles of life and death?
The most poignant early portrait is Hotel Bedroom where he looms menacingly behind his then wife, Lady Caroline Blackwood. Hardly surprisingly they separated soon after. It was not very long before he tired of symbolism. Not wanting the meaning of his work to be so obviously 'read', and inspired by close friend Francis Bacon (as well as others like Frank Auerbach whom he always sort for opinion) he swapped his fine sable brushes for coarse hogs hair, loaded them up with paint and changed style completely.
We get a glimpse of works where he experimented with his new technique. Having rid himself of obvious line, we see his experiments with watercolours and portraits with the new brushes as he poses alternately, menacing, quizzical and curious.
Having been given a black eye by an upset taxi driver during an altercation, Freud is delighted. Given the opportunity to capture a new and different look, he rushes back to the studio to experiment before the bruising fades away.
The fleshy, painterly style quickly arrives in its full glory and alongside more self-portraits, we have large scale portraits of others: nude, standing, lying or formal. Freud however, is nothing if not theatrical and cannot resist slipping himself in to the picture.
When asked if he was a good model for himself Freud replied, "No, I don't accept the information that I get when I look at myself, that's where the trouble starts". It is precisely this "trouble" that makes Freud's self-portraits so intensely compelling.
Freud uses mirrors to allow glimpses of his reflection or to provide a new angle. In Reflection with Two Children the apparent viewpoint is from his feet. In Two Irishmen in W11 two tiny self-portraits are propped on the floor. In another we just see his feet, but best of all in Flora with Blue Toenails, there is the looming shadow of his head. It intrudes on the bed of the model a la Lee Friedlander's disturbing photographs where his shadow rests on a blonde's back or at other women's feet.
By this point it is hard to say if we now understand the artist any more than before we arrived. Freud is not really revealing himself – it is almost the contrary – he slips in and out of the picture, changing expressions. He does not really seem to want to expose more. Until the final room.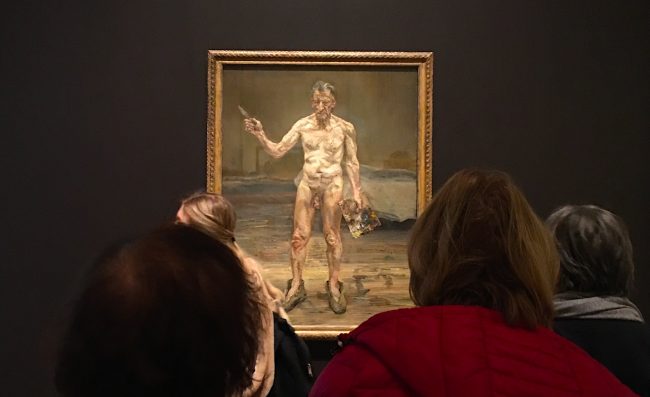 Previously we have, at most, only seen his upper body, but perhaps Freud realises that his time is running out. The final work of the exhibition is his last self-portrait. Full length and naked, except for an oversized pair of unlaced boots, we see the 70 year-old Freud in all his glory. "I felt very uneasy doing it" he told an interviewer before the painting was unveiled. "Seldom got so fed up with a model. But I thought, after putting so many other people through it, I ought to subject myself to the same treatment."
In Painter Working, Reflection  the paint is layered and lumpy reflecting the aged and sagging flesh. It is unforgiving and honest and it is hugely tempting to say that, at last, here we see the real Lucian Freud. But, no, of course we cannot – he is as unknowable and enigmatic as ever, and all the better for it.
Lucian Freud: Self Portraits runs until 26 January 2020 at the Royal Academy
CELLOPHANELAND* were guests of the Royal Academy
For more information visit Lucian Freud : Self Portraits
Recommended reading: Lucian Freud: A Life
Recommended reading: Breakfast with Lucian: A Portrait of the Artist
Read the London Standard review here 
Read the Guardian review here 
Read the London Time Out review here