We're still not entirely sure if the art at White Cube, Mason's Yard is by Jake or Dinos Chapman, but ultimately it doesn't matter. To add to the challenge, we could only see the first half of the show at Mason's Yard (due to a long-standing date with Kevin Spacey at the Old Vic); the second half opens at White Cube, Hoxton Square later in the evening. This is the first time that the brothers have worked entirely independently of each other, and we could detect from the quizzical looks sported by many people in the room (apart from Jay Jopling of course) that they too are playing the same guessing game.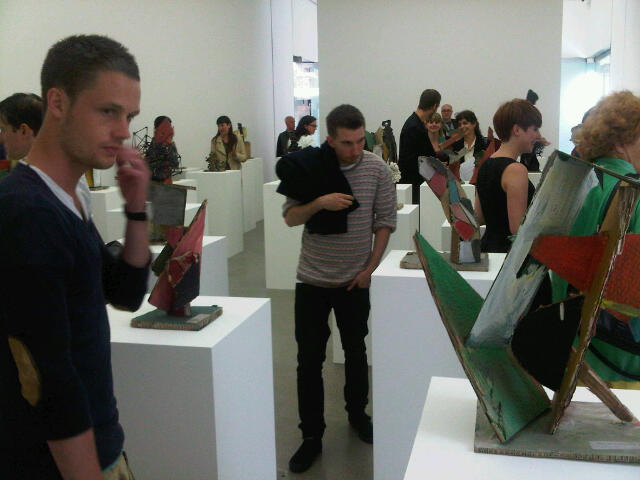 The ground floor at Mason's Yard is dotted with 47 white plinths displaying exhibits of cardboard which has been torn, broken, twisted, painted and assembled to look like valuable works of art. Loo rolls and cotton buds provide adornment and the shapes and style of each are reminiscent of a Picasso sculpture. With titles such as 'The inside of a clown's pocket', the exhibits look like they have been created by children but the method of display leads one to believe that this is a precious, highly valuable collection. Basically it takes the p. out of the abstract art world.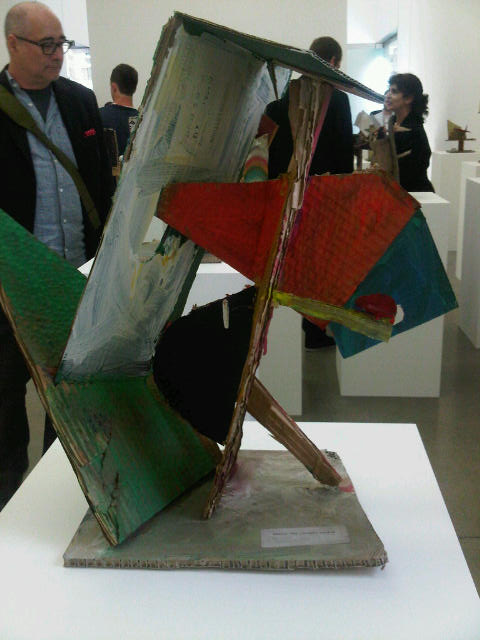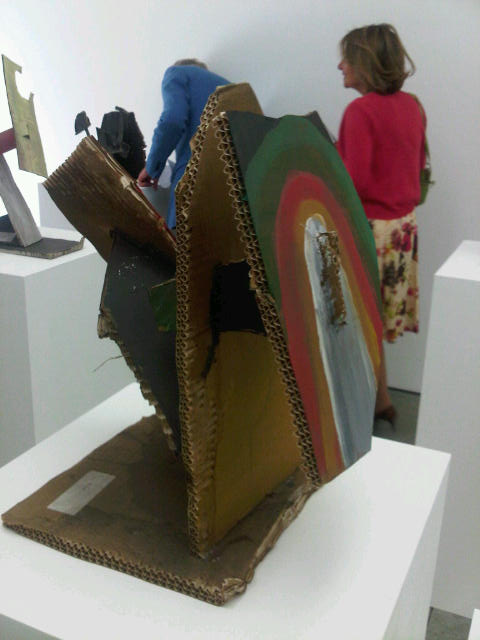 By contrast, the basement gallery brings me to a sudden halt. Menacingly positioned at the entrance to the room is a black Nazi officer dressed in a black uniform displaying a happy yellow smiley sticker on its arm instead of a swastika. The painted steel mannequin's black fleshless face is dominated by protruding zombie-like eyes. After such a jolt, it takes a little adjustment to realise that the stark, white room is full of these grotesque black beings. They're here to admire the art: the same cardboard art on a much grander scale than previously viewed upstairs. These superior beings are admiring art made from cardboard which rather ingeniously turns the tables on the Nazis who staged a massive exhibition of "degenerate art" in Munich in 1937.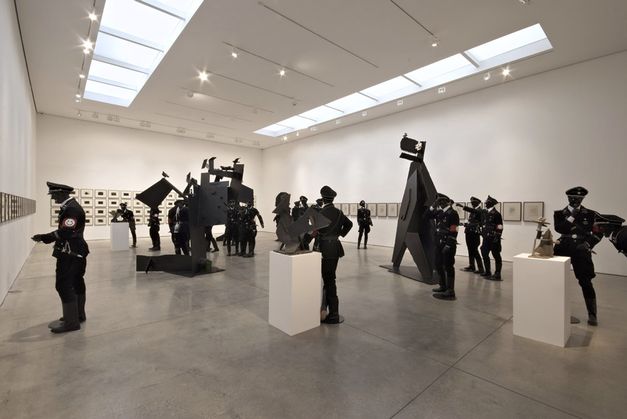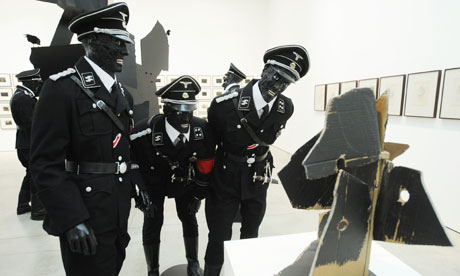 Here again, the Chapman brothers boldly and brilliantly illustrate their enduring themes of politics, religion and mortality whilst adding a sprinkle of their scorching wit. Unmissable!
Jake or Dinos Chapman runs until 17 September 2011.
For further information please visit: http://www.whitecube.com/
Images by CELLOPHANELAND* and White Cube.