Into The Woods, the new musical fantasy film directed by Rob Marshall, from Stephen Sondheim's Tony Award-winning Broadway musical, premiered in London last night. Already a box office smash in the US, it features an ensemble cast that includes Meryl Streep, Emily Blunt, James Corden, Johhny Depp and Chris Pine. The Walt Disney produced film is inspired by the Grimm Brothers' fairy tales of Little Red Riding Hood, Cinderella, Jack and the Beanstalk and Rapunzel. The story centres on a baker and his wife who set out to end a curse placed on them by a vengeful witch. The film was shot at London's Shepperton Studios, with additional filming at Dover Castle, Waverley Abbey, Richmond Park, and the ancient pine trees in Windsor Great Park were used for many of the spectacular scenes in the woods.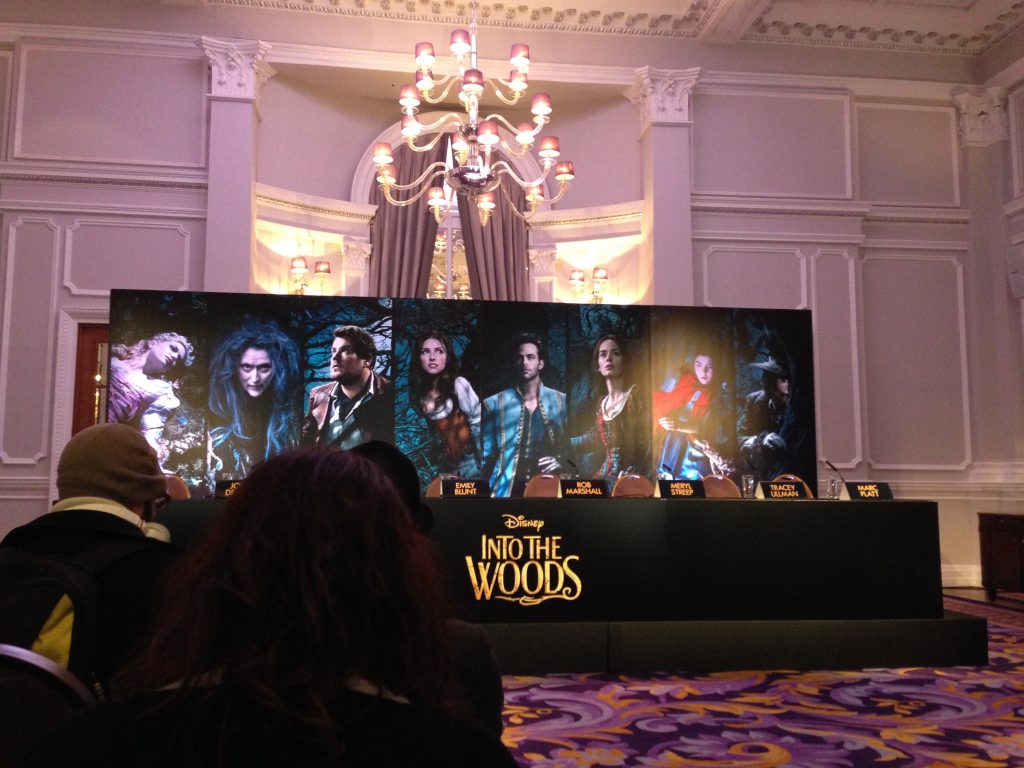 At the press conference ahead of the London premiere, director Rob Marshall, admitted that "musicals are still a risk". Before filming began, he put the cast through four weeks of intense rehearsals on a soundstage. Marshall's preparation paid off, and the movie was shot in just 55 days. The cast then recorded their respective parts in the studio in the presence of Sondheim himself.
Meryl Streep recalled that before timing began, she visited Stephen Sondheim at his brownstone in NYC where they ran through a song together. At the end of the evening, she asked Sondheim if she could keep the music sheet, and asked if he would sign it for her; he duly did and underneath his signature, added the words: 'Don't f*ck it up'! On the demands of singing, Streep also added: "I knew I would have to work on my lung capacity. I swam a mile a day and it gave me that level of breath".
Emily Blunt who stars as The Baker's Wife, was terrified at having to sing; this being her first major singing role on film: "I used to sing in school productions, but I always find it nerve wrecking to sing in front of people. But this opportunity was a hard one to resist".
James Corden who plays the role of The Baker, whose actual first stage appearance was a one-line part in the musical, Martin Guerre, explained: "When I was growing up all I ever wanted was to be in a musical on the West End". He also raved about working with Johnny Depp who plays the Big Bad Wolf, and hoped that "some of Johnny's coolness would rub off on me".
Rob Marshall also had nothing but praise for Johnny Depp: "Johnny is an extraordinary man, so kind and generous beyond belief. He loves cartoons, particularly the 1940s Tex Avery ones, so we worked with our costume designer, Colleen Atwood, to get Johnny into a zoot suit".
After the conference it was time for cake. Fittingly a spellbinding one…in the form of The Witch!
 Into the Woods is out on general release in the UK on Friday 9 January 2015.
See the trailer here.
For further information, visit: www.movies.disney.co.uk
CELLOPHANELAND* were guests of Disney and Corinthia Hotel, London.