'It's a simple idea, and it's perfect for the genre. The newspaper, that man-made butterfly that ends its brief but glorious day-long life in the bin, the gutter, or floating piecemeal through a Tube tunnel, is offered up for the kind of sober contemplation that it rarely, if ever, enjoys.' Kate Quill (The Times)
Hugh Mendes has been painting images of newspaper clippings for about ten years now. Most recently he has been working on an ongoing, and never ending, series of obituaries where a life is condensed into a few column inches. Locating a hidden melancholy in our society, awash with imagery, the relentless stream of stories from the press is halted, and everyday death is revealed beneath a grand narrative.
A single image, a scrap of newsprint, becomes a heavy token, a memento, even an icon, when rendered in paint. The act of seeing is frozen in time and the act of painting, and therefore sustained concentration, brings a degree of focus and depth to what otherwise would be a fleeting moment in the ephemeral daily press. 
Also shown are a series of works commemorating the 100th anniversary of the Great War. Mendes was actually born on Armistice Day in a British military hospital in Germany: his mother a nurse and his father a British Intelligence code breaker. Using the same approach as with his Obituaries series ephemeral newspaper cuttings are elevated to poignant memorials for those who served and died.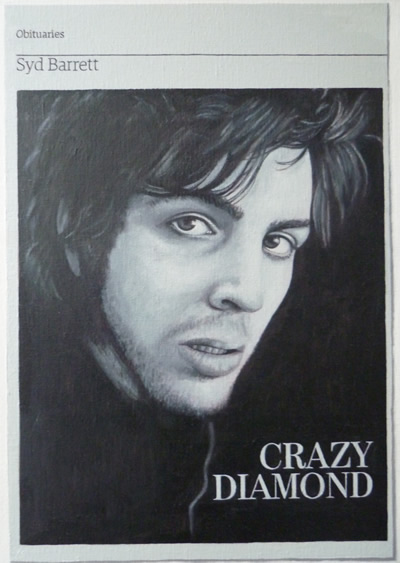 A trip out to the Cotswolds is always a treat, and this is as good an excuse as any to drop in to High House Gallery; one of the few outposts where you can find real contemporary art outside London.
Hugh Mendes Obituaries & Other Works is at High House until 29 June 2014.