Hugh, why were you drawn in particular to painting obituaries, and do you remember the moment when you first had the idea?
I was working with newspaper clippings as source material, mainly political stories. As you may know, that really started with 9/11 which happened to be my MA graduation day. I was using newspaper clippings within the context of still life paintings, with other objects. My first use of a clipping was in a memorial piece to John Lennon. I then dropped the other objects and started juxtaposing two clippings, mixing text and images. I do remember the end of year lists of significant obituaries in the Sunday papers. I think it was 2002 that Spike Milligan and Princess Margaret had died and I decided to juxtapose them in a drawing. I guess that was the moment I first had the idea for Obituaries but as mentioned, I already had the idea of memorial pieces. Memento Mori within Still Life is not unusual. I was also continuing with more overt political pieces and other themes that interested me, such as scientific developments. I was, and have been, recording and reflecting the times in which I live and work. Again this is very common for artists and I feel is part of our job, or contribution to society.
How do you choose which deceased person to paint, and do you need to feel a resonance with them before doing so?
My first Obituary paintings were in reference to the Obituaries that were appearing in The Independent newspaper (now also deceased). I thought they were using odd and unusual images and of not such well known people. I entered into correspondence with the Obituary editor at the time, James Fergusson, and made a series of paintings that were very much image based, pretty faithfully reproducing them as they appeared in print. However, they were taken out of context, as oil paintings. When James retired, his obituary co-workers came to my studio and bought one to give him as a retirement present. They found it quite startling seeing their work as paintings on my studio wall. `When The Independent disappeared, the obituary team jumped ship to The Guardian, and I went with them. By then I was focusing on people that meant something personally to me, or I felt were significant deaths that were worth memorialising in paint. Also that featured what I might call iconic images, such as movie stars, music stars, political figures, etc. Some that come to mind in those days included Bob Hope, Elizabeth Taylor, Michael Jackson, Nelson Mandela, Saddam Hussein, etc. Beautiful images to paint and of significant people. Also The Guardian at that time had a big budget and were producing double page spreads in full colour.
I always try and feel as much resonance with the person I am painting as possible. There are lots of ways of doing this. Sometimes I am very familiar with them anyway, and just have to bring them to mind, but it is a very enjoyable part of the process, for instance watching movies, listening to their music, etc, even while I paint. I also find myself talking and having an imaginary dialogue with them while they are on the easel. It really can be a lot of fun… "morning so and so… how's it going? Where the hell have you been? I've been sitting here all night waiting for you!" It is a magical moment when they start to appear on the canvas and stare back at me! Also they have to be people I really want to paint and engage with in a very focused way for two to three weeks, which is how long it usually takes to complete a painting.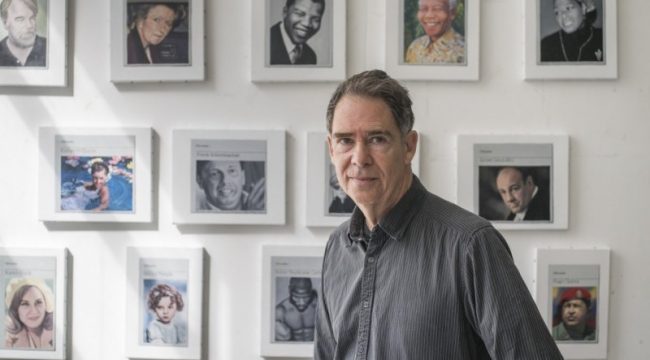 How do you go about sourcing and choosing the image for your painting, and how much is it influenced by the original obituary notice that appeared in the newspaper? Is it usually a like-for-like copy, or is the original used as a reference point which you then tailor?
As mentioned it started as like-for-like as they appeared in the paper. The Obituary editors at The Independent, when I met them in their offices, jokingly said maybe I could be their picture editor. But then of course I became my own picture editor. If I did not particularly like the image they used, I would just find a better one, or one that would translate better into paint. Initially when there was a significant death I would buy all the broadsheets and compare their treatments and images, etc. Then I would just scour the Internet for the best, or what I considered the most iconic image. The one that they might be remembered for or that somehow brought to mind their entire life and work. Of course as I am painting, I have full licence to doctor or alter an image as I see fit.
Which newspapers do you prefer to use as a source? Image aside, how important is the layout, quality of journalism, and typeface used in the obituary that you choose?
As also mentioned above, I started with The Independent and then migrated to The Guardian. The quality of the journalism is very important to me as is the general layout, typography, graphics, etc. Especially important is the image as my paintings are all dominated by image. Usually there is just the word 'Obituaries' and the name of the person, then the image. When The Guardian started shrinking and it's Obituary page shrank with it, I felt its design quality diminished too. This coincided with my taking more and more artistic licence with the paintings, to the extent of pretty much abandoning any reference to the original. These days I still use a fake version of the old Guardian type face and any image that suits me sourced from the Internet. Most recently, I have been going back into history for subjects and creating entirely 'fake' obituary paintings, just using that format as if they appeared in The Guardian when it was still a broadsheet.
As newspapers are often hastily read, with articles and obituaries often skimmed over, what do you think it is about taking obituaries out of context  and presenting them as artworks, that engages the viewer in a different way?
I feel this is a very important aspect of my practice. Fundamental. I hope to engage the viewer in an entirely different way. Painting is a very slow process. This is very deliberate and I hope that my level of sustained concentration is somehow imbued in the paint. It is also interesting to note that a lot of newspapers are now read online. Even this is very different I think. I still like to hold a newspaper in my hands and turn pages. It is the same with books. This is all debatable, but I think it is at least interesting to consider that one's level of engagement is different. People say that our general attention span has drastically diminished. So taking a piece of newspaper and considering it as an object to be looked at and dwelled upon will have an effect. One could say that this is the case with Still Life painting in general. Everyday objects are looked at, even meditated upon, and presented by the artist for people to consider, not just in a utilitarian way, or for consumption. As paintings they convey something else, perhaps more profound. An Obituary notice considered as a Still Life object and painted becomes an object of contemplation, a memento mori, vanitas piece. Of course, this is extended when the paintings are seen in a gallery setting and perhaps several at a time, etc.
What do you hope that people take from your work…a sense of their own mortality perhaps, or the opportunity to focus more deeply on the memory of the person in front of them?
Well I would hope both those things. Different people respond in very different ways. Often one of my subjects will mean something particular to someone who sees it. Perhaps a personality from their past. A favourite actor for instance. This brings to mind some of my collectors and why people buy certain artworks. It is definitely the case that the Obituary series has been much more popular than my more political works. Both in terms of critical response and sales for instance. They are exhibited more, written about more and sell more. Obituaries can be seen as markers for society… those we wish to remember or consider, they mark the passage of time and are a way to consider history perhaps.
Your photorealistic style of painting is so highly meticulous, and looks incredibly difficult to master. How long did it take you to hone your technique?
This has taken years really. It has been a very slow development. Both style and technique. It is still developing and changing. It is a process that is evolving. It helped when I started wearing glasses. People remarked that my style had become more meticulous, even hyper real and I said it was because I could see what I was doing. Funny but true. I never see my work as photorealist however. It is a very different style and technique. This was written about very well by someone called Ben Street some years ago: https://hughmendes.com/reviews/hugh-mendes-saatchi-online-critics-choice-by-ben-street
Has anyone ever asked you to paint their own obituary?
No, though I have been asked from time to time to paint particular people, perhaps that I had missed. Of course I can never get anywhere near keeping up with significant deaths. So I only really paint a very select few, that really mean something to me, and that I really want to paint. Recently I was asked to paint obituaries of living people: Donald Trump, and myself! Both have been done somewhat reluctantly, but it's interesting and I considered it another avenue to explore. These days I am pretty much exclusively painting Obituaries of artists, initially as they die, but now I am working my way back into the history of art, painting made up Obituaries of some of my great artistic heroes, such as Rembrandt.
Do you have a favourite obituary painting from your collection?
Yes, but I suppose favourites come and go, or change. Currently Sofonisba Anguissola, a Renaissance painter who will be in my forthcoming show, and perhaps from my last show, Vermeer.
The subject of war, from the Great War to the atrocities of 9/11 has featured in your work in the World News series, and has included figures such as Osama bin Laden, and Hitler. Do you think growing up in a military family – your father being a British Intelligence code breaker – has influenced your view of conflict and mortality?
Yes almost certainly. I did not really grow up in a military family, though my father worked with British intelligence during the war and my mother was a nurse. She was one of the first people to go into Belsen when it was liberated, to be faced with unimaginable horror and human suffering. I don't think she ever really got over that experience. She had a nervous breakdown when I was about six and took up painting for therapeutic reasons. So I became aware of art and painting then. So I was about six when I decided to be an artist.
As mentioned, my MA graduation was on the very day of 9/11. I had been following the US election that year between Al Gore and George Bush, and the recounting of hanging chads in Florida. I had a headline: So Gore Really did win Florida and I juxtaposed that with an image of an Arab with a gun, so the gun was pointing at Bush's head. That painting was in my show and opened on 11th September, 2001. I did not realise until the next day that the Arab figure was Osama bin Laden. That image of Bin Laden kept appearing in the press subsequently. I collected all the papers for a week and then made twenty paintings for my first solo show post graduation. It was called Into Manhattan's Memory from one particular headline and image of Ground Zero. So I felt my work was inexorably linked to what became known as the 'War on Terror' I painted images of the Afghan and Iraq wars, etc. That particular series, or body of work, was concluded ten years later with the assassination of Bin Laden and a show of all the paintings with Kenny Schachter in his London gallery.
It was during that period around 2003, that I began the Obituary series and some were included in the Schachter show, including Bin Laden's Obituary.
I also made a special memorial piece for the show which featured all 3000 names of the people who died in the 9/11 attacks, written out in pencil in the format of The Times Obituary. I worked out that if I wrote 75 names every day for six weeks in the run up to the show, I would complete it in time. It seemed an appropriate response to the anniversary, a real labour of love, and that piece is now in the collection of Peter Nobel, in Zurich.
You taught for a number of years, do you still enjoy teaching?
Yes I do. I teach at City & Guilds of London Art School at BA and MA level. It is a small independent art school and very much reminds me of Chelsea Art School, which was also small and independent when I studied there in the 70s. Small number of students, lovely studios and a very good teaching staff. I enjoy having to continuously discuss painting and art in general, not just with students but also with other members of staff. I feel it keeps me plugged in to contemporary thinking, etc., not just academically. I teach two days per week and the rest of the time in my studio, which I feel is the right balance.
Are there any eminent artists that have influenced your style or whom you particularly admire?
Yes, perhaps Vermeer, Warhol and Gerhard Richter that I particularly admire and have had a strong influence one way or another. Also I was taught by David Hockney and Euan Uglow at Chelsea and they both had an influence, particularly colour mixing from Euan perhaps. Hockney was a contemporary artist who I kind of looked up to.
You have an exciting solo show coming up in Feb 2020 at Charlie Smith London. Can you tell us a little bit more about that.
My last show there was in 2018 and featured entirely made up 'obituary' paintings of artists from the past, perhaps my personal favourites. From El Greco to Picasso. I had used a self-portrait as the image for my obituary of Lucian Freud when he died. It proved very popular and gave me the idea that pretty much all the artists of the past had made self-portraits, certainly pre-photography. It was a fascinating process engaging with each artist in turn, remaking their self-portraits, reproducing their style and how they saw themselves. That show was a sell out (my first) so the paintings obviously captured the imagination of collectors, etc. The other thing about that show was that it was made up entirely of men, with the notable exception of Frida Kahlo. So for this next, forthcoming show at Charlie Smith, I am reversing the situation and painting all women, self-portrait based obituaries, with the exception of one token man… Marcel Duchamp in drag, as his alter ego Rose Selavy. It is a kind of rewrite of art history from the Renaissance to present. From Sofonisba Anguissola to Carolee Schneemann, who died earlier this year.
Before that show, I also have work with Robert Fontaine Gallery at Art Miami in December, and a small group show with Benjamin Kraus Gallery, New York, in January. I am also simultaneously working on another major project, but that is another story, for the future…
See Hugh's work at Art Miami, 4 – 8 December with Robert Fontaine Gallery More info here
Hugh will also be exhibiting at the London Art Fair in January with Charlie Smith London. More info here
His solo show: A Brief History of Art opens on 14 February 2020 at Charlie Smith London
For further information on Hugh Mendes and his work, please visit here