The Hotel Grano de Oro  is by far our favourite place to stay in San Jose. Located in the heart of the country's capital city, this historical gem is named after the country's most famous product, which is of course, coffee. 'Grano de Oro' literally translates as 'Golden Bean', an affectionate reminder of the fact that, in little more than 100 years, coffee transformed the country from a colonial backwater, into a relatively affluent and cosmopolitan republic.
Although the city itself has lost some of its charm due to destructive earthquakes and ill considered development, there is still enough for a few days exploration. Must-do's include the gold museum and its excellent adjoining craft shop, and a tour of the spectacular 19th century National Theatre.
It is also a great base to start your holidays in the country. As most international flights come in to San Jose, it's the usual place to begin any trip, and we would recommend a day or two either end of your journey as perfect 'bookends' to a visit.
The surrounding countryside of the Central Valley is stunning; characterised by coffee plantations, pockets of rain and cloud forests teeming with bird life, butterflies and orchids, spectacular volcanic craters and tumbling rivers for rafting. Excursions, in group tours or your own hire car, are easily done from the city.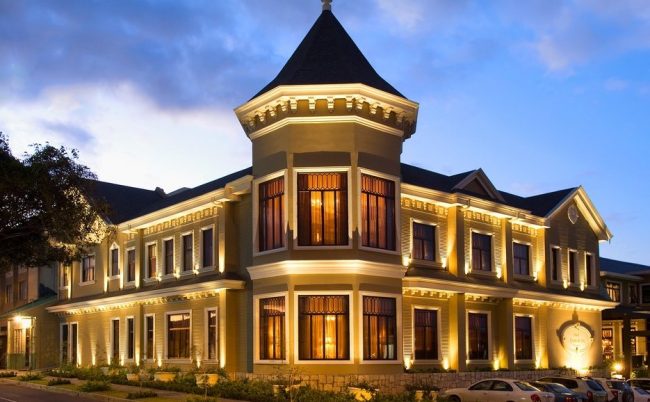 The Hotel Grano de Oro  is the best choice in San Jose; a mansion that celebrates the best of the countries history and culture. Situated at the western end of the centre, it is just a few minutes easy walk from Sabana Park, and a little more to the Avenida Central, along which most of the city's shops and attractions are situated.
The Hotel Grano de Oro was once home to the Pozuelo family, creators of a famous Central American cookie back in 1919, and occupies a group of historic painted clapboard mansions. The exterior is attractively painted in shades of cream and brown with pretty, well-kept tropical gardens and photogenic night-time lighting.
Stepping from the bustle of the city the interior is an instantly calming oasis of cool corridors, courtyards and patios. There are stained glass windows, quality antiques and plenty of peaceful lounging areas decorated with black-and-white photos of old San José. At its heart is a courtyard with potted palms and a giant, bubbling fountain and where dining tables are set out with red tablecloths and fine china.
The forty or so rooms are furnished in an old fashioned style with wrought-iron beds and rich fabrics. Decorated in three tasteful colour schemes, each room is unique and comes with handcrafted art and furnishings handcrafted by Costa Rican artisans.
For an extra special stay its well worth trying to book one of the suites. The Vista de Oro has its own private entrance from the street, and has rich wood wall and ceiling panelling throughout, handmade floor tiles and commanding views of the city centre from the jacuzzi bath tub. The spacious Garden Suite meanwhile comes with its own private garden. All rooms come with air conditioning, ceiling fans, robes, minibar and safe.
The Hotel Grano de Oro  also has a well deserved reputation for fine dining. Set within and overlooking the central courtyard, the atmosphere is calm and peaceful, with attentive staff and unobtrusive music. The chef is French and the menu is European-leaning, mixing classic dishes with Costa Rican favourites. Good breakfasts are served at your table with a choice from the menu plus juice and of course coffee.
Throughout our stay the service was always polite, discrete and friendly; there was always a doorman at hand on arrival or departure and extras were never any trouble. This was an oasis of calm providing a taste of the historic city that we cannot recommend highly enough.
For more information visit Hotel Grano de Oro
CELLOPHANELAND* were guests of Hotel Grano de Oro