Built in 1842 as a small palace, the Hotel Des Trois Couronnes glistens on the shores of Lake Geneva. Nestled next to the historic old town of Vevey this grand old dame of belle époque elegance has unrivalled magical views of the lake and the Alps.  We have been fortunate to stay here several times and it is one of our favourite hotels in the world. Maybe the ghosts of the former famous residents: Jean-Jacques Rousseau, Fyodor Dostoevsky, Graham Greene and Charlie Chaplin still linger, influencing the palpable air of artistic glamour that remains. Henry Miller also chose the hotel for his setting of 'Daisy Miller'.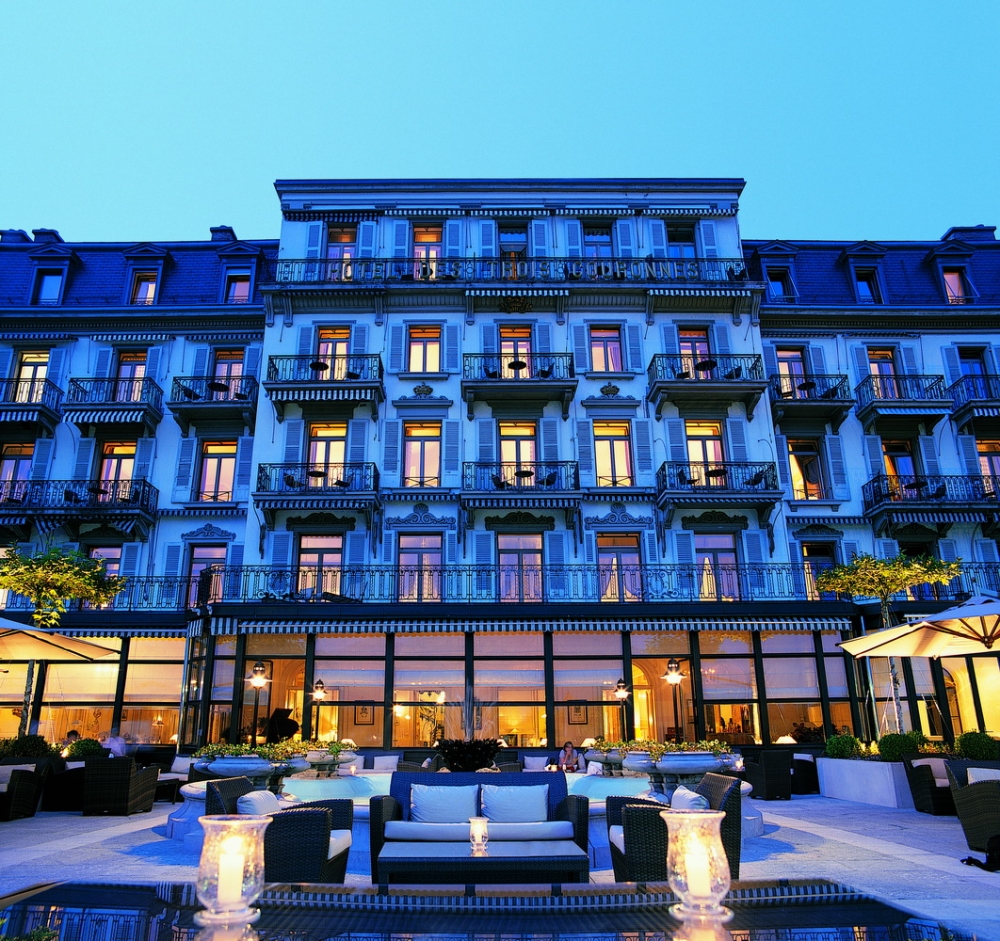 In the late nineteenth century, three crowned heads were guests at the same time at the Hotel Monnet (as it was then named).  The unusual honor of having the sovereigns of three great states of Europe meet and stay together in his hotel, caused the proprietor to change his sign to depict three crowns and since then the house has been known as Hotel des Trois Couronnes. The three monarchs were Emperor William I, of Germany; Emperor Francis Joseph, of Austria; and King Umberto, of Italy.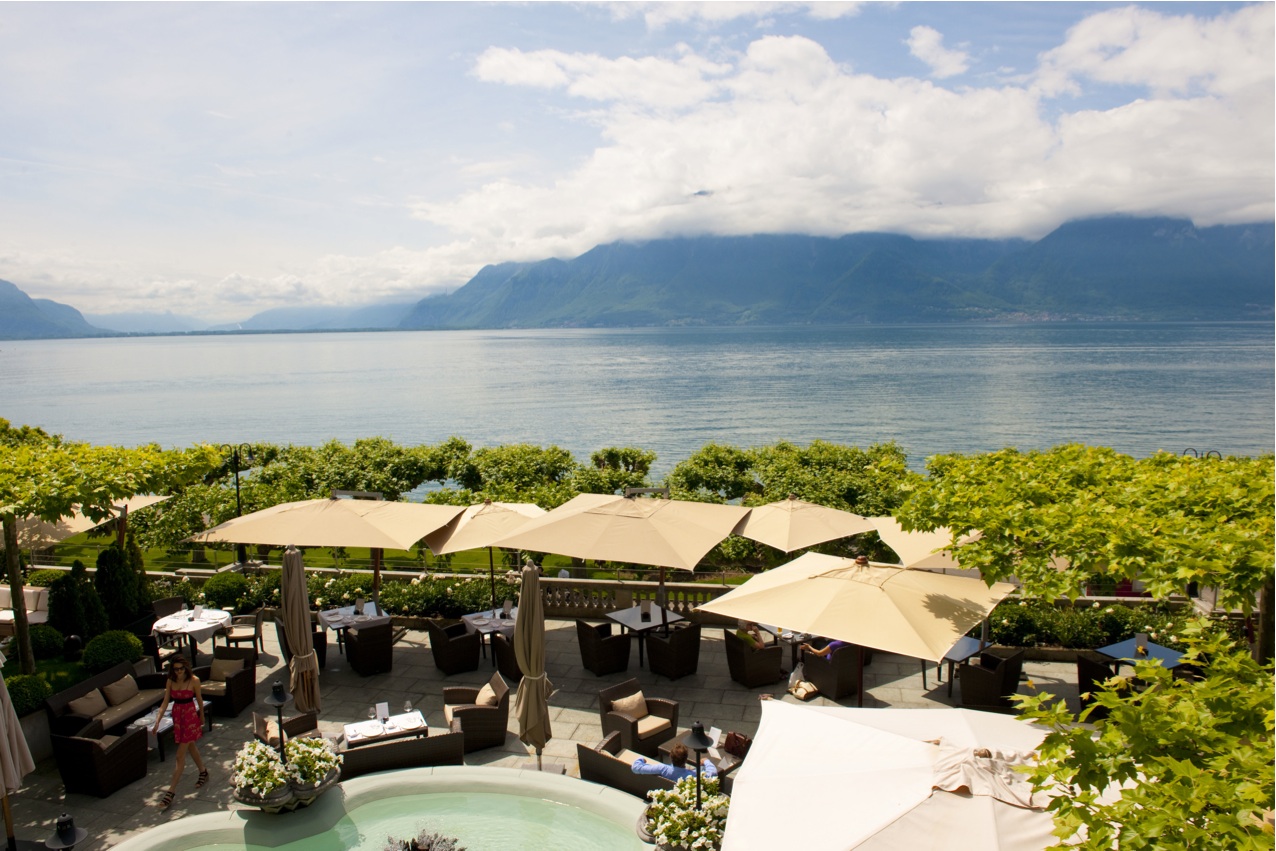 Now a member of the Leading Small Hotels of the World, the exclusive Hotel Des Trois Couronnes delivers first-class service for discerning guests holidaying on the Swiss Riviera. Vevey  is only 45 minutes from Geneva Airport and is a convenient base for exploring the wine-growing region along the shores of Lake Geneva.
The spacious and panoramic lakeside terrace is the perfect place to sit with a glass of wine and take in the stupendous view of the lake. Food and drink are offered in a Louis XV-style restaurant with an outdoor terace and the Veranda piano bar. Rooms are luxurious and decorated in shades of mocha, gold and cream. Don't forget to ask for a room with a view of the lake.
For a serious  day of pampering, look no further than the the in-house Puressens Spa. The hotel's surprisingly reasonable rates include access to the grotto-inspired spa where you'll find an indoor pool with underwater music, a sauna, a steam bath, a fitness centre and relaxation areas with  magnificent views of the Alps. Massages, facial, and beauty treatments are available, including treatments with plant-based skincare products from Joelle Ciocco of Paris.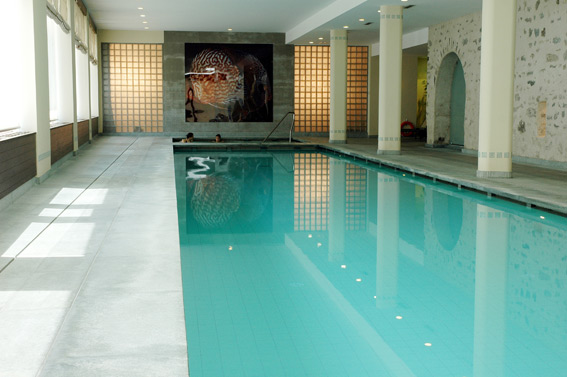 There are so may things to do in Vevey and the surrounding area but a must is to spend a romantic day cruising Lake Geneva on board a large vintage paddle steamer, stopping off at Lord Byron's Chateau Chillon for poetic inspiration.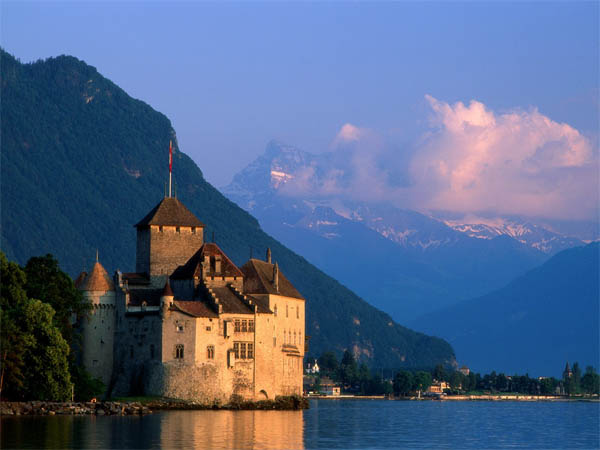 During our last visit, we were excited to venture up to Charlie Chaplin's old house Manoir du Ban in Corsier, a ten minute drive up the hill from Vevey to meet with his son, Michael. Chaplin moved here with his wife and children when he was refused re-entry to the United States because of McCarthyism. Manoir du Ban in Corsier, is a neoclassical mansion built in 1840 and surrounded by a vast 14 ha park with century-old trees. Michael told us about plans to turn his father's former home into a museum to celebrate his life and work.  It will feature objects from the actor's life and displays chronicling his rise from London's music halls to Hollywood stardom. Exhibits will include a giant recreation of the machine from the film Modern Times.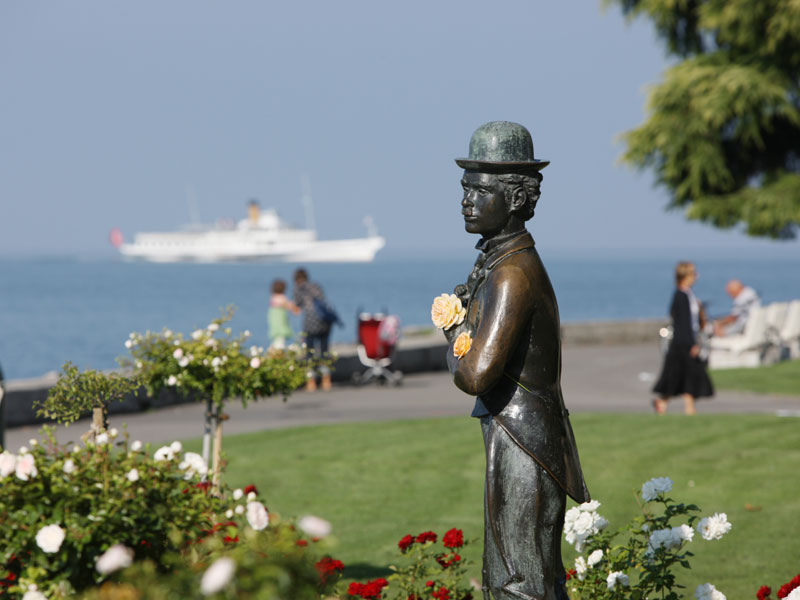 A bronze statue of The Tramp is erected in Vevey in memory of the actor, producer, screenwriter, writer and composer. Charlie Chaplin and his wife Oona are buried at the cemetary in Corsier.
For further information on Hotel Des Trois Couronnes, please visit: www.hoteldestroiscouronnes.ch
For further information on The Charlie Chaplin Museum, please visit: www.myswitzerland.com
Images by Hotel Des Trois Couronnes.
CELLOPHANELAND* were guests of Hotel Des Trois Couronnes.