"Okay at design and okay at business but exceptional at neither"
– Paul Smith –
Paul Smith's modesty is refreshingly still intact more than 40 years after he made the above quote. Coming from a humble background in Nottingham (where he left school with no qualifications) to heading up one of the world's leading fashion brands is by itself, is no mean feat. But to move effortlessly between fashion and design in the manner which he has, whilst maintaining simultaneously a designer and retailer's eye, is quite extraordinary.
Hello, My Name is Paul Smith which recently opened at the Design Museum, showcases Smith's diversity: there's the fashion, then there's the car, the skis, the Roberts Radio, the official T-shirt for David Bowie's The Next Day album …
The beauty of this exhibition is that all aspects of the designer's business is covered. From his first tiny shop in a shabby back alley of Nottingham where the rent was 50p per week and managed by his faithful Afghan hound, to a colourful mock-up of his current studio, to the catwalk shows, to an overview of the Paul Smith global operations.
I particularly loved the way in which the designer's sense of inspiration seemed to permeate the space as a whole. There's a wonderful audio piece at the centre which talks about Smith's obsessions, his influences and how he intuitively approaches design. This a very personal and intimate exhibition from beginning to end; a million miles away from a heavily curated impersonal showcase.
In one room, the walls are completely covered in framed works of art. All chosen by Smith from his own personal collection. There are valuable works by artists such as Warhol and Hockney, alongside other fun pieces. Regardless of monetary value, it's obvious that all hold a very special meaning.
This exhibition affords the opportunity for a rare insight into the brilliant, quirky and playful mind of  the much loved Paul Smith. Classic with a twist.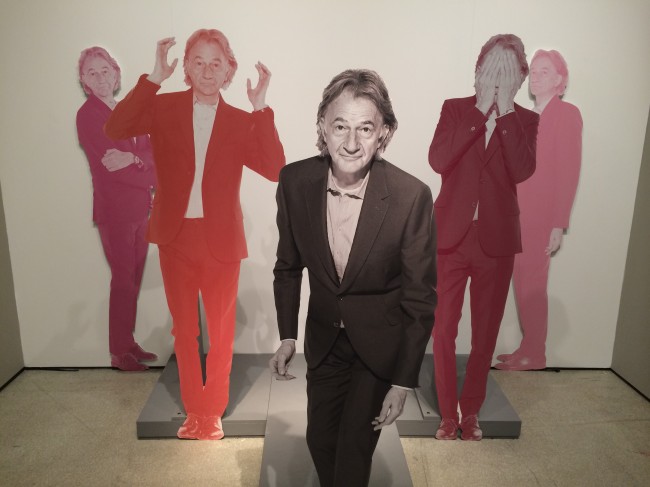 Hello, My Name is Paul Smith at the Design Museum, London runs until 9 March 2014.
For further information please visit: www.designmuseum.org
To purchase a copy of Hello My Name is Paul Smith: Fashion and Other Stories, visit our bookstore.
Images by CELLOPHANELAND*