Fashion designers never cease to inspire us with their latest collections, but now their well tuned ascetic is no longer assigned to the catwalk. Hotels all over the world are realising that bland design, no matter how luxurious, will simply not cut it anymore. People who frequent top hotels want more than comfort; they expect design that is alluring, sexy, interesting and functional just like the treasured perfect little black dress or impeccable sharp suit. In fact the overused term, designer hotel, has now been given a whole new meaning.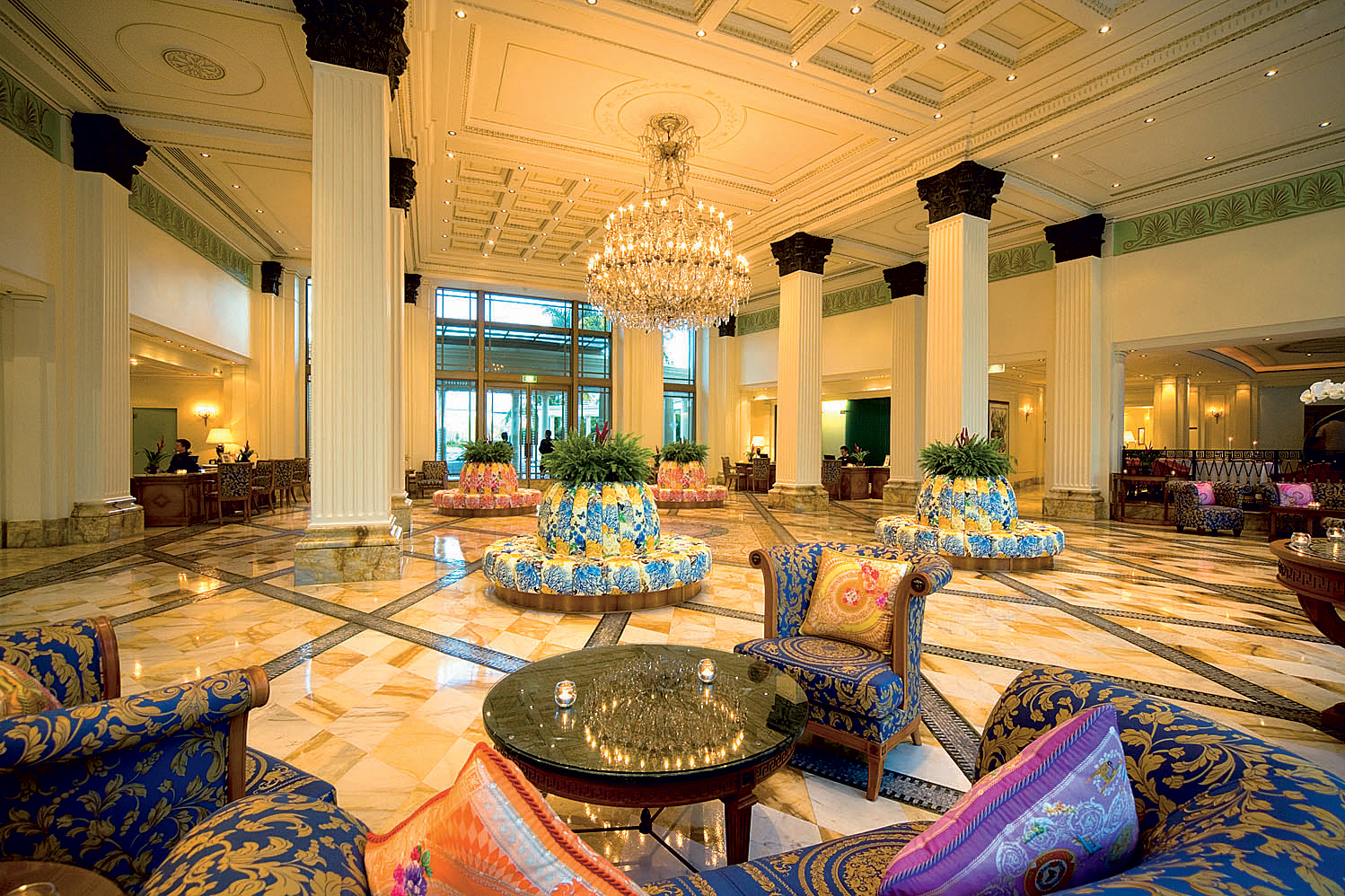 Palazzo Versace Gold Coast. As one could expect from such a designer, every meticulous detail of architecture and décor, down to the delicate china settings envelops guests in an ambience that is pure Versace. Situated in Southern Queensland on the Gold Coast only 100 metres from the surf beach, the five star Palazzo Versace Gold Coast stands as a beacon of glamour in Australia's favourite holiday destination.
Sophisticated luxury greets you at every turn. Staff dressed in head-to-toe Versace escort you through gold gilded doors. A magnificent chandelier, originally purchased by Gianni Versace to place in one of his villas, hangs above the lobby's marble floor inlaid with the iconic Versace Medusa head.  Deep purple, navy, cream and gold manage to dazzle and yet soothe at the same time. The inspiration is a mixture of European and Renaissance. Versace designed furniture, linen and fragrances await in the luxuriously appointed rooms gleaming with classical elegance. Have a drink at your own private in-room bar or stand on a Juliet-balcony overlooking the hotel's very own beach bar and toast a special occasion with Versace crystal. Guests can also unwind at the Salus per Aquum day spa or swim in the lagoon-style swimming pool.
Since its opening in 2000, the world's first fully fashion branded hotel has had an international reputation as a holiday haunt for celebrities, film stars, rock stars and members of royalty visiting the country, all keen to live the complete Versace lifestyle.
For further information, please visit: www.palazzoversace.com
Christian Lacroix may have experienced dire straits with his bankruptcy at the end of 2009, but this king of couture has certainly left his mark on the Hotel du Petit Moulin in the Marais district of Paris. Housed in a former bakery – the oldest one in the city – where according to local legend, Victor Hugo would come and purchase his bread. It's 1900 frontage and shop signboard has been preserved.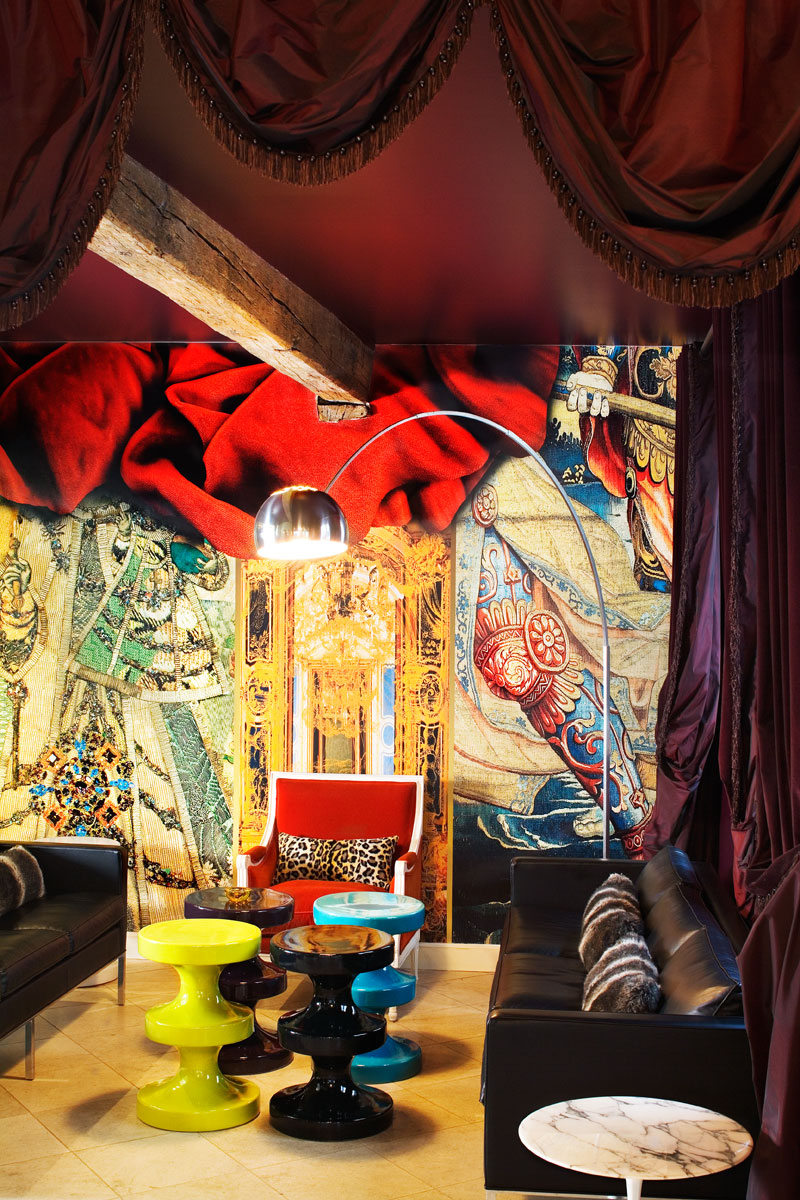 The suave interior decoration of the bakery has been restored, creating a Venetian style setting for the reception area with almond green and wine-coloured ruffled taffeta drapes. The wonderful 17th century wooden staircase has been left unadorned. As the hotel only has 17 rooms, Christian Lacroix set out to decorate them individually taking into consideration their unique shape, height and exact location within the hotel.  Lawn green corridors link rooms which contain a mixture of wallpapers, bright fabrics, leather, brocade, velvet, fur, wooden floors and ceramics. Period furniture is covered in vivid graphics creating a nice juxtaposition. There is no concern about a possible clash of styles; slate and cement is warmed with Venetian mirrors, antique gold mixes happily with fluorescent green and in the hotel café, Edwardian style furniture sits alongside 60's seating in shades of yellow and pink. Christian Lacroix sums it up: "It's like couture, where the harmony is created from a puzzle of inspirations, where the feeling of the moment is nourished with elements from the past, where modernity lives in the tradition of the present"
For further information, please visit: www.hoteldupetitmoulin.com
The Rezidor Hotel Group opened its first Hotel Missoni property in Edinburgh in June 2009, developed in collaboration with the renowned Italian luxury fashion dynasty, Missoni. Hotel Missoni Edinburgh brings the timeless style, colour and glamour of the fashion house, using the signature bold use of colour and the famous striking patterns that the label is renowned for. These colours bring a cool contemporary vibe that flows through the lobby, restaurant and beyond to the private areas of bedrooms and bathrooms. All rooms come complete with AV/i-pod hooks up, stylish Missoni bathrobes and Nespress coffee machines.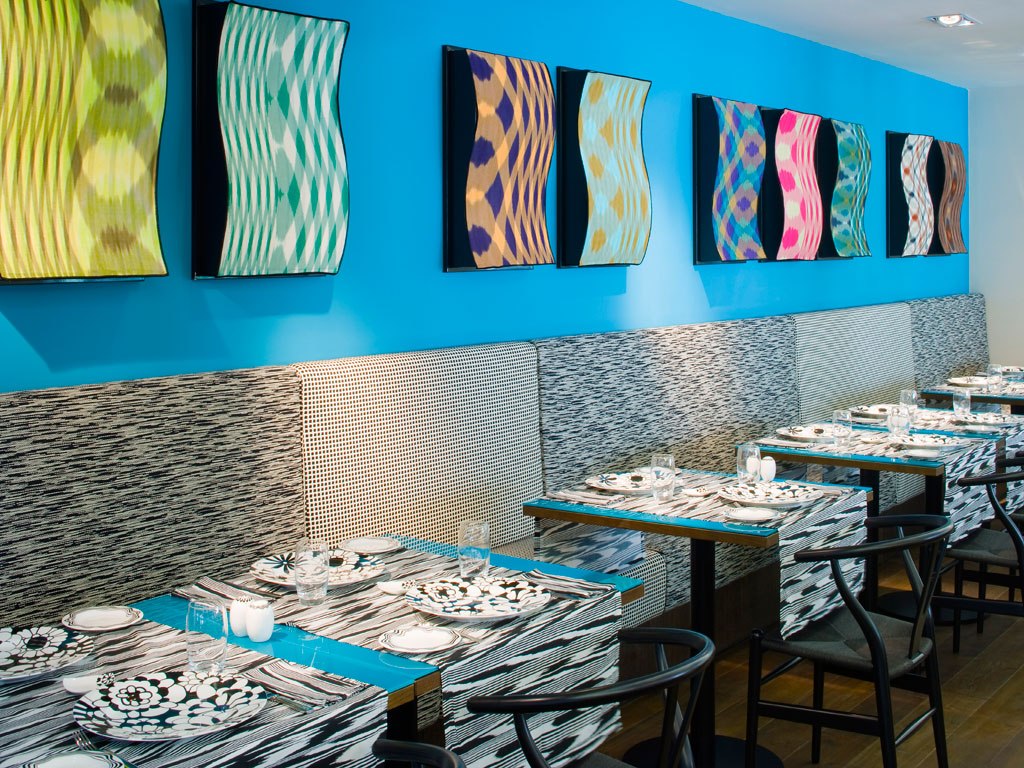 The hotel has been personally designed by Creative Director Rosita Missoni. Simple, stylish tones of black and white are punctuated with brilliant flashes of colour whilst large mosaic urns are decorated with the Missoni trademark zig-zags and geometric patterns.
The hotel overlooks Edinburgh's old town in the heart of the historic centre. Bar Missoni is a trendy place to meet in the lobby of the hotel and Cucina is the hotel's Italian restaurant which offers fresh, seasonal and authentic Italian dishes.
For further information, please visit: www.hotelmissoni.com
Where else could you enjoy a panoramic view of Florence while relaxing in a king-size tub? The Continentale designed by Salvatore Ferragamo is situated in a magical picture-perfect location of Florence next to the Ponte Vecchio with rooms overlooking the River Arno. Decorated in light sherbet tones of lemon and pistachio green, the Continentale also plays homage to the happy-go-lucky feel of the 50's and 60's with bubble-gum pink accents.  Guestrooms have window seats and desks disguised as trunks allowing you to write, relax or simply think. Adorning the rooms are black and white photographs by fashion designers such as Pucci and Fabiani.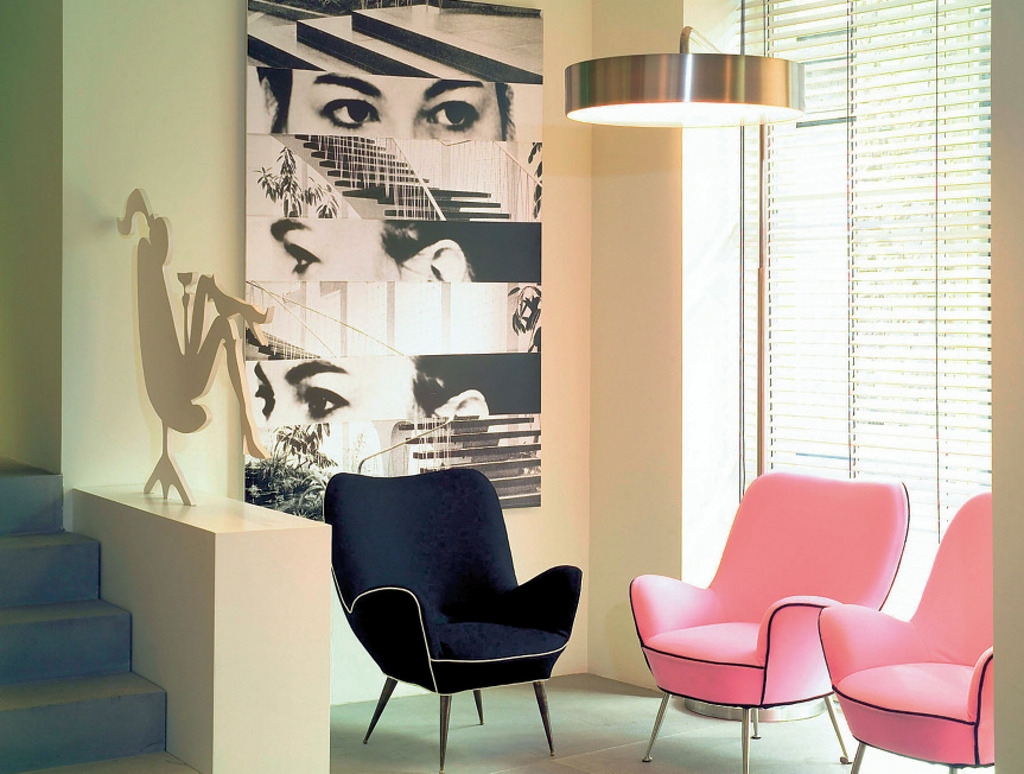 The second floor is home to the relaxation room complete with chaise longues and a cocktail lounge with a bar that glows in pink, orange and white. The guestrooms have a very light feel with sheer-draped beds, light wood furniture and flowing curtains that catch the Tuscan light. The Sky Lounge De'Consorti is the crowning glory of the Continentale with a 360 degree view across the Florentine skyline.
For further information, please visit: www.designhotels.com
Located in Italy's fashion capital and Giorgio Armani's home city, the sophisticated Armani Hotel Milano is set for completion in 2010. Reflecting the designers sense of beauty, elegance and grace, the hotel's emphasis is on superior service, immaculate design and incomparable luxury. The hotel will contain the largest guestrooms in the city, a gourmet restaurant, a luxurious Armani/Spa and all rooms will have magnificent views over Milan.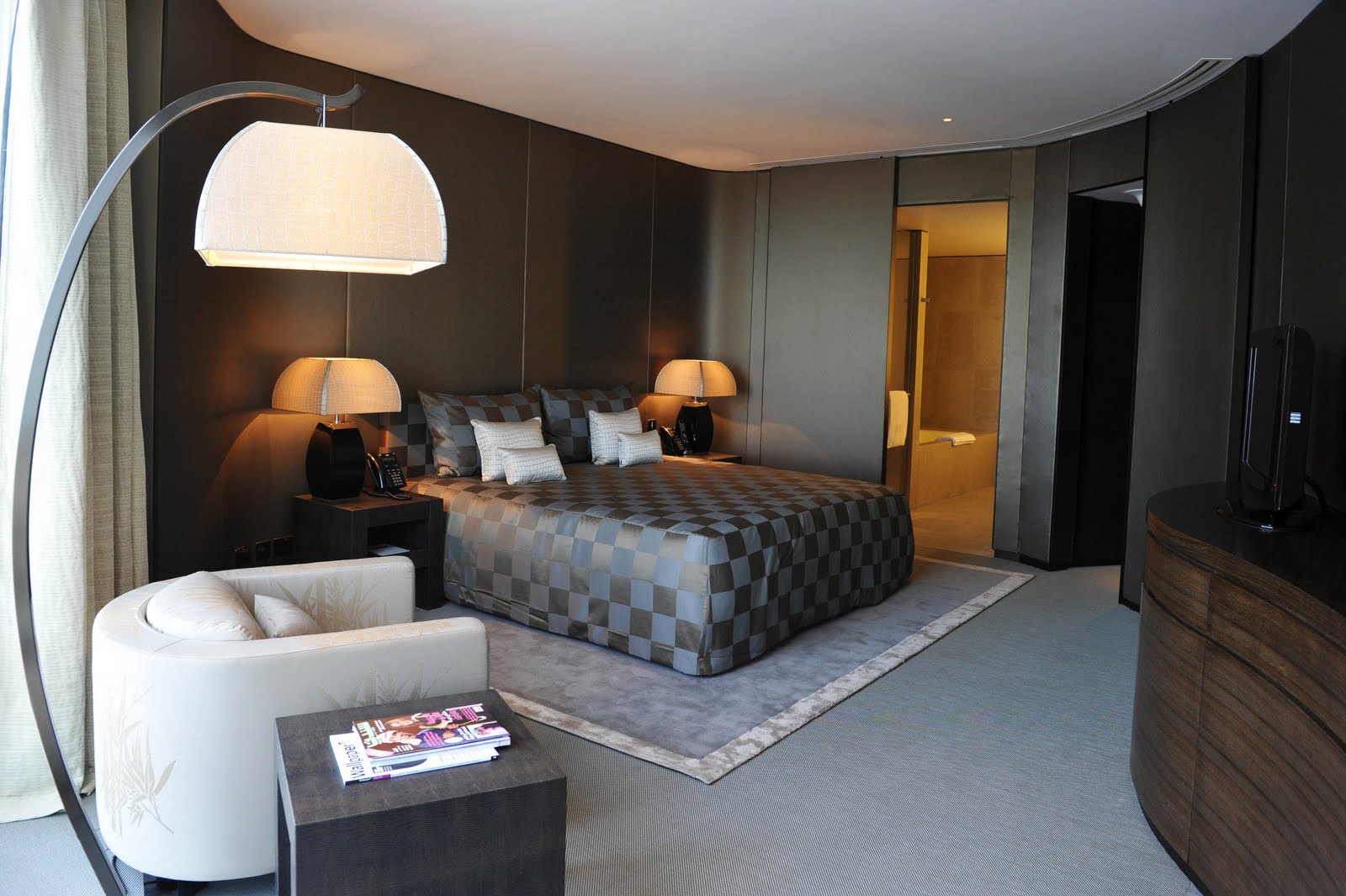 The Armani Hotel Dubai is located in the iconic Burj Dubai, the world's tallest tower. This palatial hotel contains five restaurants, an exclusive Private Members' Club, five restaurants and a nightclub. Giorgio Armani has personally overseen all aspects of content, design and style which incorporates the various Armani fashion, furnishings and beauty collections. "This marks the beginning of a new chaper in the Armani story. I cannot think of a more energising prospect than bringing my philosophy of style and design to a collection of hotels and resorts."
For further information, please visit: www.armanihotels.com
Sitauted in Milan's most stylish district, Via Montenapoleone and close to the Scala Theatre, one of the creators of the world's finest jewellery has converted a beautiful 18th century building into a classic contemporary hotel. Bulgari Hotel comes complete with a 4,000 sqm beautiful private garden which surrounds guests in an oasis of green. Bulgari's bold and contemporary style is evident throughout using precious materials such as Vicenza stone, solid teak and black Zimbabwe marble to create stunning, lavish and unexpected harmonies.
For further information, please visit: www.bulgarihotels.com
Those seeking a warmer climate, Bulgari also has a resort in Bali located near the village of Pecatu and the stunning clifftop site of the Puru Luhur Uluwatu Temple. The resort is a fusion of traditional Balinese style and contemporary Italian design. Positioned at 150 metres above the sea, the resort offers amazing views across the Indian Ocean. Hand-cut volcanic stones and exotic woods were used to build the hotel and lava and palimanan stone have been used for the interior walls and garden. Balinese antiques and eclectic art are in abundance creating an air of sensual refinement.
For further information, please visit: www.bulgarihotels.com
Renowned Irish hat designer Philip Treacy has brought a touch of old-fashioned Hollywood glamour to the west coast of Ireland in the form of The g Hotel. Galway has always been a city bursting with energy and vitality, but now the g hotel, a 5 star haven of luxury, designed by one of the world's foremost milliners, really is the crowning glory. In the public areas, the design is dramatic and kaleidoscopic for sure, but in contrast, Treacy has also taken inspiration from the landscape and sea shores of Galway for the bedrooms, using cushions shaped like shells and ensuring rooms are flooded with natural light.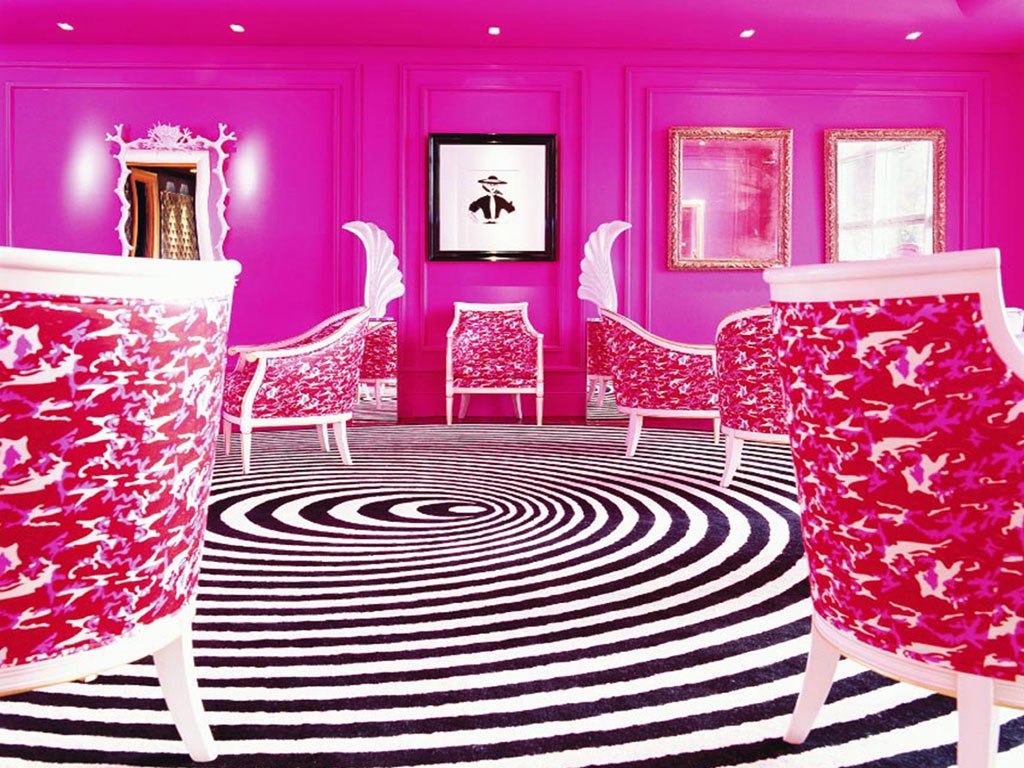 Purple velvet banquets and jewel coloured Andrew Martin chairs in the Matz restaurant look simply good enough to eat. Three individually styled lounges linked by a raspberry coloured carpet dazzles and yet soothe the senses. The Grand Salon is bathed in calming colours of gentle brown and gold; The Ladies Lounge radiates in hot pink and 60's swirls of black and white carpet, whilst The Gentleman's Lounge is a hub of sophistication even with its electric blue walls. Did I forget to mention the carpet of a thousand red Swarvovski crystals which adorn the cocktail bar?
The emphasis is on unrestrained luxury and the bestowal of red carpet glamour on everyone who enters the g, and unlike some hotels where the ascetics can distract from the underwhelming service, the g's superior personalised service along with the abundance of Irish charm makes for a thrilling and relaxing stay.
For further information, please visit: www.theghotel.ie