"Paw-paw with a slice of green lime, a dish piled with red bananas, purple-star apples and tangerines, scrambled eggs and bacon, Blue Mountain coffee – the most delicious in the world – Jamaican marmalade, almost black and guava jelly. As Bond, wearing shorts and sandals, had his breakfast on the veranda and gazed down on the sunlit panorama of Kingston and Port Royal, he thought how lucky he was and what wonderful moments of consolation there were for the darkness and danger of his profession. Bond knew Jamaica well." (Live and Let Die by Ian Fleming, first published 1954; now published by Penguin).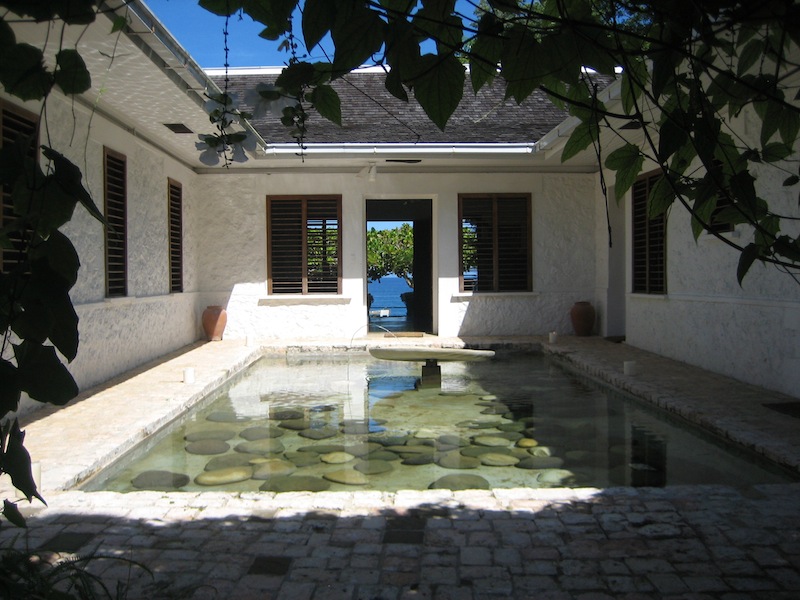 Without Jamaica, there would be no Bond. British born Commander Ian Fleming, creator of the world's most famous secret agent 007, insisted that if he had not experienced "the gorgeous vacuum of a Jamaican holiday", the bestselling books would never have been born. For Fleming, that gorgeous vaccum came in the form of Goldeneye, his island home for 18 years.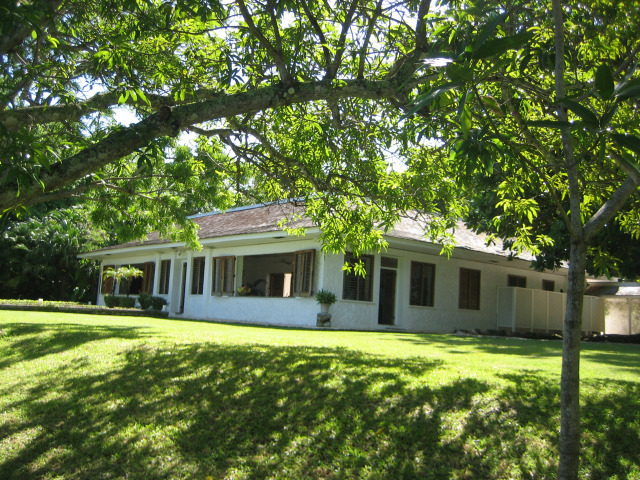 In 1942, Ian Fleming was sent to Jamaica by Britain's naval intelligence service on a secret mission. He was in Jamaica for only three days but promptly fell in love with the island's "peace and silence and cut-offness from the madding world." He vowed to return; four years later he did, and he bought 15 acres of overgrown land that had once been a donkey racecourse. The hideaway came with its own secret coral beach protected by a reef, on the north coast beside the banana port of Oracabessa. The first James Bond book, Casino Royale was written at Goldeneye in the winter of 1952; the pattern continued for 12 years, during which Fleming wrote all 14 Bond books at the house. He would visit every January, spending the first two months of the year writing Bond's latest adventure and this continued until his premature death in 1964 at the age of 56.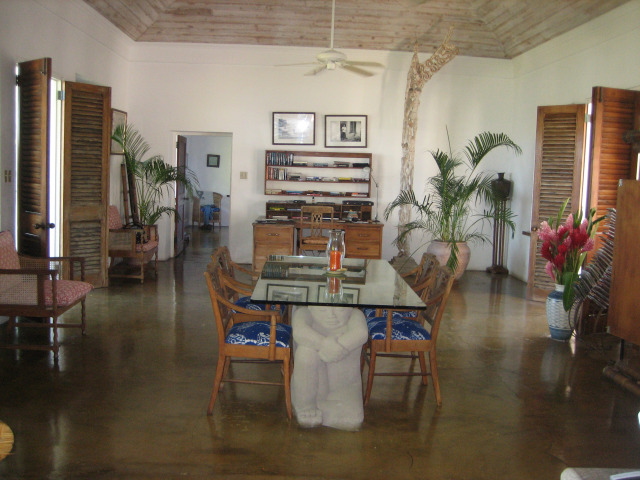 As you enter Fleming's former estate through iron gates, between stone pillars topped by metal pineapples, you immediately begin to feel an unbelievably strong presence. Brilliant emerald fans of foliage provide gentle shade until you reach the simple, white, three-bedroom, one-storey villa which sits neatly on a bluff looking the Caribbean. Fleming designed the house himself; he wanted it to be as minimalist as possible, as he craved the luxury of simplicity. His love of Japan comes through: a Zen-inspired pond is an oasis of calm in front of the main entrance. Inside, a huge, barn-like lounge dominates with giant, rectangular glass-free windows which perfectly frame a vivid Caribbean tableau of pretty almond trees that stand proudly in an enchanted sunken garden; the backdrop is a splattered blue canvas of crashing waves and white foam. The sunken garden was Fleming's favourite place to sit. Here, under the shade of the almond trees, he would breakfast every morning and, like his hero Bond, enjoy scrambled eggs and the island's delicious Blue Mountain coffee.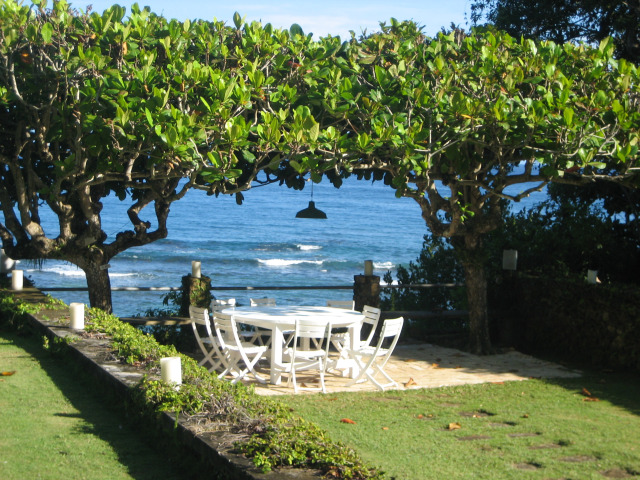 For the guest at Goldeneye, Fleming's influence continues to be felt at every turn. It doesn't take long to become hypnotised by the sights and sounds that influenced the creation of the 20th century's most successful action hero. You can sleep in the same bedroom as Fleming did, awaken to the natural alarm clock of resident cockerels, throw back the same wooden shutters and experience the same idyllic morning view that greeted him upon waking. In a solitary corner of this room, Fleming would sit down at his red bullet-wood desk, close the jalousies so that he would not be distracted by the birds, flowers and sunshine outside, and tap on his gold-plated typewriter for four hours every day. The original desk is still there. Another original desk sits in the lounge; this was his preferred place to sit and write letters.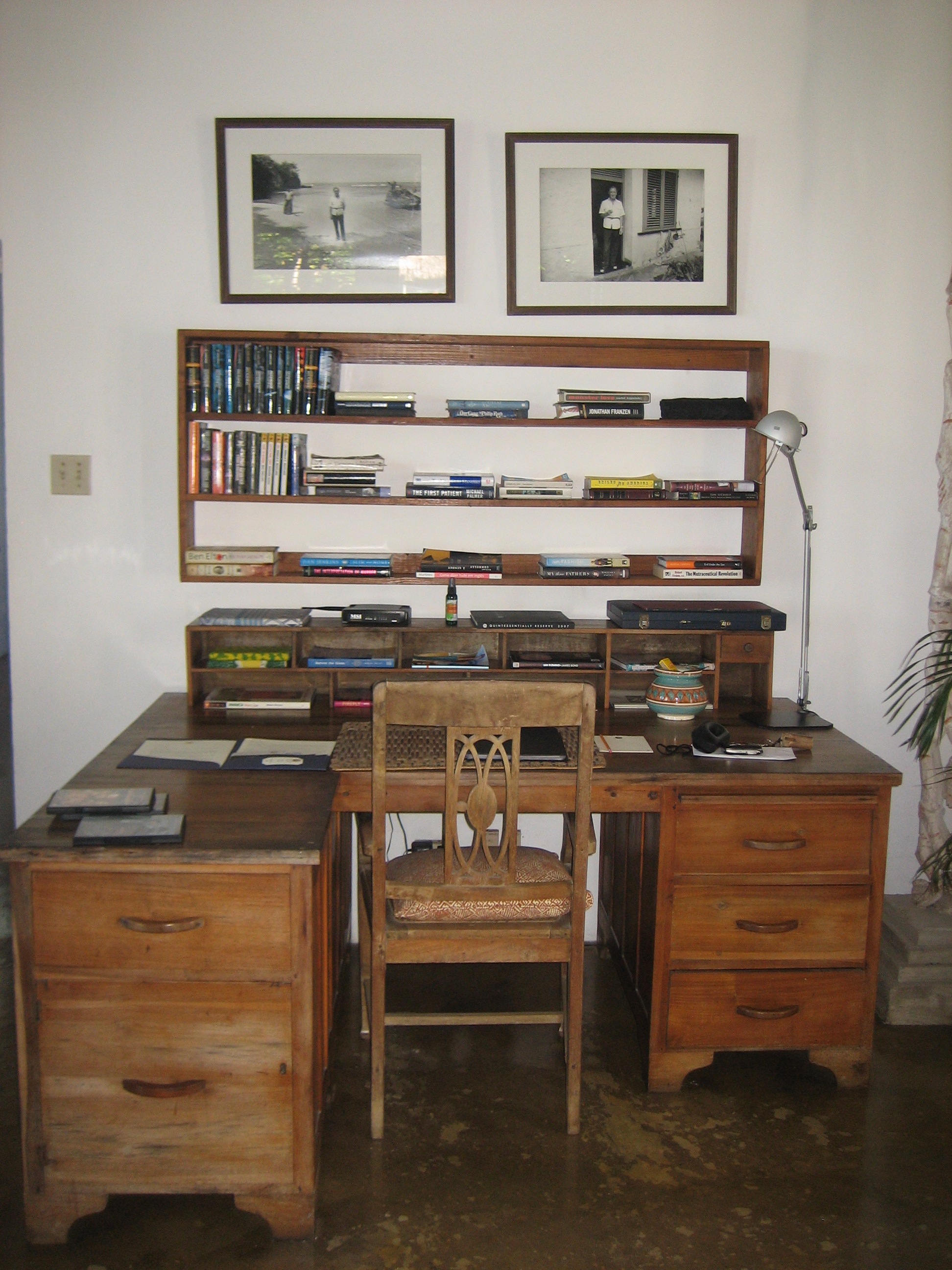 A keen swimmer and snorkeller, Fleming would take a break from writing and walk down to the small beach below the house for a daily dip. The beach is as Fleming left it, and is private for those staying in the main villa. If you prefer, you can use the kidney-shaped swimming pool, yards from the house. In the evening, you can watch the latest Bond movie in the privacy of your own screening room: Fleming's former garage, whilst outside the crickets and fireflies orchestrate and illuminate during their nightly dance.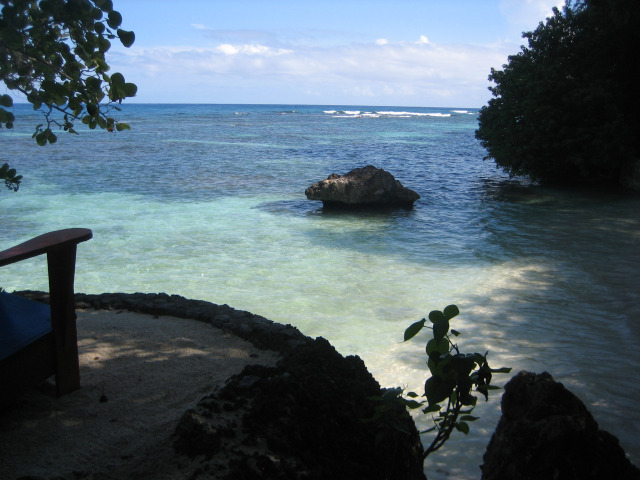 Goldeneye is now owned by Island Records founder Chris Blackwell who heads up the Island Outpost Group, which manages boutique-style resort hotels in Miami, Jamaica and Nassau. Chris, who knew Fleming personally, describes Goldeneye as a "natural paradise" and it's thanks to Chris' vision that the house has been so wonderfully preserved. As well as the main Fleming villa, there are two smaller villas to choose from on the estate, all named after feisty Bond girls!
It's incredibly difficult to drag yourself away from the comforts of such an historic house; one that has entertained such luminaries as Errol Flynn, Katherine Hepburn, Sir Laurence Olivier, Cecil Beaton, Truman Capote and the theatrical doyen of his time, Noel Coward. But a walk around the Goldeneye Garden is a real must. A tradition of tree planting begun in 1956 by British Prime Minister Anthony Eden, continues to this day. In support of Island Sport Trust, an organisation designed to use sport and physical education as a catalyst for social change, former guests such as Johnny Depp, Harrison Ford, Kate Moss and Naomi Campbell have all planted trees. As a result, giant banyans, cannonball Trees, African tulips and numerous exotic fruits make for a magical meander through the garden.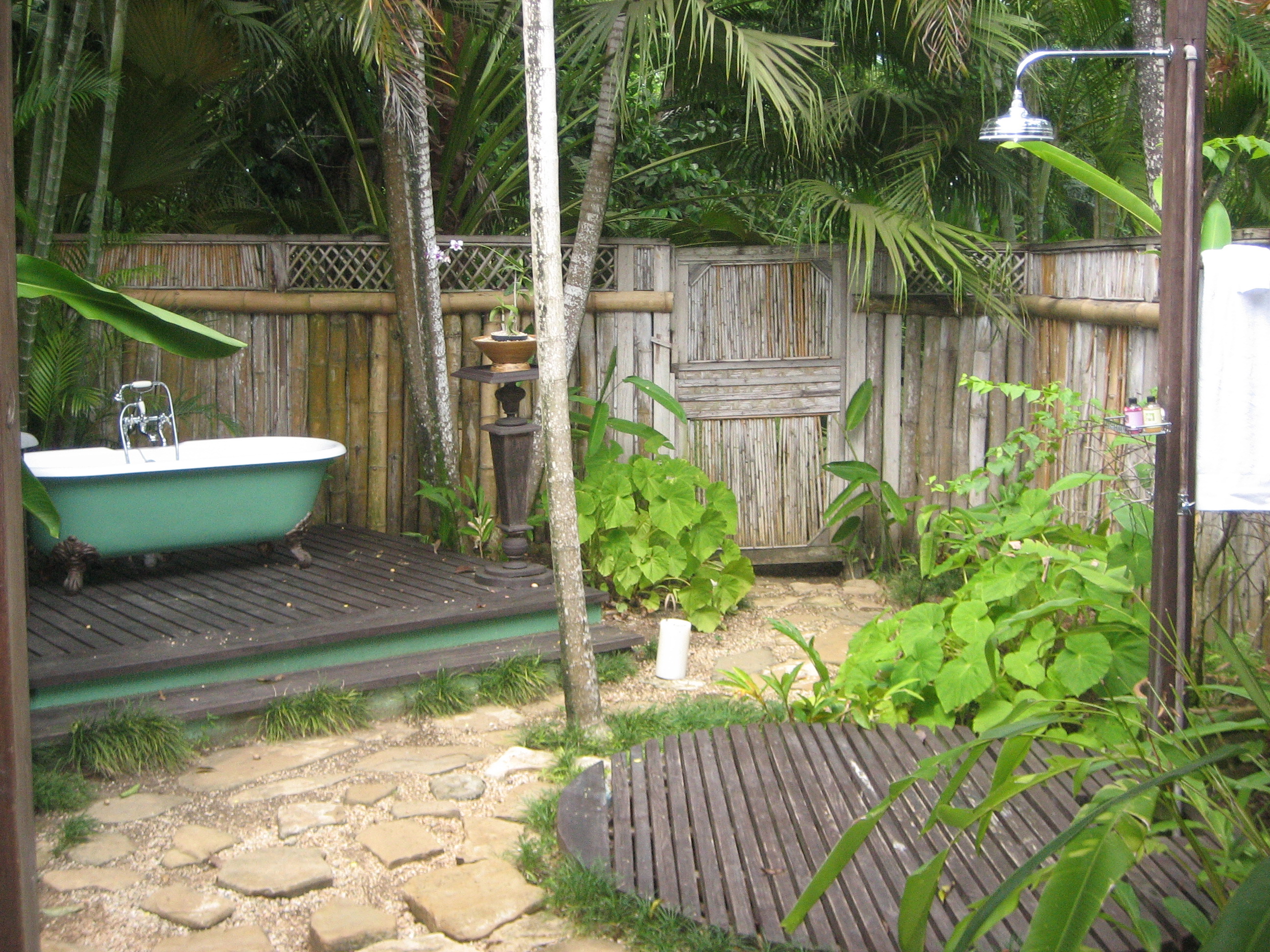 For those in need of a little more sport, flood lit tennis courts are available 24 hours at Goldeneye, or for real water babies, you can windsurf, sail, jet ski, snorkel, scuba, kayak or fish. Low Cay Beach is a nearby secluded beach exclusively for Goldeneye guests and the nearby lagoon qualifies as one of the best lap pools in the world.
For those exhausted by the idea of attempting to write their own best seller, Tuina, Shaitsu, Swedish, Aromatherapy, Reflexology and Reiki treatments are available in the privacy of your villa or in the garden, or you can take a Life Force yoga class.
Nearby attractions include Dunn's River Falls, a 600-foot climb from the white sand (which featured in the movie "Cocktail"), or why not visit Laughing Water; the stunning private beach where Ursula Andress made her unforgettable bikini-clad entrance in Dr. No. A visit to Noel Coward's nearby home Firefly (see review here) should not be missed.
As we eagerly await the follow up to Quantum of Solace, starring Daniel Craig as the latest reincarnation of 007, it's startling to recall that the whole journey began in this nondescript corner of a simple white room on Jamaica's north shore, a world away from England's grey skies. Like Bond, Fleming knew Jamaica well.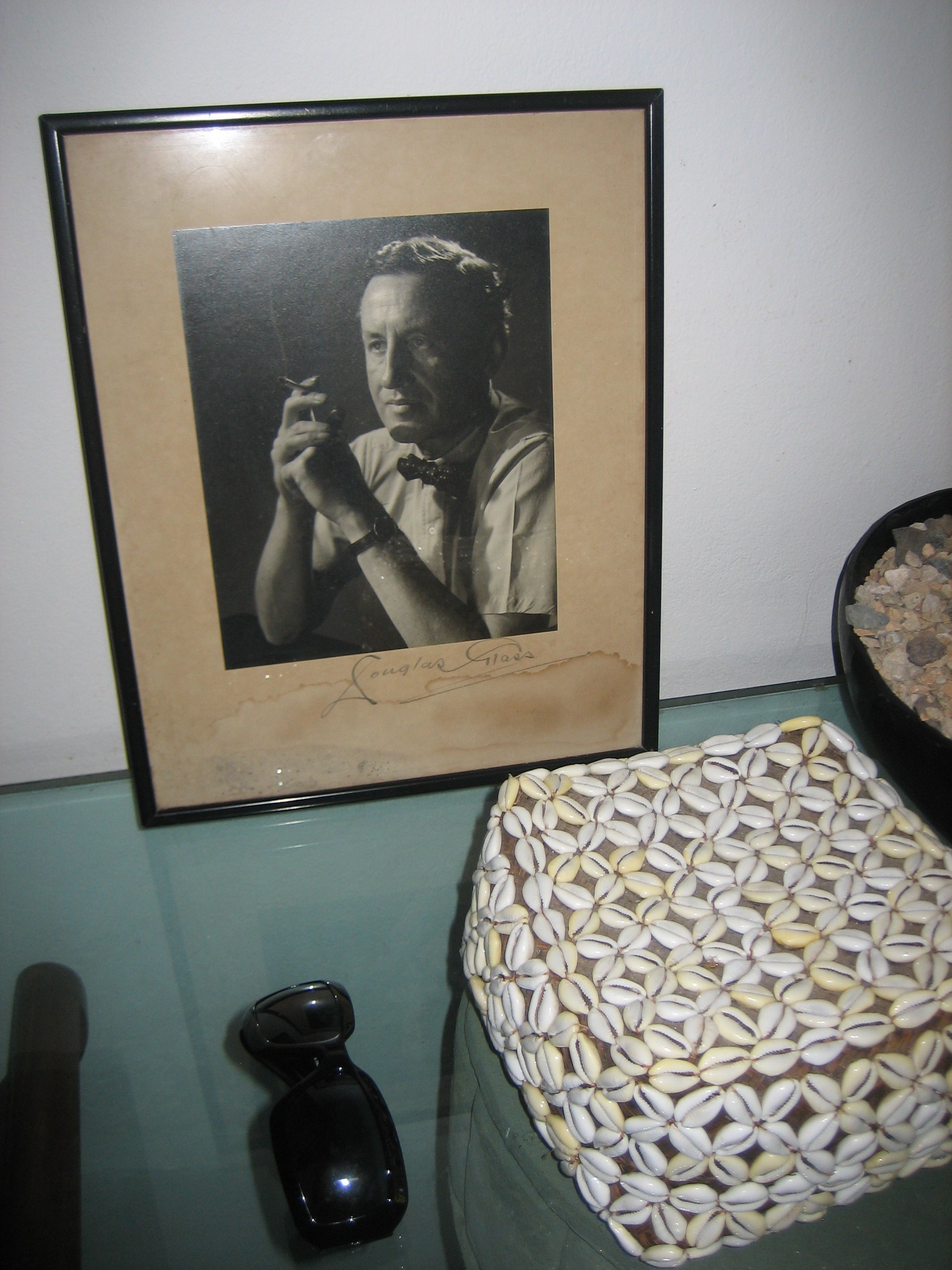 For further information, please visit: www.goldeneye.com
Recommended reading: The Penguin Collection, Ian Fleming. To purchase visit our bookstore.
All images by CELLOPHANELAND*.
CELLOPHANELAND* were guests of Goldeneye.