Gary, exciting times and massive congratulations! Your new debut solo album, Gone From Here, is going to be released on 31 May. Can you share with us why you decided to make a solo album at this moment in time?
I always imagined Eddie ( my partner in China Crisis ) and myself would always be releasing records with our band China Crisis: solo / soundtracks / projects, but life has a funny way of getting in the way, of course mostly in a good way, but yeah music making is my life's work. I write most days and work on music all the time, and why now, well, if not now, when? Plus a big factor is we are very much back to being indie. In the past, our records would have been made with a huge amount of effort from record companies, publishers, management, and now since the release of our last China's album, Autumn In The Neighbourhood, we are very much DIY which is exactly how we started out…Inevitable Records, distributed by Rough Trade…yay! Indie rocks.
What was your process and influences when making Gone From Here, and how would you describe it in terms of genre?
Poppy Prog, Jazzy Folk, Modern Contemporary, Old School Synth Pop, and every song starts the same: I sit at the piano and play (although there are a couple of guitar-led songs), mostly it all comes from sitting day after day at the piano, whether I'm at home or on the road. When I'm on the road touring with the China's, which is a lot these days, I nearly always go looking for a piano. Local churches are good places to find a piano, and some quiet time in which to work. The clergy never seem to mind, and they are nearly always quite beautful places to hang out. My influences…new artists like Owen Pallett, Sufjan Stevens, John Grant, Midlake, and then just about anything and everything I come across. To be truthful, I never spend any time thinking 'what has influenced me'; I can hear all the inspiration when I listen to the songs, but would struggle to define it. Some things are best left alone, and the creative process is one of them.
With a solo project, what do you think were were the main differences/similarities with how you approached this album versus how you have worked on China Crisis albums in the past?
With the China's it's always Eddie and myself at the very heart of it, always running ideas past each other, always being there for each other, but with it just being myself, well it's been liberating believing I'm in charge, but the reality is, songs do have a life of their own. I'm a firm believer in the mystery surrounding music, so I just followed the songs really. After making Autumn In the Neigbourhood and being largely responsible for its creation, I felt like I knew 'how to make a record', but it was only after months and months of recording solo that I knew I had a new album on the go, which was both hugely exciting and terrifying at the same time, and still is.
Why did you choose the evocative album title, Gone From Here?
I wrote the song Gone From Here – it's most likely the simplest song on the album – and I was singing about me and my girl, the delightful Mrs Weir, from way way back, and how we used to laugh at everything and everyone, which is exactly what you do when you are young but maybe not so much when you have lived a little. Then the chorus comes in and boom! …friends have gone, gone from here, and it's sad, but not always a bad sad, just it is what it is, everything and everyone, life moves on, it has to. And why make it the album title? Well, leaving has been in the air for quite some time now, and Gone From Here the song is super real, and I love that song soooo much, so yeah, it gets top billing even though it's the last song on the album.
The fifth track from the album, Carousel Of Stars, is available to download ahead of Gone From Here's release, and features John Campbell from It's Immaterial, how did your collaboration with John come about?
John is a sort of neighbour of mine, and over the last couple of years we've bumped into each other quite a bit. I've always been a big fan of John and his band It's Immaterial (we both put out singles on the Liverpool label Inevitable Records in the early 80s). His speaking voice is magical. I had Carousel Of Stars all written with myself singing lead vocals, but I didn't like it so scrapped my vocal and had it instrumental so I could rethink it. I was playing it in the car and started mimicking John's voice, and then it occurred to me to just go on up and ask John would he like to hear it and collaborate, which he did, magnificently. Absolutely a stand out track on the album.
The album also features amongst others, musicians such as Tom Moth on harp from Florence And The Machine, members of Outfit, Blue Of Noon, The Royal Liverpool Philharmonic Orchestra, and of course, China Crisis. Did you have a specific wish list of musicians in mind to approach beforehand or did it all evolve organically?
Everyone has been so incredibly generous with their time and talents. I'd like to think it's because they have known that I've chosen specifically to work with them, and that my musical endeavours are heartfelt, passionate and true. I'm always so curious as to the magic of music making, being a bit of what Brian Eno would call a "non-musician", I'm always blown away by how some people are just naturally gifted. Born to play, so to say. I'm definitely not one of those, so I always find it incredibly interesting seeing how people respond to my ideas. I suppose on reflection, Eddie and myself learnt very early on to trust our instincts and really, really believe it's all about the music/song and what people bring to that. And never being intimidated, after all making not one, but two albums with Walter Becker of Steely Dan fame, I'd like to think we learnt something from those experiences.
The album sounds absolutely gorgeous, so it's no surprise to find out that three time Grammy Award-Winner, Mark Pythian, mixed it. How did that transpire?
That's very nice of you to say. Mark originally worked on the China's Working With Fire And Steel album at Amazon Studios in our hometown of Kirkby in 1983 when he was a little teenage lad getting some 'work experience', and we have remained friends ever since, with Mark working with us on many projects, most recently mixing the China's Autumn In The Neighbourhood album. So yeah, it was always gonna be Mark mixing Gone From Here, and it is his 'audio picture' we are hearing, very much so, and a beautiful thing it is for sure.
Can you tell us about the making of the video for track three on the album, I Work Alone. It's so amazingly hypnotic, and a true work of art in itself!
That would be the supreme video visual work of young Mr Adam Sloan. Adam is a buddy and we have worked together over the last ten years or so. I basically gave Adam the memory card from my camera, which had over 3000 images on it, and asked if he could make a video from the images, with the idea being to illustrate just how much I do work alone. But my life is so informed by everyone in and around it, as is everyones. I am absolutely thrilled with Adam's production. It's such a beautiful video and I think sums up the whole sentiment of the song in quite a visually stunning way. Amazing!
Your own personal artwork which you have previously exhibited, features in the video for I Work Alone to stunning effect. Did you consciously decide to use your drawings as a starting point for the video? Are you still drawing regularly?
Yeah, everyone, family and friends have always been very supportive of the arty side, and are always telling me to "get it out there" awww. Making the video did give me the opportunity to do that, but it was all down to Adam what images appeared in the video, and how they appeared. Again, I think he's done a wonderful job, and for sure, there's always a drawing on the go. Always.
In the past, you have been responsible for the titles, artwork and design for China Crisis albums, and again here for Gone From Here, with a striking painting of a castle on the record cover. Where did you find this picture, and how important is it for you, as an artist, to find the right visual image to represent the music? How do you know when you have found the right one?
The cover painting is a bit of a mystery. The painting was a gift from my daughters, from the vintage shop in Salts Mill, and is signed ANGE, and that is all I know about it. But as soon as I saw it, I thought it a magical landscape, and did think that maybe it could be the sleeve. I think because I grew up in a time of vinyl albums and records, its always been super important to me; the visuals that go with the music/artist and all the credits, lyrics etc. I've done the same with all the China albums and my solo record, made sure all the credits are there so people know who has made the music, and hopefully the visuals add to the experience.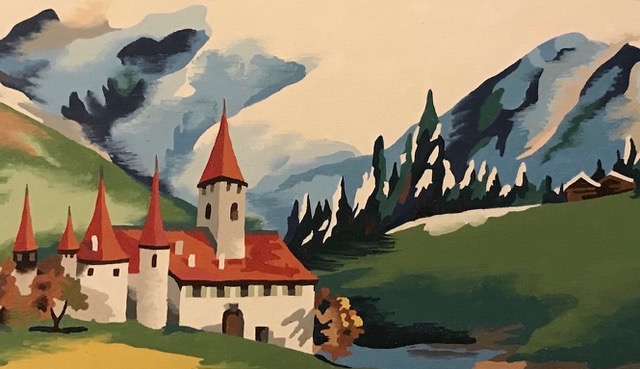 Your music very often has a cinematic feel and quality to it, here more than ever. Are you influenced by films, and if so, what filmmakers do you admire?
I certainly am influenced by filmmakers…everyone from Powell and Pressburger to Wes Anderson. I can remember when betamax video players came out and I very early on would record images from the TV and then overdub instrumental music I was working on. To say the least, it was thrilling and magical. I'd like to think on the new album, people will be able to hear my musical soundtrack influences…everyone from John Barry, John Williams to Owen Pallett, Philip Glass.
China Crisis are incredibly busy this year with lots of shows planned here in the UK and internationally; are you planning to perform any solo gigs?
No. Absolutely not. I have performed solo a few times, supporting America, Van Morrison, Suzanne Vega and didn't like it, well having said that, the Van Morrison gig was amazingly brilliant, but I wouldn't want to perform solo; after all the years being and performing with China Crisis, there's something not right if I can't see Eddie in the corner of my eyes, stage right awww.
What are you hoping that listeners will experience when they listen to Gone From Here?
I hope it connects…that there will be one or two families and folk out there that will make it the soundtrack to their summer 2019…that would be ace.
What are your personal hopes/dreams for your first solo album?
It's a hard one to define, hopes and dreams… I never imagine future times like that, and I try to keep everything a bit realistic (in a super fantastical way) so for me, just to get everything done as best I can, from writing the songs, then recording them, and then the sleeve artwork. video etc. That's enough for me really, I suppose that's my 'job', and a wonderful one it is too…maker and keeper of the tunes…
Gone From Here is released on 31 May. To pre-order the album and download the free track, Carousel Of Stars, please visit: https://www.musicglue.com/gary-daly/
For information on upcoming China Crisis tour dates, please visit here.