Inspired by the colour images of William Eggleston, self-taught American photographer, Alex Prager, creates scenes using theatrical constructed settings, combined with technicolor palettes. Face in the Crowd, currently on display at M+B gallery, Los Angeles, is her mesmeric new series of work, made up of photographs which detail elaborately staged crowds. Hundreds of costumed actors were placed on fictionally imagined sets including an airport terminal, a city hall lobby, a beach and a Sunset 5 cinema.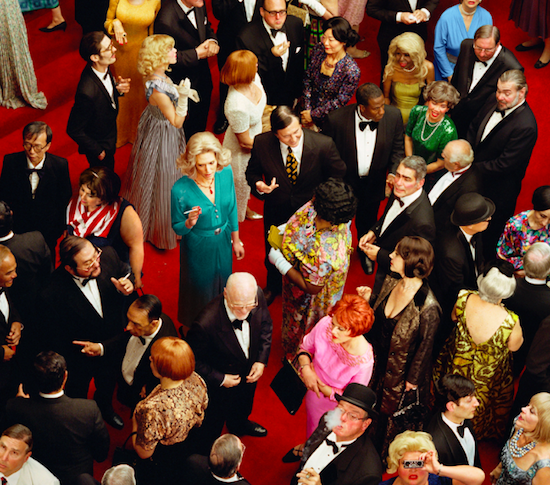 All of the scenes are artfully congested; Prager is interested in exploring the lines between public and private space, and in doing so, commenting on the emotional difficulties of human interaction.
The crowd seems to be from another era, and yet it's difficult to pinpoint exactly when; maybe 40s, maybe 50s, possibly 80s? Many of the ladies wear exaggerated synthetic wigs to complement the distinctive colour hues of their outfits. Prager says that she has always been interested in really unique faces and unique characters, such as those found in Fellini or Woody Allen films.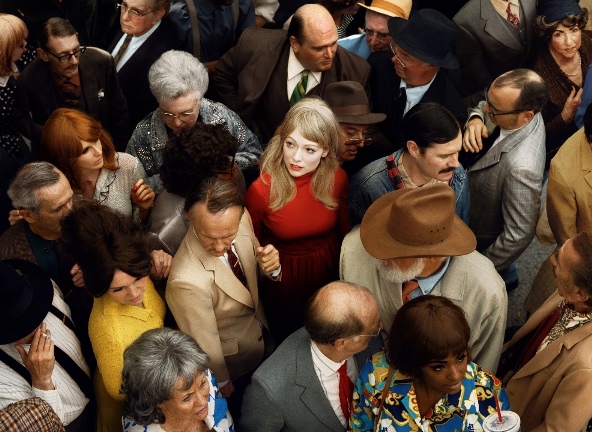 The artist has long been fascinated with the psychology of crowds, and the show will also highlight Prager's earlier work as a filmmaker, and will include a new short, starring the actress Elizabeth Banks as a woman who watches the street from her apartment window before venturing into the noirish action below: "I wanted to take an intimate look at an individual surrounded by a sea of strangers – and how it feels to get lost in that crowd and become anonymous".
Face in the Crowd  is showing at M+B, Los Angeles until 8 March 2014.
For further information please visit: www.bart.com
To purchase a copy of Alex Prager – Face in the Crowd visit here 
All images by Alex Prager.