The forested heart of Costa Rica is dominated by a line of impressive volcanoes. Turrialba and Irazu tower over San Jose and the coffee-growing Central Valley region (see our review of Hotel Grano de Oro, San Jose) whilst just a little farther north is the Volcan Poas and the National Park that surrounds it. 
This is the Central Highlands – a region of lush tropical cloud-forest and picture postcard scenery – and the location of El Silencio Lodge and Spa. This Relais & Chateaux eco-resort occupies over 500 acres of a beautifully secluded valley. Just a generation ago it was partly given over to cattle farming until an ecological initiative by the hotel's owners reforested the region with ninety per cent of El Silencio's grounds are now designated as a private forest reserve. 
On one of the hotel's daily guided walks our guide points out the almost invisible line in the trees where the cattle ranch stood – it is immensely gratifying to see how quickly the cloud forest can restore man's destruction. This sort of change is encouraged by the government – one that we wish more countries would follow.
Nestled in this natural beauty is El Silencio, a highly sophisticated eco-lodge and spa. It is a modestly sized property that impacts little on the environment and is tucked almost invisibly amongst the vegetation. It consists only of cabin suites that blend in to the landscape.
Each is immaculately appointed in a style that nods to local materials. There is lots of wood and stone with discrete cream coloured walls, polished wood floors, marble tiled bathrooms and local arts and crafts, Each has sliding glass doors leading to private decks, with rocking chairs, and hot tubs that offer mountain or river views.
Sustainability is the watchword. The cabins were built on repurposed grazing grounds and are made with eco-friendly materials (bamboo features heavily). The staff compost food remnants, provide reusable water bottles, and clean with low-impact products. Much of the food comes from local farmers or the hotel garden.
Throughout there is a calm and soothing atmosphere in perfect harmony with the property's magnificent surroundings. Located in the airy main building the Las Ventanas restaurant enjoys a fabulous location under a wooden canopy.
Discretely lit, overlooking the forest and with the river babbling below it is an idyllic setting. The cuisine is wonderful too, based on Costa Rican traditional cuisine and highlighting ingredients sourced from its own organic gardens.
Eggs from the estate's hens, milk is delivered by Margarita, the hotel's resident cow, cheeses are prepared by artisans from the neighboring area.
There is of course plenty to do in the natural surroundings. The more active can try mountain biking, or exercise body and soul on the creekside yoga deck.
Other activities range from hiking, zip lining and horseback riding to cooking classes and a class on the history of making Costa Rican coffee. 
We just enjoyed the relatively easy circular hikes that were mapped around the hotel. One features three waterfalls – each uniquely different, and seemingly to growing size and tranquility, but with each remaining breathtaking in their own right. The final one having a small sand and rock area at the base of the sky high waterfall, almost like a beach, perfect for a rest and a picnic.
A local highlight is a trip to Poas crater. The volcano itself is not visible from the property but it just a 45 minute drive to the visitor centre close to the craters rim. Views down in to the crater are spectacular. A word of warning, it is not called cloud forest for nothing!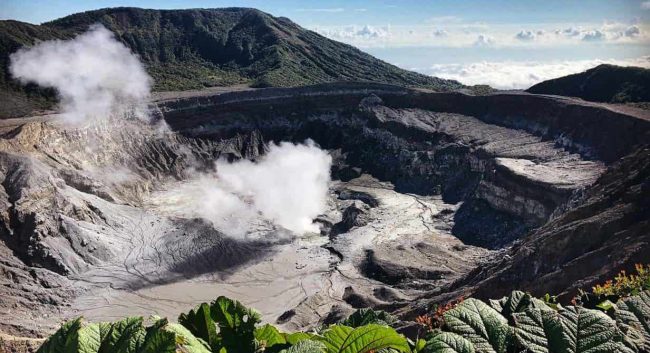 Even on sunny days mist often envelops the mountain top – do not count on getting a clear view most of the year. Ask for local advice before making the journey.
CELLOPHANELAND* were guests of El Silencio Lodge & Spa
For more information visit www.elsilenciolodge.com