As Working Title's film, Legend, opens this week across the UK, it seems fitting that we shine the spotlight on an East End legend of another kind. E Pellicci is a Grade II listed 'greasy spoon' on Bethnal Green Road, but everyone who knows it, knows that it is much more than that. Opened in 1900, and still run by the same family who hail from Tuscany, Pellicci's is a genuine east London landmark. It was also a regular meeting place of The Kray twins. The current Pellicci generation, Nevio and his sister, Anna, recall fondly how their mum, Maria, used to cook breakfast for the "always polite" Krays, and how they would always sit at the same two tables, and hold business meetings with others from their notorious gang: The Firm.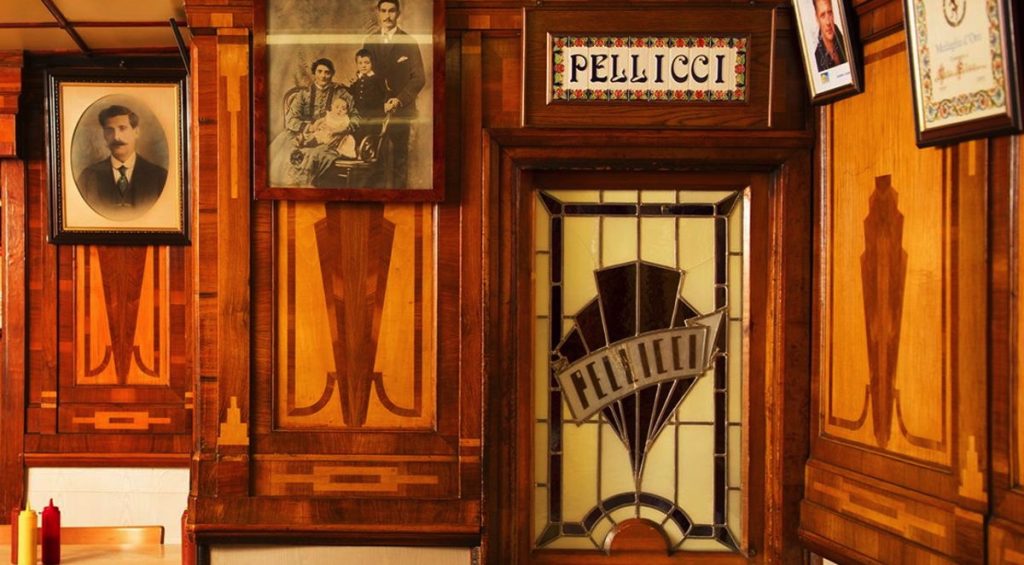 It's soon apparent that this is no regular workers 'caff' serving staples of 'builders tea' and a regular fry up. From the chrome-lined Vitrolite panels that line the outside, and the lovely historic wood-panelled interior which is filled with Formica tables, there is a cosy opulence to E Pellicci. And together with accents of stained glass, it has a definite art deco feel.
The Kray twins would always sit at these two tables on the left-hand side of the cafe.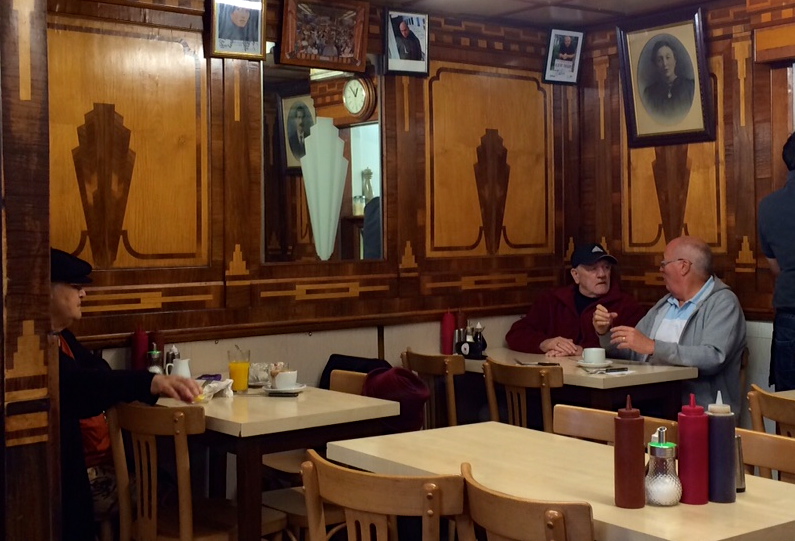 Siblings Anna and Nevio are the warmest hosts, and between shouting orders to their mum in the kitchen, have a quick fire banter with everyone who comes to visit. They know how to work a room! We swapped stories about the Legend premiere the night before, and readers who have seen the film, will recognise a scene that Tom Hardy filmed at the cafe. Nevio remembers the filming day, and how Tom Hardy literally transformed himself physically into two different characters before his eyes.
We opted for the veggie breakfast which was fantastic not to mention extremely generous, along with a proper Italian cappuccino. Service is as swift as the banter! No sooner had we ordered, the  food arrived in a haze of expresso steam. And Nevio insisted that we try his mum's speciality hand cut chips on the side, and he wrapped up some of Mrs Pellici's special bread and butter pudding which we took away to devour later in the day. Apart from its legendary breakfasts, E Pellicci is also renowned for its fish and chips, daily grills and Italian specials. But you can also just order a sandwich; anything from liver and onion sandwiches to corned beef ciabatta.
Anyone who is thinking of running their own cafe/restaurant should seriously spend a day hanging out at E Pellicci. It's a real masterclass on how any successful eatery should be run, with bucketfuls of charm and grace, along with the very best homemade fare. We can't wait to return.
Pellicci's, 332 Bethnal Green Road, London E2 (020 7739 4873). Open Monday-Saturday, 6.15am-5pm.
Watch the Legend trailer here