We've always been Bond nerds, (see our previous post on staying at Ian Fleming's former home, Goldeneye) so was delighted when we heard that the Barbican had joined forces with EON productions together with fashion historian, Bronwyn Cosgrave and Bond costume designer, Lindy Hemming, to mount Designing 007: Fifty Years of Bond Style.
To celebrate Bond's half-century, the Barbican has been given unprecedented access to EON's production archive and the 400 works on display comprise the very best in Bond costumes, production design, gadgets, special effects, graphic design, weapons, stunts and props, exotic locations and of course, cars.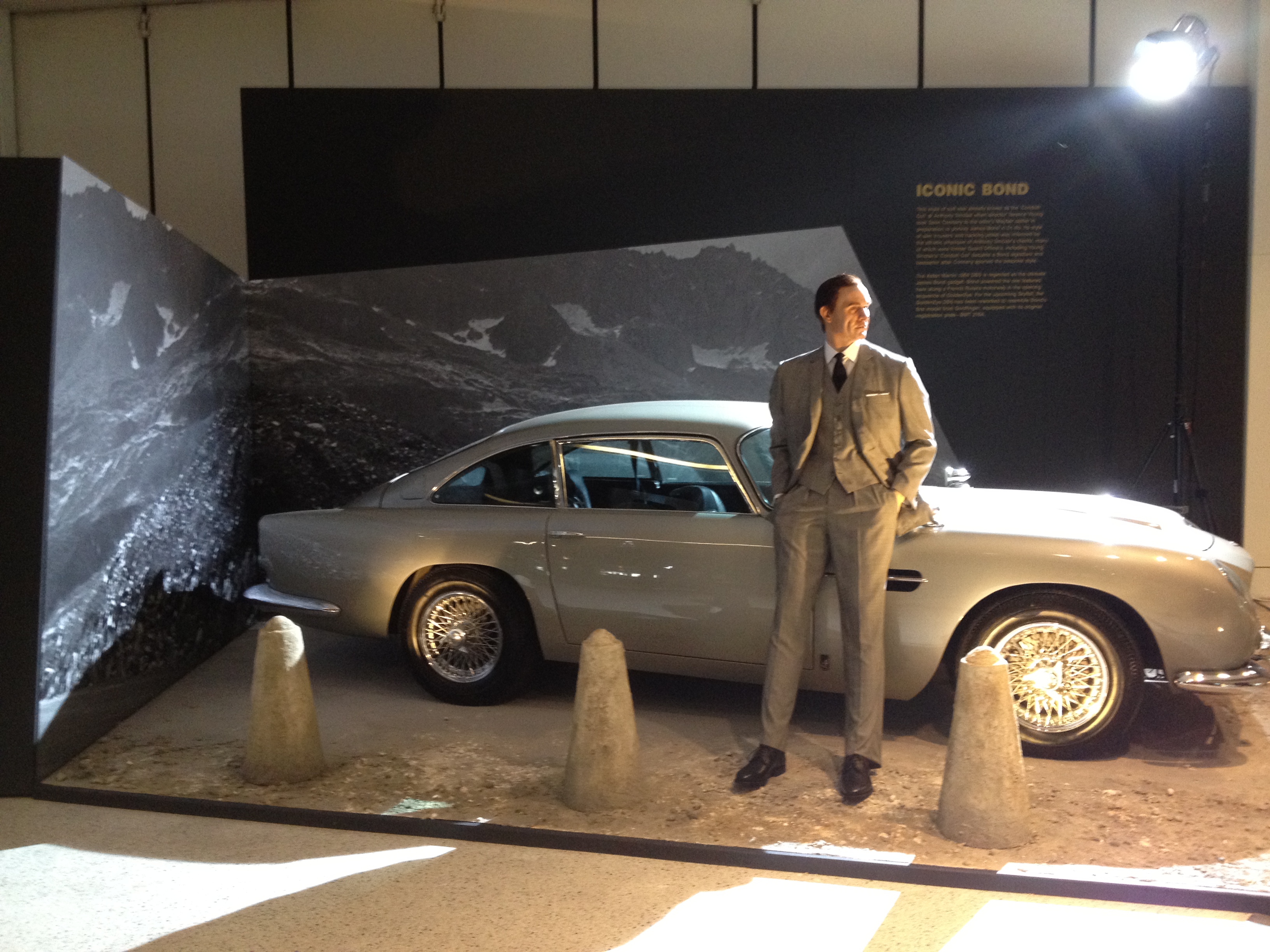 Here's the beautiful 1964 Aston Martin DB5 and an equally beautiful grey Anthony Sinclair suit. Sean Connery wore Sinclair suits for all his appearances as 007.
The exhibition is entered through the barrel of a gun, straight into the spectacular Gold Room, where a painted life-like replica of  Shirley Eaton, lies sprawled across a revolving bed.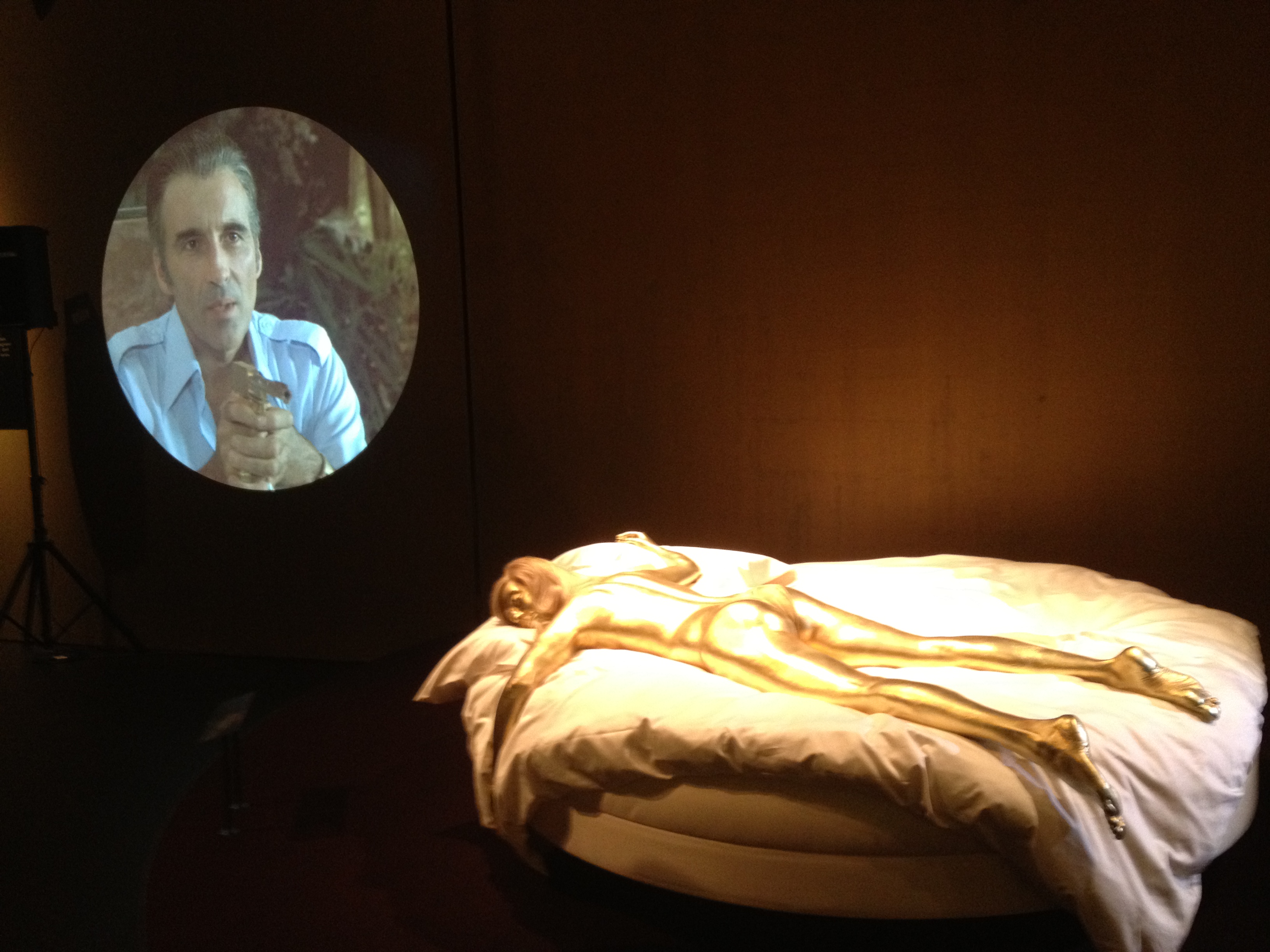 From Arno Goldfinger's jacket to Pussy Galore's golden waistcoat to a golden Oscar, you can guess the predominant colour of this room. And of course, there's a golden gun, too: Scaramanga's Colibri-designed beauty from The Man With The Golden Gun. Complete with 007 bullet.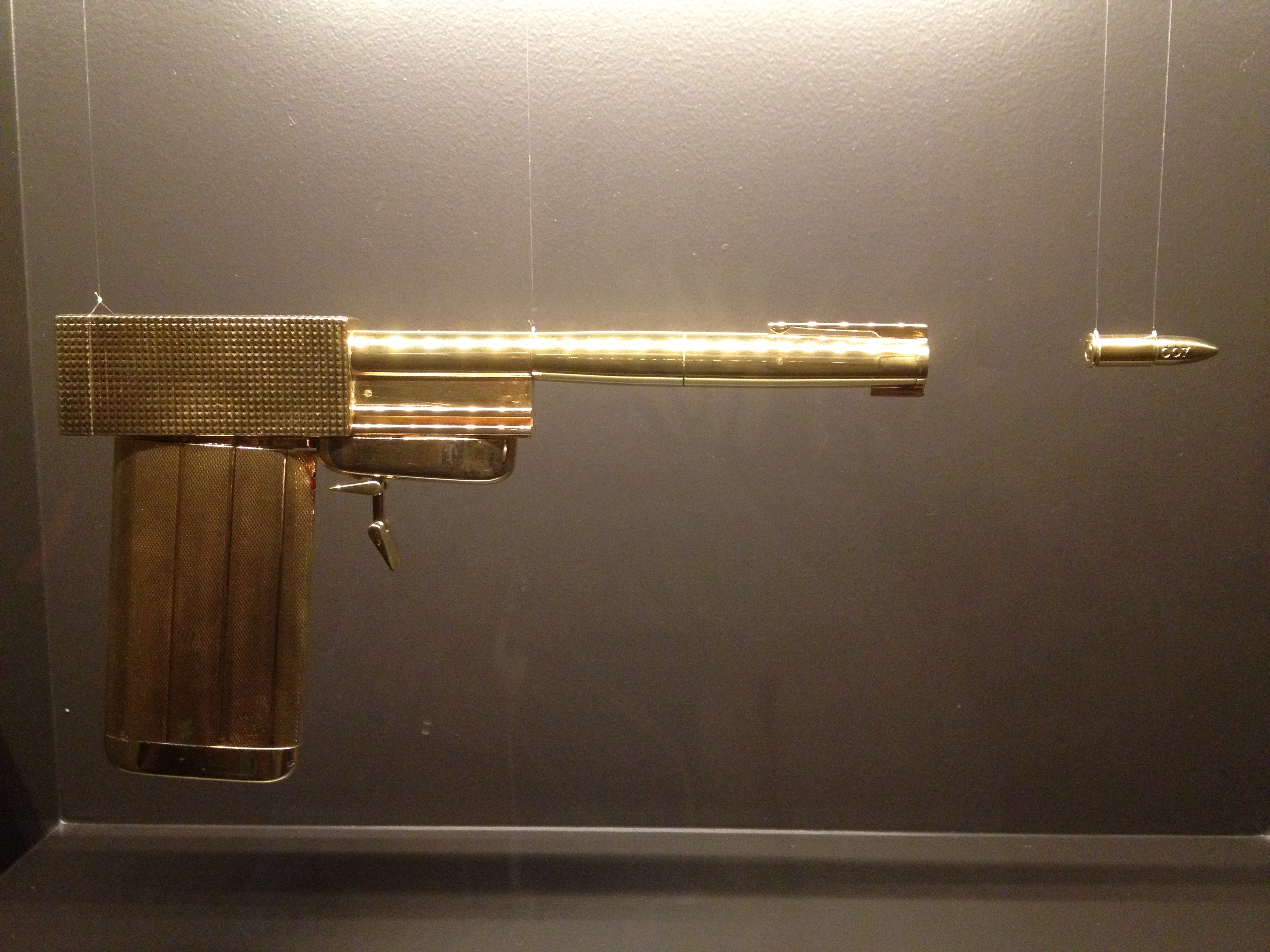 Next up is The Gadgets Room with Sean Connery's exploding suitcase (From Russia With Love) and Roger Moore's submersible Lotus Espirit (The Spy Who Loved Me). We particularly liked the accompanying film clips which showed the gadgets in full-blown action.
James Bond's tailoring for the character, Bond, as written by Ian Fleming, has little to do with fashion and everything to do with class, occupation and the social milieu from which he originated. His style was to effortlessly classic, cool and elegant. It was never flashy or ostentatious as seen here in another example of Sean Connery's Bond wardrobe.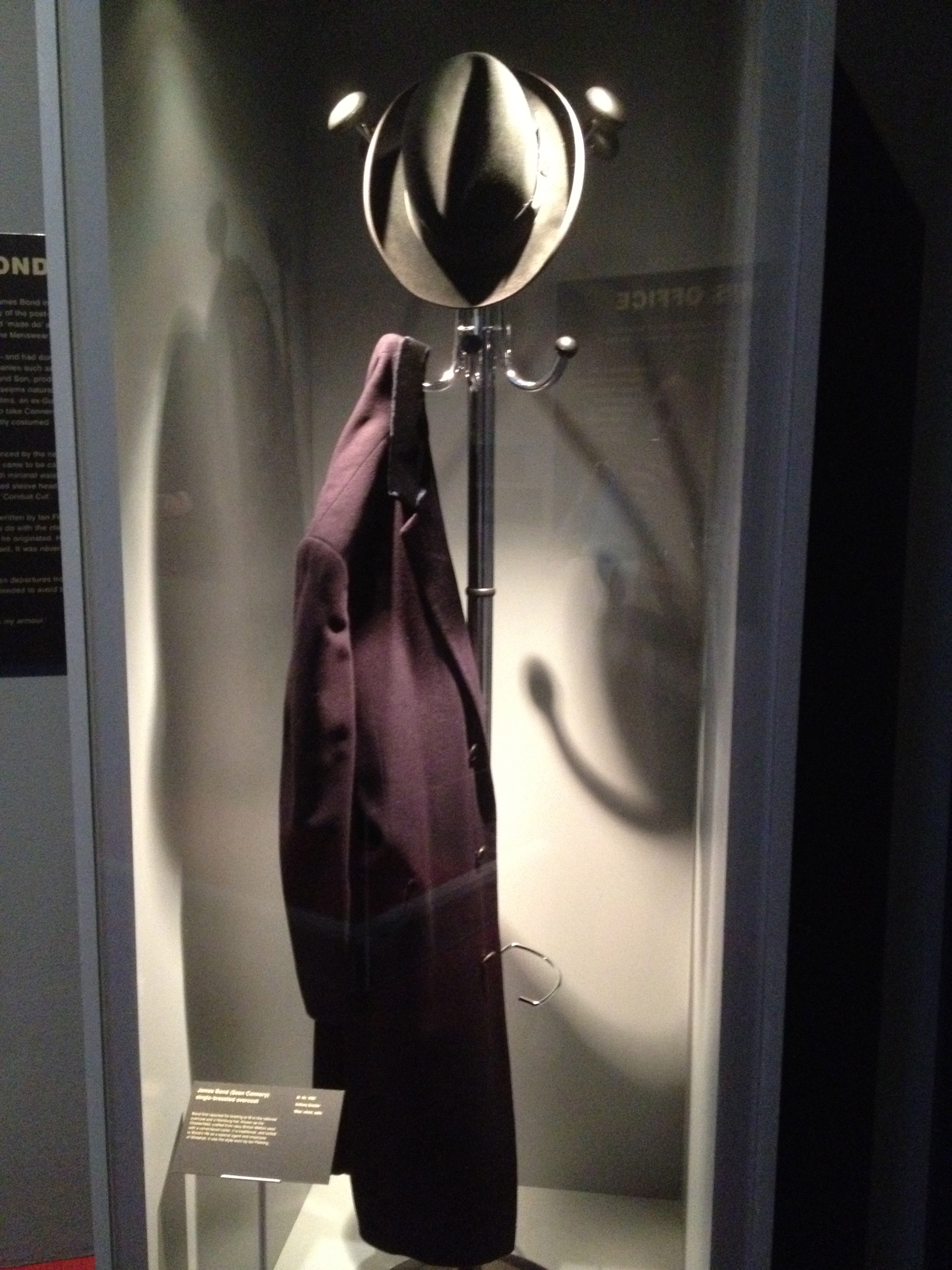 Unfortunately, The Casino Room was where the style was compromised for me. Designed to look like an elegant Monte Carlo casino, we found this room slightly tacky. A real shame as most of the costumes and dresses were magnificent, but what possessed the designers to choose creepy grey, faceless, spongy mannequins to model these exquisite gowns and tuxedos? Here is Eva Green's (as Vesper Lynd) beautiful dress in Casino Royal.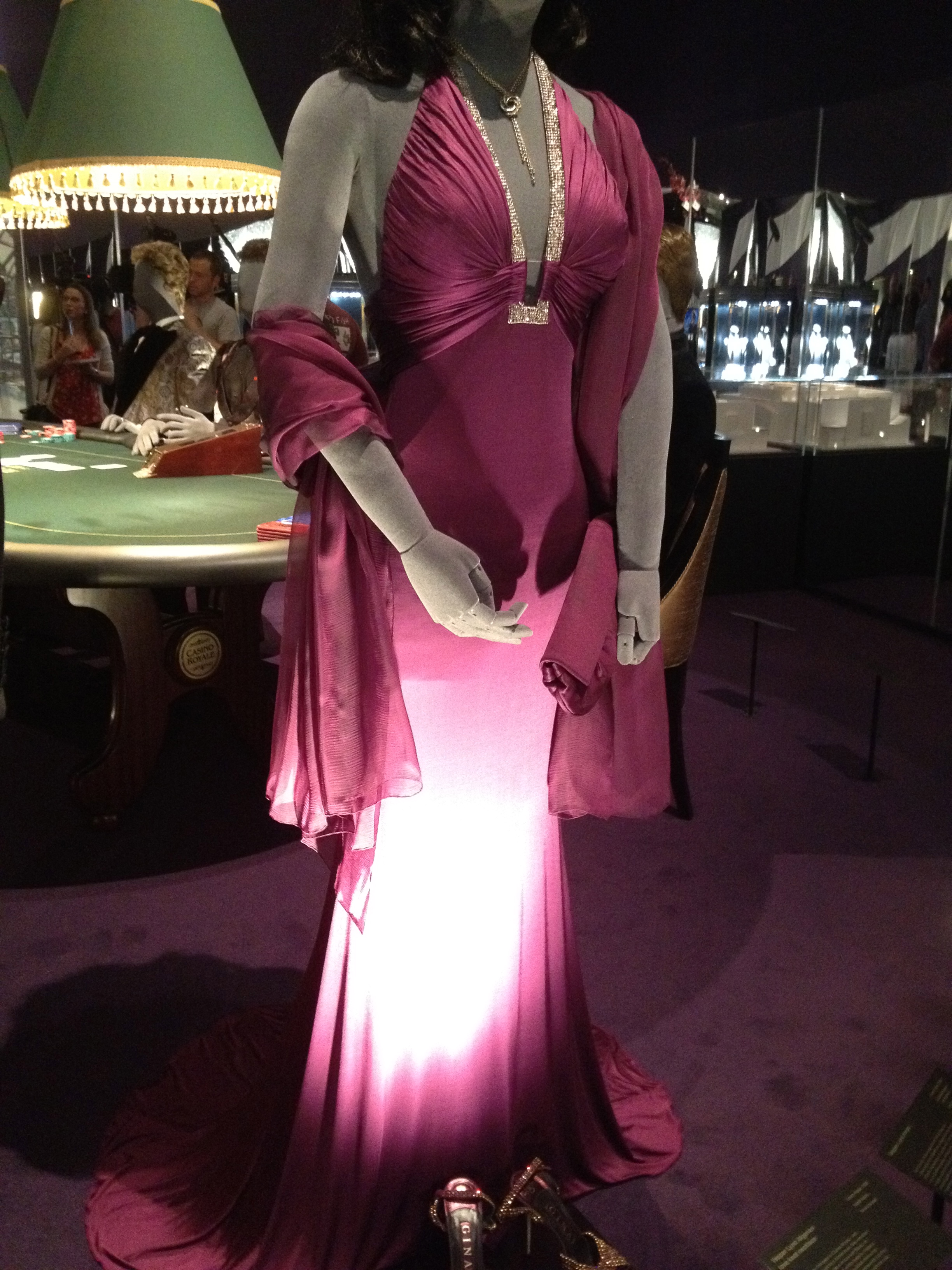 Mannequins aside, this is a wonderful exhibition for Bond aficionados as there is so much to see. Oddjob's steel-rimmed bowler hat, Rosa Klebb's deadly flick-knife shoes, Tee-Hee's metal arm and Jaws' fearsome teeth all make an appearance.
And yes, it wouldn't be Bond without a bikini or two.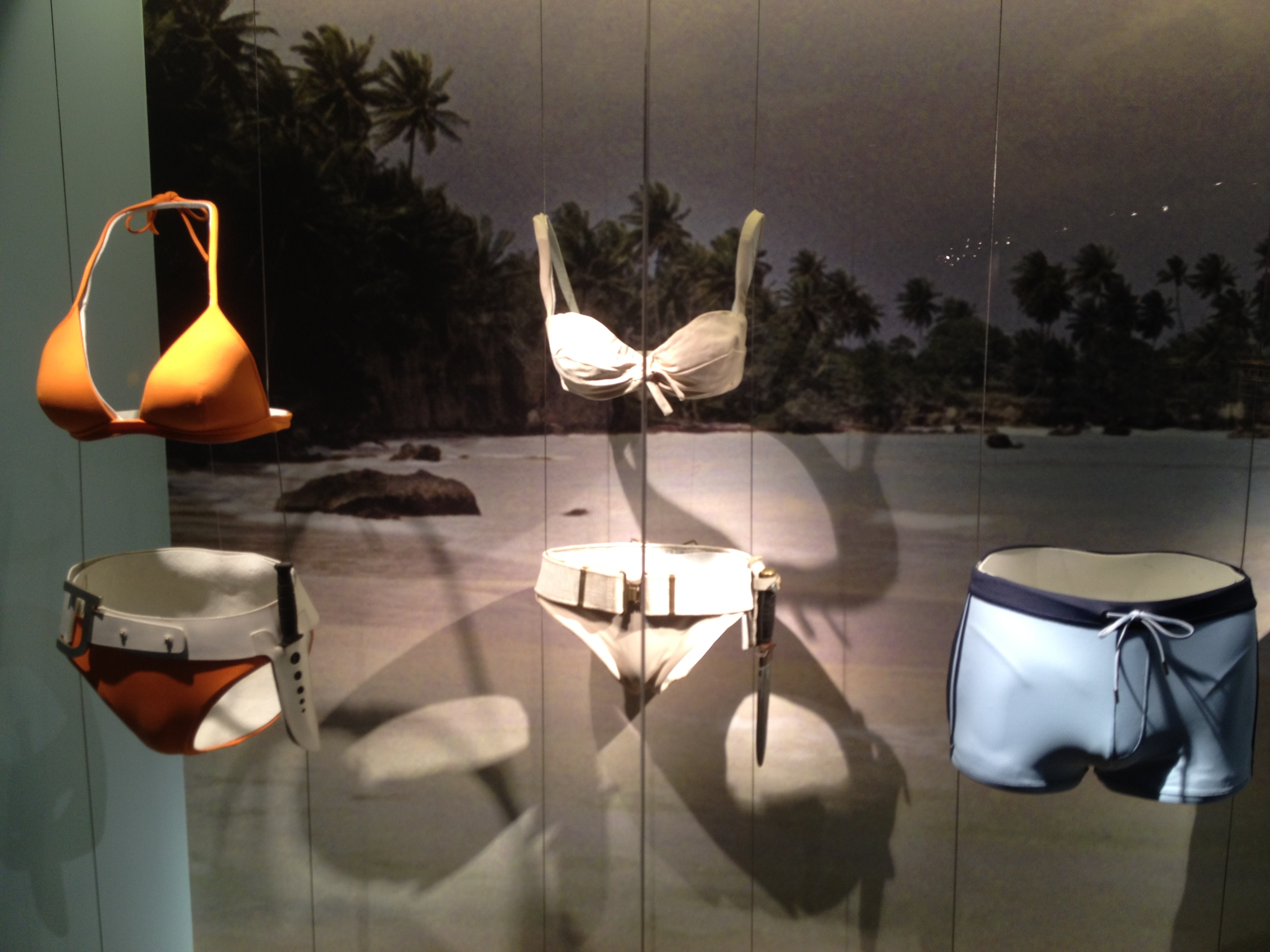 For further information please visit: www.barbican.org.uk
Further recommended reading: The James Bond Archives. Visit our bookstore to purchase.
All images by CELLOPHANELAND*.