When Michael Chaplin first told us about his plan to to turn the family home into a museum dedicated to his father, we knew what an immense undertaking this would be. At that time, Michael was still living at Manoir de Ban in Corsier-sur-Vevey, Switzerland, with his family. When he invited us to the house where Charles Chaplin spent the last 25 years of his life, his father's piano still sat in the living room, his library was just as he had left it filled with hundreds of books, and his costumes and film reels were stored in the basement. So it was a genuine thrill to return to see the completed multimillion-dollar Chaplin's World, which opened in April 2016.
As visitors are taken on a spectacular journey through the sets of Chaplin's greatest films, it is obvious that no expense has been spared. Theatrics are present from the very moment the introductory film has finished, when the screen lifts and you find yourself on a stage set. There is also a magnificent replica hollywood-style studio, exhibits such as the Tramp's iconic bowler hat and cane, scripts, personal artefacts, and film awards on display. Visitors then move on to the house itself, culminating in the bedroom where Chaplin died, aged 88 in 1977. It is a beautiful and sensitive homage to a truly brilliant career spanning 75 years.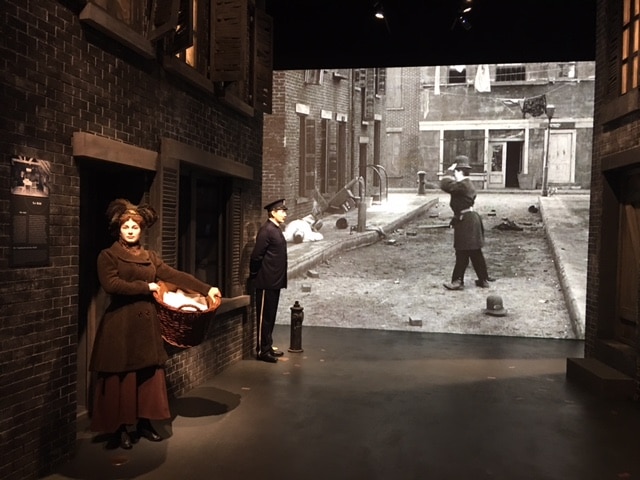 When Chaplin started making short films in 1914, he shot on the streets of Los Angeles rather than build expensive sets in the studio. As his work developed, he required more time to film exteriors, so he supervised the construction of a T-junction on the back lot to shoot Easy Street. He imbued it with details from his poverty-stricken childhood, until it resembled Methley Street, London, where he had lived with his mother and his elder brother, Sydney.
In 1989, from the age of nine, Chaplin spent a year touring the UK with the clog-dancing troupe the Eight Lancashire Lads, then spent three years in the theatre playing Billy in Sherlock Holmes before joining Casey's Circus. From 1908, Chaplin further honed his skills and became a lead comedian in the Fred Karno troupe. While he was touring America in 1912, Mack Sennett the film producer discovered him and that's when Chaplin's life changed forever.
Chaplin never hid the fact that he had suffered a difficult childhood, and often revisited his family problems and painful memories in his films. His alcoholic father was a music hall singer who abandoned the family and died when Chaplin was only 12 years-old. But he adored his mother, Hannah, who taught him how to observe those around him; he would imitate people to make her laugh. After Hannah was committed to an asylum, Charlie and his elder brother, Sydney, went to multiple schools and workhouses. To survive, they would perform songs in the street and take any job offered to them.
Visitors enter the replica Hollywood studio by walking down a tall flight of stairs into a cavernous space with giant film screens, a studio floor with all the relevant markings, cameras, lighting and various sets. There is a lovely interactive feel, so you can sit behind the camera, practice hitting your mark or enter The Goldrush cabin.
In The Gold Rush, Chaplin performs a graceful ballet for his imaginary sweetheart. Two forks jammed into bread rolls dance classical steps: tip-toe, leap, kick, jump to the right then to the left. He finishes off the 'The Dance of the Bread Rolls' with a magnificent split. This sequence was shot to the sound of Oceana Roll, which a live band played on set.
It was also the film where Chaplin and his cameraman used many camera tricks. They combined miniature shots of the cabin toppling over the cliff edge with live-action movement of the Tramp escaping. The full-sized cabin was constructed on an ingenious system of rockers controlled by pulleys and counterweights that made it sway dangerously. Airplane engines were used to make the fake snow swirl like a blizzard.
Chaplin not only acted in, but wrote, directed, edited, composed the music score, produced and distributed his own films. He worked intuitively, and let the characters lead the stories. If they led the scene into a dead end, he would simply rework it until the story progressed while always remaining true to his characters.
Throughout the 1930s, journalists and cartoonists commented on the fact that Hitler and the Tramp shared a moustache. Horrified by the rise of fascism in Germany, Chaplin began writing a script about dictators in April 1938. Although Hollywood and London were dead against it, at a great personal and financial risk, Chaplin courageously began filming The Great Dicatator on 9 September 1939, six days after the start of World War II. He watched many newsreels of Hitler to copy his speech patterns and movements, and after seeing Hitler act lovingly towards a child on one particular newsreel, Chaplin remarked: "This guy is one of the greatest actors I have ever seen." The film was released in October 1940 to great acclaim. The Great Dictator was Chaplin's first true sound film. It was also the first film where he wrote a complete script before shooting began. It has subsequently become a landmark film in the history of cinema.
In complete contrast, City Lights is Chaplin's ultimate expression of romance. In this film, the Tramp is more determined and less rebellious than usual. He even manages to get a job, and then goes to jail so that the blind flower girl can have an eye operation. Never has the Tramp been more tender, charming and vulnerable.
On 6 January 1914, Chaplin was to play a drunk who flirts with Mabel Normand, and was told to put on comedy make-up and costume. In the dressing room, he took 'Fatty' Arbuckle's enormous trousers, a tiny coat, a hat that belonged to Arbuckle's father-in-law and some oversize shoes. In his own words he described the costume: "I wanted everything a contradiction". He topped it off with a moustache and cane. "As the clothes had imbued me with character, I then and there decided I would keep to this costume whatever happened."
The Tramp is always subverting the dignity of authority figures as Chaplin explained: "Did you ever notice what occurred when a policeman in uniform happened to slip on a greasy street and smeared himself all up? If you remember correctly, you know that everybody laughed. Why? Well, the policeman and his club are visible authority. When the 'cop' makes a slip, it detracts from his dignity. Even good people have a sneaking dislike for a policeman. Its human nature." 
The Tramp's cane, boots and hat:
On 19 September 1952, while sailing from New York to attend the premiere of Limelight in London, Chaplin was told that his re-entry permit to America had been revoked. Although he had lived in America for almost 40 years, he was still a British citizen. After years of being hounded by the FBI, countless lawsuits, constant attacks in the press, and organised boycotts of his films, Chaplin decided not to return to America and relocated his family to Switzerland.
The living room at Manoir de Ban:
Michael Chaplin told us that his father, although a brilliant composer, couldn't read music:
The family dining room was a place of ritual. At 6.45pm dinner was formally announced. His wife, Oona, always sat at Chaplin's left. The children primarily spoke French, but Chaplin made it a rule that everybody must speak English at the dining table because he could not speak or understand French.
Chaplin's library; the place where he wrote screenplays for A King in New York and A Countess from Hong Kong. It is also where he wrote the books: My Autobiography and My Life in Pictures. Evidence of his unrelenting work ethic and fertile imagination can be seen in the copious notes and outlines for new film projects.
Chaplin's World is a remarkable opportunity to spend time with one of the most important figures in the history of the film industry. Charles Spencer Chaplin was an utter genius. Film fans, don't miss it!
For further information please visit: www.chaplinsworld.com
To purchase Chaplin: His Life and Art, visit here
Images by CELLOPHANELAND*.
CELLOPHANELAND* were guests of Chaplin's World.