We were delighted to arrive at our cosy log cabin; stepping over our slate and stone threshold in to the living room where red lamp shades hung over the dining table, and wrought iron table lamps sat on hand carved stands. We quickly got the log fire burning and settled down on a deep cushioned sofa with a steaming mug of hot chocolate, and put our feet up on cushioned stools with embroidered fabrics.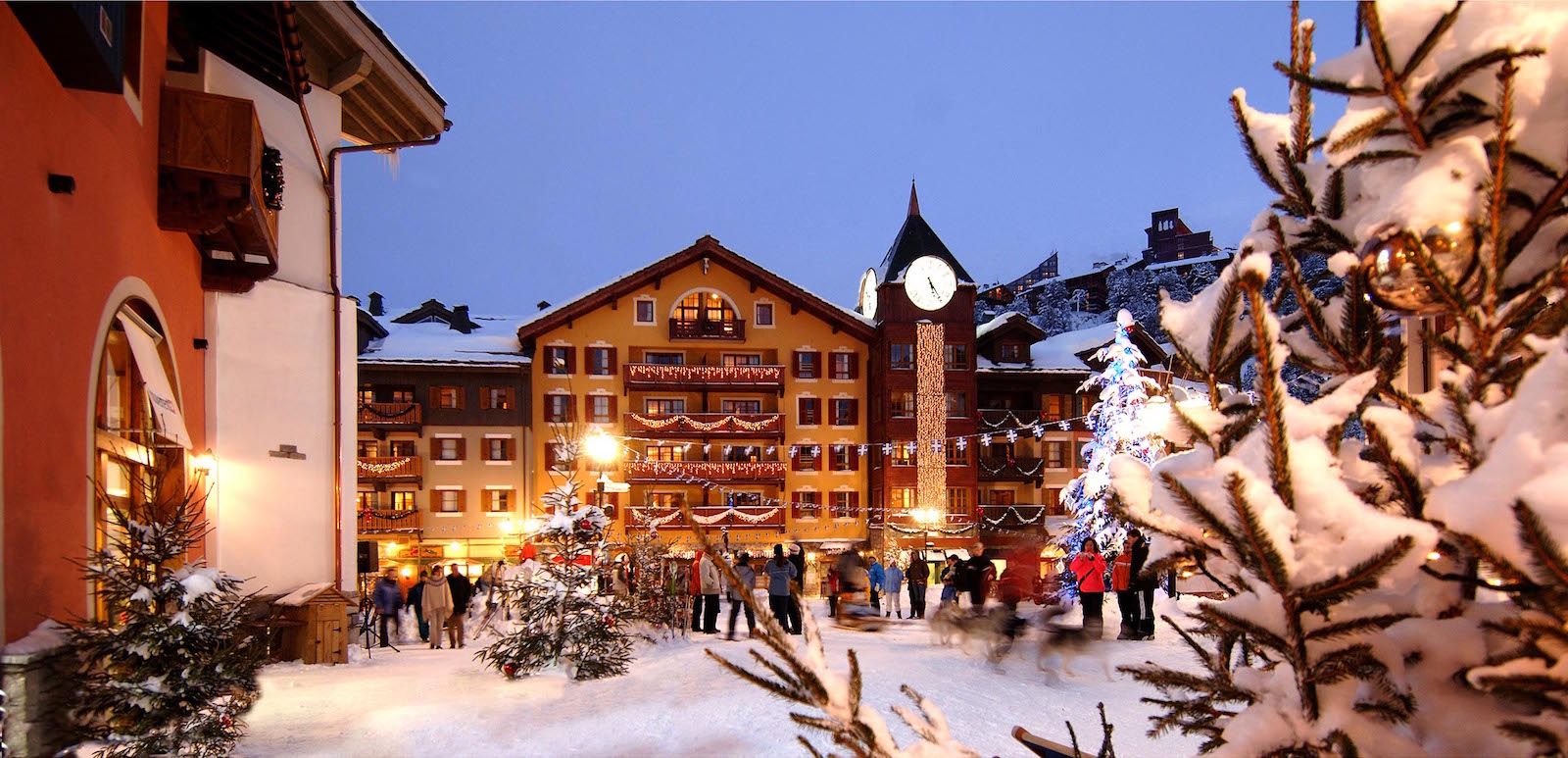 Our mugs sat on a pretty wooden trunk, and through the French doors to our balcony we could watched the Mont Blanc massif glow pink, then orange in the setting sun before drawing the heavy cream and red curtains.
Heavenly! Except this actually was no 'log cabin' of course but one of the delightfully atmospheric Chalet des Lys apartments in Arc1950, the newest of the Les Arcs purpose-built resorts. Originally conceived and built by Intrawest, the Canadian company who developed Whistler, Tremblant and other North American ski 'villages', Arc 1950 has the advantage of their many years experience.
Their skills particularly lay in creating developments that were not just free-standing concrete blocks sold for a quick buck, but in creating whole resorts from scratch and all that this involved. Incorporating the use of local wood, stone and materials, to draw on the regional vernacular architecture, whilst inside, furnishing would be influenced by local and traditional handicrafts and decorative styles.
Further, the resorts pedestrianised layout would be designed to optimise not only convenience of use, but also to allow best views of the surroundings and to creating a pleasant local environment – the village centre will have perhaps a fire pit in winter or a water fountain in summer.
Although sadly, Intrawest are no more, their legacy lives on at Arc1950 which is as easy on the eye as ever a purpose built resort could be, as well as easy to use, delightful to explore and comfortable to inhabit. Erna Low Holidays are specialists who not only have a very wide selection of holidays here, but also have on hand – both in the UK and in-resort – a team that advise on all aspects of property purchase. They will in addition re-let for anyone looking to get a healthy return on their investment. Reservations may also be made via their own website Arc 1950.
Our lovely accommodation (in the Chalet Des Lys,) came with a neat kitchenette equipped with everything you could possibly think of, including a Nespresso machine with lots of pods, and neat packs of cleaning and catering extras. There were over a dozen various quality toiletries, lots of towels and fluffy towelling robes and slippers. The beds were delightfully comfortable, and there was plenty of creative storage despite a relatively compact floorpan.
We also had free access to a heated outdoor pool (with amazing mountain views) jacuzzi, steam and sauna plus a laundry and our building had a cafe, bar restaurant and lounge. The resort itself has underground parking for all guests, from which lifts will bring you pretty much to your apartment doorstep. For more extensive spa facilities, the Deep Nature Spa is just a short stroll through the village.
And there is also the amazing skiing. The whole of Paradiski – a linked ski area that is amongst the world's largest – is accessed from the door of the heated ski room. At the end of the day we skied back through the village, occasionally stopping for a vin chad or some provisions, en route back to our apartment.
Visitors to Arc 1950 do not come here to linger in chic boutiques or sip champagne in designer wear, but to enjoy great skiing, a delightful village and of course the best in 'log cabins'. The few shops are simple whilst eateries are varied and very good quality.
A bonus for those interested in film – and most specially European Film – is the annual Les Arcs Film Festival that takes place in December. There are ten days of top quality screenings at a minimal cost to enjoy after, or instead of, skiing.
For more information visit Arc 1950
CELLOPHANELAND* were guests of Arc 1950 and Les Arcs Film Festival.
Images by CELLOPHANELAND* and Arc 1950