The Blue Lagoon geothermal spa is one of the most visited attractions in Iceland, and certainly always one of my favourite things to do when visiting the country. The spa is located in a lava field in Grindavik on the Reykjanes Peninsula, southwestern Iceland. Although it's location looks like a setting from another planet, it's surprisingly easy to reach. Just a 20 minute drive from Keflavik airport, and a 40 minute drive from Reykjavik. Driving on Iceland's smooth roads is an utter joy as the traffic is always extremely light. We find it always makes sense to plan a visit, either on your way into town, or on your way back to the airport. This time, having come to Reykjavik to see Yoko Ono switch on the Imagine Peace Tower (see here), we squeezed in a visit en route back to the airport.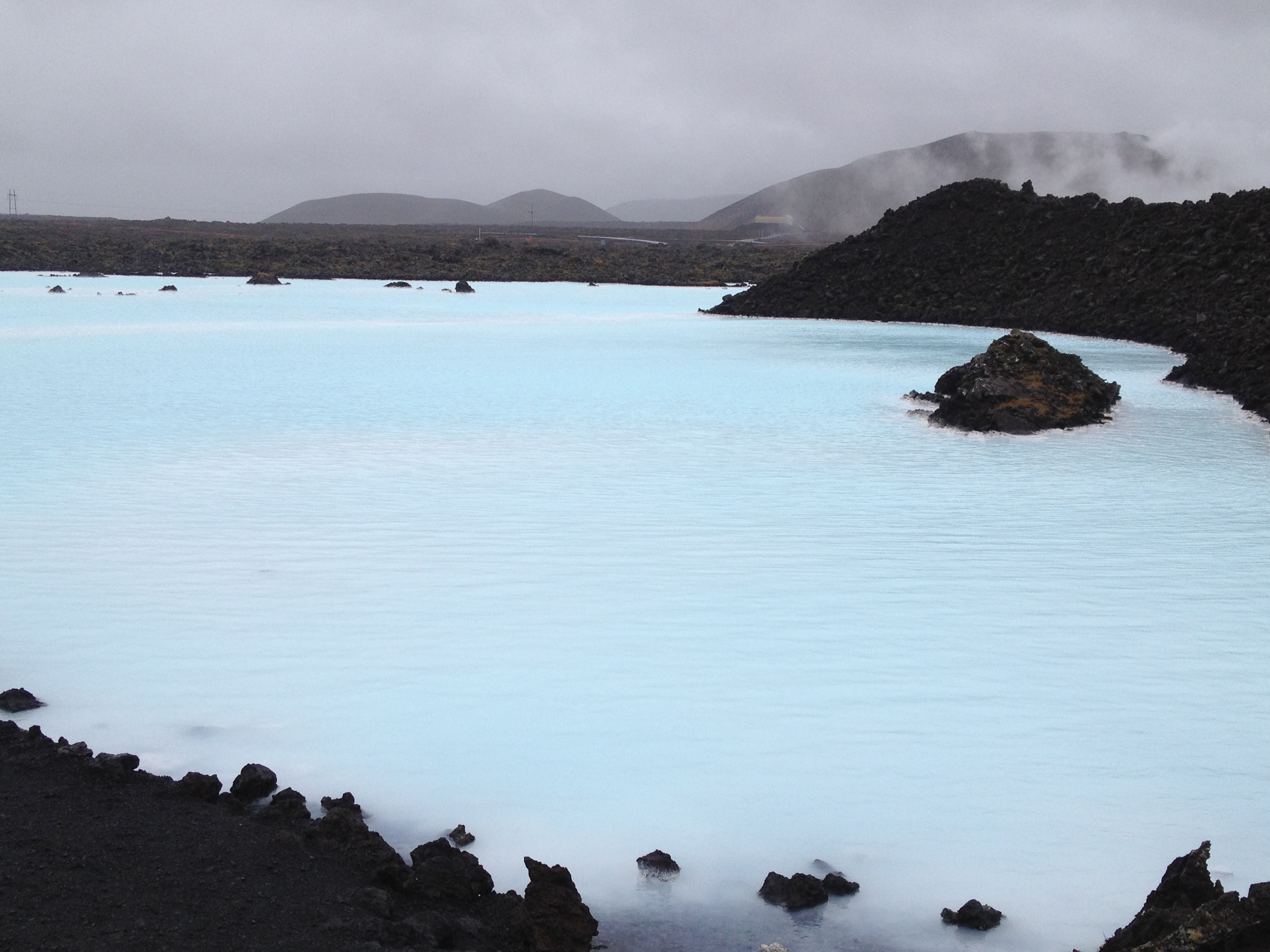 The warm water is a distinct milky blue colour due to its rich content of minerals such as silica and sulphur, which have been proven to help certain skin disorders, including psoriasis. In fact, the Blue Lagoon operates a research and development centre and clinic to help find cures for skin ailments using the mineral-rich water – which in the bathing areas – averages 37–39 °C. The separate clinic has 15 spacious double rooms and a private lagoon.
The lagoon is fed by the water output of the nearby geothermal plant and is renewed every two days. Superheated water is vented from the ground near a lava flow and used to run turbines that generate electricity. After going through the turbines, the steam and hot water passes through a heat exchanger to provide heat for a municipal water heating system. Then the water is fed into the lagoon for recreational and medicinal users to bathe in.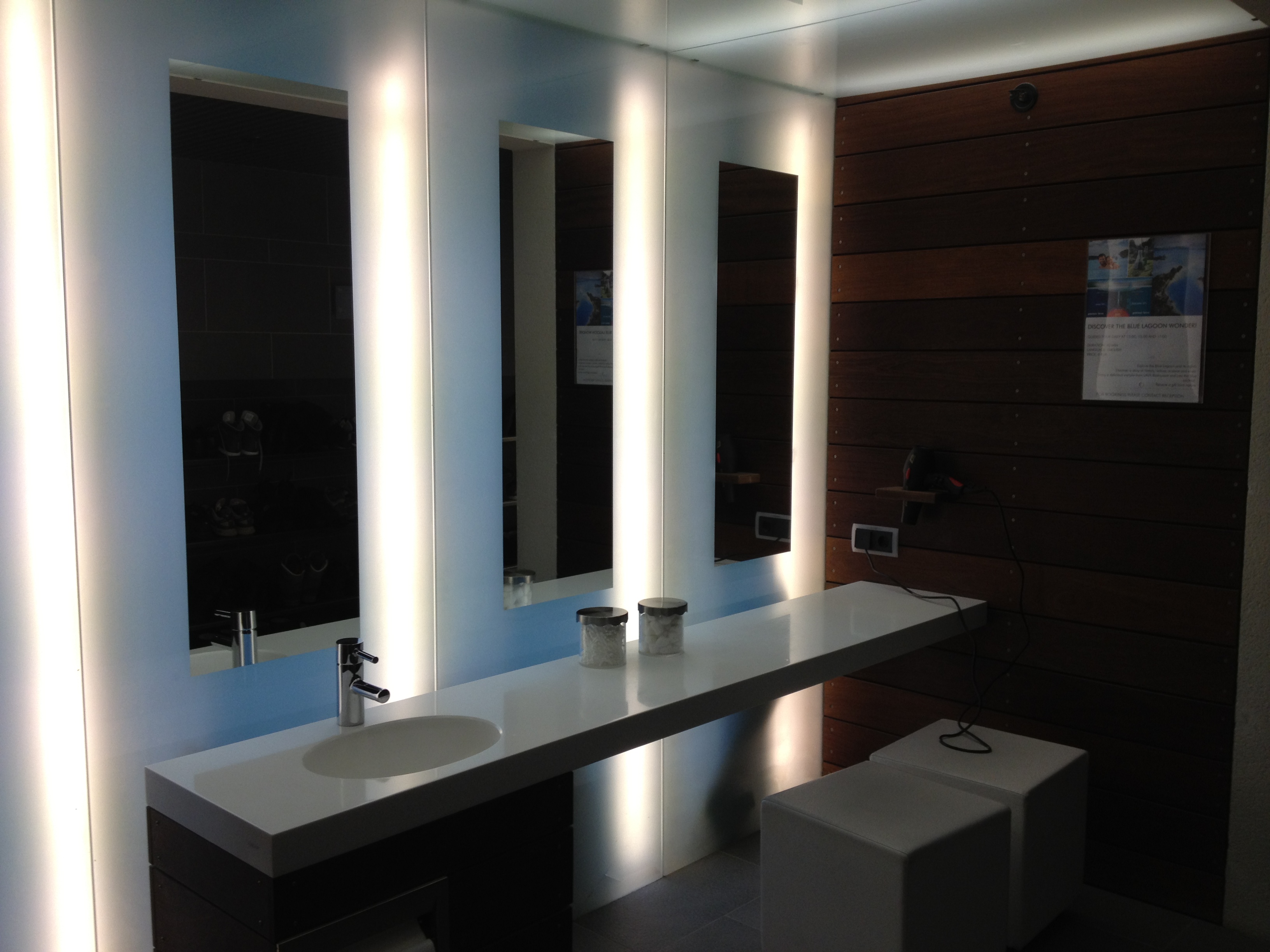 We love the clean organic lines and the stark whiteness of the building, and how it blends in beautifully with the surrounding jagged expanse of black volcanic rock. The same simplicity follows through to the changing rooms. Upon entering, you're given a bracelet which works as a magnet, opening and closing your designated locker. All showers are stocked with an abundance of algae and mineral shower gel and mineral moisturising cream. Once outdoors in the bathing area, you can stop at mud stations where you can scoop up gobs of silica mud and smear it anywhere you should so desire. It makes an ideal cleansing and soothing face mask, so a common sight in the lagoon, are bikini-clad bathers bearing grey white, ghoulish faces floating through the steaming waters. Ourselves included, when to our surprise (and somewhat horror!) we bumped into the very lovely and very gracious, Yoko Ono, who just so happened to be taking the waters, too!
You cannot possibly leave the lagoon without visiting the skin care shop and stocking up on skin nutritious goodies. As usual, we stocked up on tubes of the silica mud mask and the mineral moisturising creme, which – as a complementary duo – are nothing short of miraculous for the harsh winter months. (Buy here.)
For those with more time, there are plenty of spa treatments and massages to choose from, including a few in-water treatments.
For further information please visit: www.bluelagoon.com
All images by CELLOPHANELAND*.