Video art is an art form that is frequently neglected by major galleries. Extra equipment and particular viewing requirements mean that many give it a relatively wide berth or, at best, a cautious welcome. It is a great delight therefore even to be able to enjoy just three modest works by Bill Viola at the Artists Rooms On Tour exhibition at The Wilson in Cheltenham.
As part of Artist Rooms On Tour, The Wilson is hosting three mesmerising pieces in a special installation. The works, Catherine's Room, Four Hands, and Surrender fill the entire, albeit modestly sized, third floor exhibition gallery and explore themes around the passing of time and human ritual within time.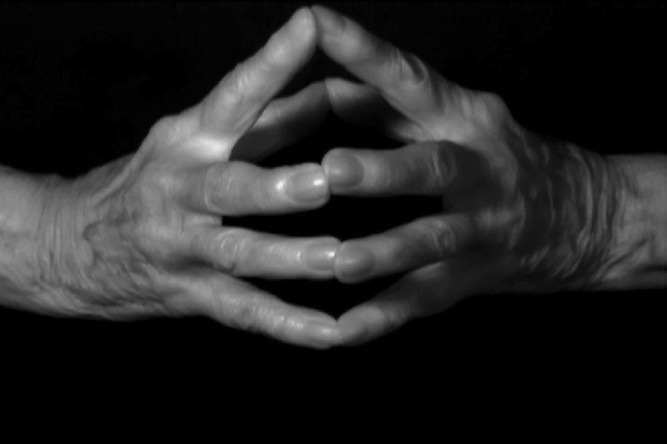 Importantly these works all date from just after the turn of the century. This was a time when Viola had just been introduced to the newly developed LCD screen. Flat, bright and clear and modestly sized it represented an opportunity for Viola to look at video in a new way. In the nineties he had been working on large wall or screen based projections, often in non-gallery locations, and this was a chance for something more intimate in scale.
In contrast to projected work LED technology harked back to wall based portraits and paintings, and it is from the medieval work St Catherine of Siena by Andrea di Bartolo Cini that came the inspiration for Catherine's Room. This recreated space is the spiritual abode of a solitary woman who goes about her daily rituals simply and purposefully. Her activities take place simultaneously across five screens, which are arranged in a row across the gallery wall. Each shows a time of day from morning to night, whilst through the small window a different season is shown. The activities of one day are beautifully expanded to represent a life bound to the cycle of nature.
In the monochrome work, Four Hands the hands of three generations – a young boy, father, mother and grandmother – slowly and deliberately make a series of predetermined movements. These are taken from sources as diverse as Buddhist mudras (defined ritual or symbolic gestures) and 17th-century English chirologia tables, which illustrate hand gestures that accompany emotional states. Viola explains that the work is "a timeline that encompasses both the parallel actions of the individuals in the present moment and the larger movements of the stages of human life."
For Surrender two protagonists, seen only through their reflected images, bend repeatedly down into the water, towards each other, becoming more and more tormented as they do so. The water acts as a kind of metaphor for an intense emotional baptism.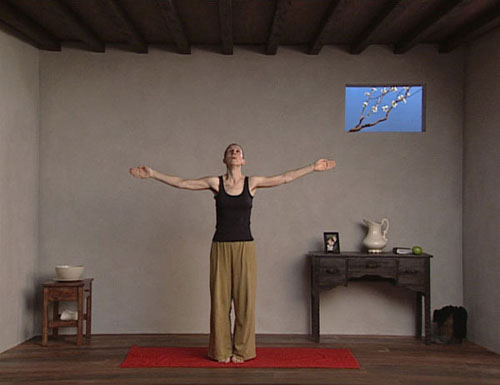 All three works are part of an ongoing series by Viola known as The Passions which explore human emotions, all inspired by early European devotional paintings. Whilst these works are not as grand in scale as his most recent installations this is an excellent opportunity to examine some rarely seen works from this particular phase in Viola's life.
Artist Rooms on Tour – Bill Viola is at The Wilson until 7 February 2016.
The Wilson is also currently showing Portraits of an Icon until 31 January 2016 (link here for Cellophaneland* review).
For further information, please visit: www.cheltenhamgallery.org.uk
The ARTIST ROOMS tour programme, now in its seventh year, is showing at 17 museums and galleries across the UK in 2015. The tour is made possible thanks to the support of Arts Council England and the Art Fund.
Photo Credits:
Catherine's Room, 2001, Performer: Weba Garretson, Photography by Kira Perov, Tate and National Galleries of Scotland. Acquired jointly through The d'Offay Donation with assistance from the National Heritage Memorial Fund and the Art Fund 2008 © Bill Viola, photo Kira Perov
Four Hands, 2001, Performers: Blake Viola, Kira Perov, Bill Viola, Lois Stark, Photography by Kira Perov, Tate and National Galleries of Scotland. Acquired jointly through The d'Offay Donation with assistance from the National Heritage Memorial Fund and the Art Fund 2008 © Bill Viola, photo Kira Perov
Surrender, 2001 Performers, John Fleck, Weba Garretson © Bill Viola, photo Kira Perov