We were disappointed to have missed the opening of Ballgowns: British Glamour Since 1950 at the V&A a few weeks back; not just for the fact that it's a spectacular exhibition celebrating the very British tradition of creating magnificent gowns, but for the opportunity to catch up with some old friends from sponsors, Coutts (where our editor worked in PR). Glad to see that the latter are continuing their long-standing history of championing the fashion industry. Happily, we made up for lost time last week, and spent a glorious morning floating around the V&A, drooling over more than 60 ballgowns from 1950 to the present day featuring designers such as Hardy Amies, Sarah Burton for Alexander McQueen, Ossie Clark, John Galliano, Norman Hartnell, Christopher Kane, Stella McCartney, Vivienne Westwood, Matthew Williamson and many more besides. Sumptuous ballgowns, dazzling dresses for the red carpet, catwalk showstoppers and even royal gowns. They are all here.
Displayed over two floors, there's a gown for every occasion as the exhibition charts the evolution of the ballgown. Since the 1950s, formal attire has evolved from private events held in country houses to a very public parade. During the post-war period, exclusive balls provided a perfect backdrop for the most glamorous of couture gowns. Coming out balls, where young women were introduced to society, were often the first occasion on which to wear a grand gown. During the 1980s, charity balls took centre stage and the 1990s began a tradition which continues today: red carpet events where the choice of dress by a celebrity or member of royalty, is most likely to garner more column inches than the actual event itself.
Some dresses forever live on in the memory. Remember Princess Diana's pearl-encrusted  'Elvis Dress' designed by Catherine Walker in 1989 for a visit to Hong Kong?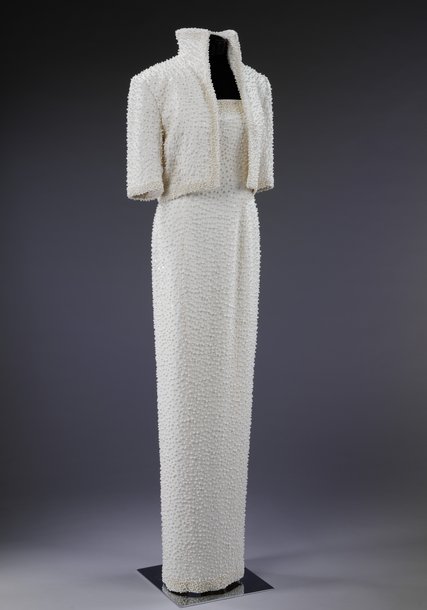 One of our favourite parts of the exhibition was the black and white film footage showing models in the 1950s, utlilising every ounce of their grace and poise, to execute a perfect twirl in the corner of what appeared to be someone's borrowed drawing room, whilst wearing heavily embellished, and just plan heavy, gowns. Another shows a rather elegant catwalk show from the same period and almost every single dapper gentleman on the front row is smoking. How times have changed!
So intoxicated were we by the grandiose displays of chiffon, silk, crystal and tulle and yes, even metallic leather, that we almost failed to notice the newly and very beautifully renovated V&A fashion gallery which houses Ballgowns. Simply stunning! Gallery 40 was originally designed as a striking Edwardian domed court with large alcoves, architectural columns and ornate mosaic flooring. The refurbishment project has revealed and restored the gallery's original architecture including the exquisite mosaic floor. What a fitting reveal to coincide with such a glamour-filled exhibition.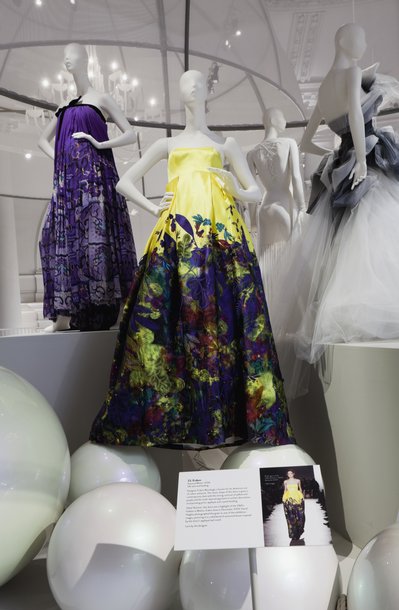 Ballgowns: British Glamour Since 1950 runs until 6 January 2013.
For further information please visit: http//:www.vam.ac.uk/
All images reproduced with kind permission from the V&A.