"The king lion on the Savannah: incredibly attractive, with a dangerous vibe. He was the electricity, the brightest, most powerful, most talented, most energetic force at the magazine [British Vogue]."
– Penelope Tree on David Bailey.
Bailey's Stardust which has just opened at the National Portrait Gallery, London, is the largest exhibition of David Bailey portraits ever mounted. It truly is a landmark show with over 300 portraits on display, including rooms devoted to The Rolling Stones, Box of Pin Ups, Bailey's own travels, his wife: Catherine Bailey, and various icons from the world of fashion and the arts, all personally selected by the photographer.
Having had the good fortune to spend a fun afternoon with Bailey at  his large, light-filled studio, just off the Grays Inn Road, marvelling at the array of faces from the last five decades neatly stacked up against white walls, it's astonishing to think of his career and the sheer magnitude of his contribution to the visual arts. There's Salvador Dali and Andy Warhol hanging out together at Le Meurice, Paris, Bob Dylan looking moody in leather, Mick Jagger peeking out from behind a furry hood, Michael Caine in those glasses. Images that have come to define their respective decades.
So it's a joy to see all of these images together at last. But it's not all about actors, writers, musicians, filmmakers, fashion icons, designers, models, and artists; there are plenty of unknown people who feature in this exhibition. People who Bailey met on his travels to places such as Australia, Delhi and the Naga Hills, Africa and Papua New Guinea.
The beauty of Bailey's Stardust is that it is structured thematically, with the iconic images presented alongside many lesser-known portraits. It's title reflecting the notion that we are all made from, and return to 'stardust'. The glamorous sit next to the impoverished. There are selections from two of Bailey's most acclaimed body of works: the Box of Pin-Ups, which helped define the 60s, and Bailey's Democracy, in which people visiting his studio were asked if they would agree to be photographed naked.
The Rolling Stones have their own room, as does Catherine Bailey, but move to the next, and you're confronted by moving images of those devastated by the famine in east Africa, taken in support of the Band Aid chary in 1985. Move to another, and there's a selection of tough looking hard men taken from Bailey's book: Diamond Geezers.
In fact there's the widest range of mercurial portraits on offer here, which seems to illustrate Bailey's shared comfort level with all of his subject matters; from notorious gangsters to rockstars to holy men of india.
David Bailey is possibly one of the most curious men I have ever met; curious in the way that he wants to know absolutely everything about you, firing off a volley of questions the second he meets you. The same relentless curiosity that has helped produce one of the world's greatest image-makers.
"It tales a lot of imagination to be a good photographer. You need less imagination to be a painter, because you can invent things. But in photography everything is so ordinary; it tales a lot of looking before you learn to see the extraordinary."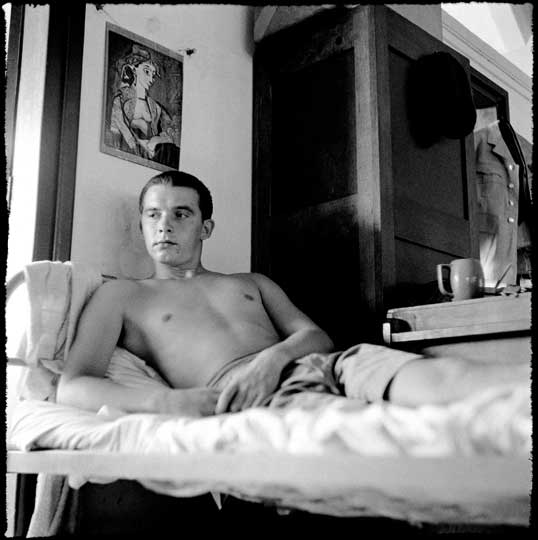 Bailey's Stardust at The National Portrait Gallery, London, runs to 1 June 2014.
To purchase a copy of Bailey's Stardust visit here
For further information, please visit: www.npg.org.uk