The latest show at the Royal Academy is entitled simply Antony Gormley. This is probably because an awful lot of what you get is actually representation of the artist himself. We have seen him before, standing on the foreshore at Crosby, looking from London's rooftops and amongst the ancient ruins at Delos.
The internationally renowned British sculptor puts the human body at the heart of his work – not any old body of course but largely his own. He uses it as a metaphor for the human – everybody's body, the one thing that we have in common. Through this he wants us to examine our relationship to our inner and outer world.
The new exhibition takes up all thirteen rooms of the RA's main galleries, plus Iron Baby in the courtyard, and is only in part retrospective, mostly showcasing new, large scale work.
We start with Slabworks, a room of cut steel plate representing variously posed bodily forms, followed by some early works and works on paper. From here onwards it feels like Gormley has pulled out the stops in attempting to create as wide a variety as possible of physical encounters.
Clearing  is a room filled with some 8km of swirling and curling aluminium tube – is a child's scribble, paths of electrons or a force field?
The original intent was that visitors could scramble through the clanging tubes, but we were asked to not touch and carefully navigate around the edge – the force of the artwork somewhat negated. We emerge in to a room containing a solitary dissolved figure constructed of intersecting iron bars, in suitably contemplative pose.
The space is then opened up as highly tensioned steel rods zip through the next three galleries like beams of light, perhaps measuring out dimensions and coordinates. In a central room Matrix comprises a cloud of 6 tons of steel mesh suspended a few feet above the ground.
It encloses a small empty space that is equivalent to an average bedroom. Gormley describes it as "the ghost… of our primary habitat".  It impressively manages to be simultaneously light and heavy, transparent and solid.
Lost Horizon returns to the familiar standing figures of Crosby and London rooftops, posed on walls and ceiling as well as the floor, deliberately disorienting us and asking our minds to reflect on other global – or indeed stellar – locations.
Another new work Cave is a vast hollow human form crouched on its side. You enter and exit, bent low, via low, narrow and lightless passages before entering the void of the body. "Interior darkness is not so different to the darkness of the night sky" Gormley points out.
The final room is entirely occupied by an expanse of water and clay. It is both the primordial soup from which we came and an apocalyptic vision of what may be left in the future, appropriate in a time of increasing environmental awareness.
It is an impressive Royal Academy exhibition and, if whether you like Gormley, or not there is plenty of new work to enjoy. Despite this, and for all the mathematical ingenuity and impressive construction, can we really examine the human soul via grids, cut steel and measured blocks? It is a big ask and one that will inevitably test our engagement with, and the limits of, Gormley's art.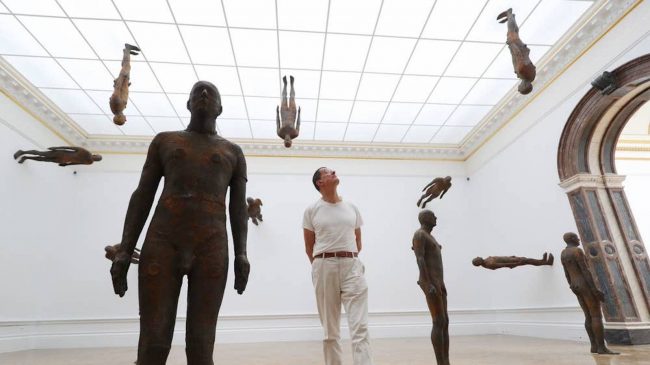 Antony Gormley is showing at the Royal Academy London until 3 December 2019
CELLOPHANELAND* were guests of the Royal Academy
For more information visit royalacademy.org.uk
Read the Guardian review here
Read the Time Out review here
Read the Telegraph review here
Read The Standard review here